Waiting On Wednesday ~ December 28th, 2016
Waiting on Wednesday is a weekly event that is hosted by Jill at
and spotlights upcoming releases that we're eagerly anticipating.
*Beth's Choice*
(Assistant Blog Manager for YABC)
Nemesis (Brendan Reichs)
Author: Brendan Reichs

Book: Hardcover, 464 pages
Expected publication: March 21st, 2017
Publisher: G.P. Putnam Sons Books For Young Readers
Orphan Black meets Lord of the Flies in this riveting new thriller from the co-author of the Virals series.
It's been happening since Min was eight. Every two years, on her birthday, a strange man finds her and murders her in cold blood. But hours later, she wakes up in a clearing just outside her tiny Idaho hometown—alone, unhurt, and with all evidence of the horrifying crime erased.
Across the valley, Noah just wants to be like everyone else. But he's not. Nightmares of murder and death plague him, though he does his best to hide the signs. But when the world around him begins to spiral toward panic and destruction, Noah discovers that people have been lying to him his whole life. Everything changes in an eye blink.
For the planet has a bigger problem. The Anvil, an enormous asteroid threatening all life on Earth, leaves little room for two troubled teens. Yet on her sixteenth birthday, as she cowers in her bedroom, hoping not to die for the fifth time, Min has had enough. She vows to discover what is happening in Fire Lake and uncovers a lifetime of lies: a vast conspiracy involving the sixty-four students of her sophomore class, one that may be even more sinister than the murders.
Poison's Kiss (Breeana Shields)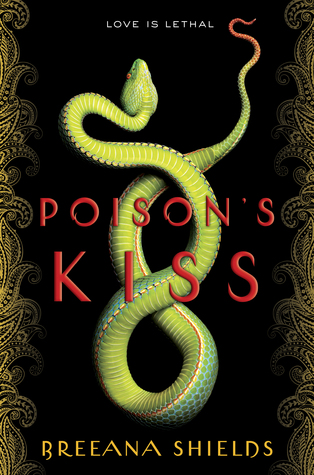 Author: Breeana Shields

Book: Hardcover, 304 pages
Expected publication: January 10th, 2017
Publisher: Random House Books For Young Readers
A teenage assassin kills with a single kiss until she is ordered to kill the one boy she loves. This commercial YA fantasy is romantic and addictive like-- a poison kiss-- and will thrill fans of Sarah J. Maas and Victoria Aveyard.

Marinda has kissed dozens of boys. They all die afterward. It s a miserable life, but being a visha kanya a poison maiden is what she was created to do. Marinda serves the Raja by dispatching his enemies with only her lips as a weapon.

Until now, the men she was ordered to kiss have been strangers, enemies of the kingdom. Then she receives orders to kiss Deven, a boy she knows too well to be convinced he needs to die. She begins to question who she s really working for. And that is a thread that, once pulled, will unravel more than she can afford to lose.

This rich, surprising, and accessible debut is based in Indian folklore and delivers a story that will keep readers on the edge of their seats.
*Sage's Choice*
(Staff Reviewer for YABC)
Bad Blood (Demitria Lunetta)
Author: Demitria Lunetta

Book: Hardcover, 272 pages
Expected publication: March 14th, 2017
Publisher: Delacorte Books For Young Readers
A girl discovers a family secret and a past full of magic that could both save her and put her in mortal danger in this suspenseful novel that's perfect for fans of Katie Alender and Natasha Preston.

All sixteen-year-old Heather MacNair wants is to feel normal, to shed the intense paranoia she's worn all year like a scratchy sweater. After her compulsion to self-harm came to light, Heather was kept under her doctor's watchful eye. Her family thinks she's better—and there's nothing she wants more than for that to be true. She still can't believe she's allowed to spend her summer vacation as she always does: at her aunt's home in Scotland, where she has lots of happy memories. Far away from all her problems save one: she can't stop carving the Celtic knot that haunts her dreams into her skin.

Good friends and boys with Scottish accents can cure almost anything…except nightmares. Heather can't stop dreaming about two sisters from centuries ago, twins Prudence and Primrose, who somehow seem tied to her own life. Their presence lurks just beneath the surface of her consciousness, sending ripples through what should be a peaceful summer. The twins might hold the key to putting Heather's soul at rest…or they could slice her future deeper than any knife.
*Karen's Choice*
(Staff Reviewer for YABC)
The Last Of August (Brittany Cavallaro)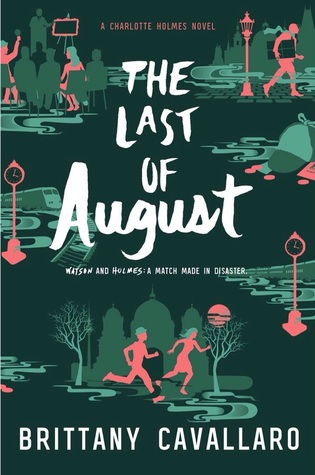 Author: Brittany Cavallaro

Book: Hardcover, 336 pages
Expected publication: February 14th, 2017
Publisher: Katherine Tegen Books.
In the second brilliant, action-packed book in the Charlotte Holmes trilogy, Jamie and Charlotte are in a chase across Europe to untangle a web of shocking truths about the Holmes and Moriarty families.

Jamie Watson and Charlotte Holmes are looking for a winter break reprieve in Sussex after a fall semester that almost got them killed. But nothing about their time off is proving simple, including Holmes and Watson's growing feelings for each other. When Charlotte's beloved uncle Leander goes missing from the Holmes estate—after being oddly private about his latest assignment in a German art forgery ring—the game is afoot once again, and Charlotte throws herself into a search for answers.

So begins a dangerous race through the gritty underground scene in Berlin and glittering art houses in Prague, where Holmes and Watson discover that this complicated case might change everything they know about their families, themselves, and each other.
What book are you looking forward to in 2017?
Comment the name of the book below!
Related Posts
Comments
No comments made yet. Be the first to submit a comment