What Buzzworthy Books is everyone talking about?
Check out our favorites listed below!
A beautifully realistic, relatable story about mental health and the healing powers of art–perfect for fans of Girl in Pieces and How it Feels to Float.
It's been three months since The Night on the Bathroom Floor–when Lily found her older sister Alice hurting herself. Ever since then, Lily has been desperately trying to keep things together, for herself and for her family. But now Alice is coming home from her treatment program and it is becoming harder for Lily to ignore all of the feelings she's been trying to outrun.
Enter Micah, a new student at school with a past of his own. He was in treatment with Alice and seems determined to get Lily to process not only Alice's experience, but her own. Because Lily has secrets, too. Compulsions she can't seem to let go of and thoughts she can't drown out.
When Lily and Micah embark on an art project for school involving finding poetry in unexpected places, she realizes that it's the words she's been swallowing that desperately want to break through.
Love is in the air in this is a collection of stories inspired by romantic tropes and edited by #1 New York Times-bestselling author Marissa Meyer.
The secret admirer.
The fake relationship.
The matchmaker.
From stories of first love, unrequited love, love that surprises, love that's been there all along, ten of the brightest and award-winning authors writing YA have taken on some of your favorite romantic tropes, embracing them and turning them on their heads. Readers will swoon for this collection of stories that celebrate love at its most humorous, inclusive, heart-expanding, and serendipitous.
Contributors include Elise Bryant, Elizabeth Eulberg, Leah Johnson, Anna-Marie McLemore, Marissa Meyer, Sandhya Menon, Julie Murphy, Caleb Roehrig, Sarah Winifred Searle, and Abigail Hing Wen.
This tender YA comic is perfect for fans of Raina Telgemeier's Drama and Shannon Hale and LeUyen Pham's Real Friends who are ready to graduate to their first teen graphic novel.
It's the first day of sophomore year, and now that Winifred's two best (and only) friends have transferred to a private school, she must navigate high school on her own.
But she isn't alone for long. In art class, she meets two offbeat students, Oscar and April. The three bond through clandestine sleepovers, thrift store shopping, and zine publishing. Winifred is finally breaking out of her shell, but there's one secret she can't bear to admit to April and Oscar, or even to herself–and this lie is threatening to destroy her newfound friendships.
With breathtaking art and honest storytelling, rising star Sarah Winifred Searle delivers a heartfelt story about love, friendship, and self-acceptance.
A teen girl who sees visions of the past must use her gift to save a kidnapped classmate in Shani Michelle's high-stakes YA thriller You Should Have Seen This Coming!
Hayden sees the past. Just touching an object will occasionally give her flashes of the previous owner's memories. And if that memory happens to be a deeply hidden secret, then she has no problem making you pay for your crime, in cash.
Cassie sees the future, and it sucks. She will randomly wake up from dreams filled with disasters that she feels compelled to stop, and she would really like to stop watching her boyfriend fall in love with someone else!
But when Cassie tries to warn Hayden that her latest blackmailing scheme is a trap, she knows she's really in trouble. All her visions warn her of the upcoming kidnapping, nothing she does stops it. And it's all Hayden's fault!
Can Hayden's gift help her find Cassie before it's too late?
A gothic tale full of mystery and romance about a willful female surgeon, a resurrection man who sells bodies for a living, and the buried secrets they must uncover together.
Edinburgh, 1817.
Hazel Sinnett is a lady who wants to be a surgeon more than she wants to marry.
Jack Currer is a resurrection man who's just trying to survive in a city where it's too easy to die.
When the two of them have a chance encounter outside the Edinburgh Anatomist's Society, Hazel thinks nothing of it at first. But after she gets kicked out of renowned surgeon Dr. Beecham's lectures for being the wrong gender, she realizes that her new acquaintance might be more helpful than she first thought. Because Hazel has made a deal with Dr. Beecham: if she can pass the medical examination on her own, the university will allow her to enroll. Without official lessons, though, Hazel will need more than just her books – she'll need bodies to study, corpses to dissect.
Lucky that she's made the acquaintance of someone who digs them up for a living, then.
But Jack has his own problems: strange men have been seen skulking around cemeteries, his friends are disappearing off the streets. Hazel and Jack work together to uncover the secrets buried not just in unmarked graves, but in the very heart of Edinburgh society.
When Margaret Welty spots the legendary hala, the last living mythical creature, she knows the Halfmoon Hunt will soon follow. Whoever is able to kill the hala will earn fame and riches, and unlock an ancient magical secret. If Margaret wins the hunt, it may finally bring her mother home. While Margaret is the best sharpshooter in town, only teams of two can register, and she needs an alchemist.
Weston Winters isn't an alchemist–yet. Fired from every apprenticeship he's landed, his last chance hinges on Master Welty taking him in. But when Wes arrives at Welty Manor, he finds only Margaret and her bloodhound Trouble. Margaret begrudgingly allows him to stay, but on one condition: he must join the hunt with her.
Although they make an unlikely team, Wes is in awe of the girl who has endured alone on the outskirts of a town that doesn't want her, in this creaking house of ghosts and sorrow. And even though Wes disrupts every aspect of her life, Margaret is drawn to him. He, too, knows what it's like to be an outsider. As the hunt looms closer and tensions rise, Margaret and Wes uncover dark magic that could be the key to winning the hunt – if they survive that long.
In A Far Wilder Magic, Allison Saft has written an achingly tender love story set against a deadly hunt in an atmospheric, rich fantasy world that will sweep you away.
An unforgettable graphic memoir by debut talent Sophia Glock reveals her discovery as a teenager that her parents are agents working for the CIA
Young Sophia has lived in so many different countries, she can barely keep count. Stationed now with her family in Central America because of her parents' work, Sophia feels displaced as an American living abroad, when she has hardly spent any of her life in America.
Everything changes when she reads a letter she was never meant to see and uncovers her parents' secret. They are not who they say they are. They are working for the CIA. As Sophia tries to make sense of this news, and the web of lies surrounding her, she begins to question everything. The impact that this has on Sophia's emerging sense of self and understanding of the world makes for a page-turning exploration of lies and double lives.
In the hands of this extraordinary graphic storyteller, this astonishing true story bursts to life.
Arsalan has learned everything he knows from Nana, his 100-year-old great-grandfather. This includes the fact that when Nana dies, Arsalan will be completely alone in the world, except for his estranged and abusive father. So he turns to Beenish, the step-daughter of a prominent matchmaker, to find him a future life partner. Beenish's request in return? That Arsalan help her ruin her older sister's wedding with a spectacular dance she's been forbidden to perform.
Despite knowing as little about dancing as he does about girls, Arsalan wades into Beenish's chaotic world to discover friends and family he never expected. And though Arsalan's old-school manners and Beenish's take-no-prisoners attitude clash every minute, they find themselves getting closer and closer—literally. All that's left to realize is that the thing they both really want is each other, if only they can get in step.
Echo Brown testifies to the disappointments and triumphs of a Black first-generation college student in this fearless exploration of the first year experience.
There are many watchers and they are always white. That's the first thing Echo notices as she settles into Dartmouth College. Despite graduating high school in Cleveland as valedictorian, Echo immediately struggles to keep up in demanding classes. Dartmouth made many promises it couldn't keep. The campus is not a rainbow-colored utopia where education lifts every voice. Nor is it a paradise of ideas, an incubator of inclusivity, or even an exciting dating scene. But it might be a portal to different dimensions of time and space—only accessible if Echo accepts her calling as a Chosen One and takes charge of her future by healing her past. This remarkable challenge demands vulnerability, humility, and the conviction to ask for help without sacrificing self-worth.
In mesmerizing personal narrative and magical realism, Echo Brown confronts mental illness, grief, racism, love, friendship, ambition, self-worth, and belonging as they steer the fates of first-generation college students on Dartmouth's campus. The Chosen One is an unforgettable coming-of-age story that bravely unpacks the double-edged college transition—as both catalyst for old wounds and a fresh start.
Seventeen-year-old Darcy Covington never had to worry about money or where her next shopping spree was coming from. Even her dog ate gourmet. Then one day, Darcy's car is repossessed from the parking lot of her elite private school. As her father's business hit the skids, Dad didn't just skip town, he bailed on his family.
Fortunately, Darcy's uncle owns a thrift shop where she can hide out from the world. There's also Lucas, the wickedly hot fix-it guy she can't stop crushing on, even if she's not sure they'll ever get out of the friend zone.
But it's here among the colorful characters of her uncle's world that Darcy begins to see something more in herself… if she has the courage to follow it.
Magic, a prized resource, is the only thing between peace and war. When magic runs out, four estranged royal siblings must find a new source before their country is swallowed by invading forces. The first in an Indian-inspired duology.
Vira is desperate to get out of her mother's shadow and establish her legacy as a revered queen of Ashoka. But with the country's only quarry running out of magic–a precious resource that has kept Ashoka safe from conflict–she can barely protect her citizens from the looming threat of war. And if her enemies discover this, they'll stop at nothing to seize the last of the magic.
Vira's only hope is to find a mysterious object of legend: the Ivory Key, rumored to unlock a new source of magic. But in order to infiltrate enemy territory and retrieve it, she must reunite with her siblings, torn apart by the different paths their lives have taken. Each of them has something to gain from finding the Ivory Key–and even more to lose if they fail. Ronak plans to sell it to the highest bidder in exchange for escape from his impending political marriage. Kaleb, falsely accused of assassinating the former maharani needs it to clear his name. And Riya, a runaway who cut all family ties, wants the Key to prove her loyalty to the rebels who want to strip the nobility of its power.
They must work together to survive the treacherous journey. But with each sibling harboring secrets and their own agendas, the very thing that brought them together could tear apart their family–and their world–for good.
In this thrilling conclusion to New York Times best-selling authors Kass Morgan and Danielle Paige's The Ravens, the sorority witches are tested when a rival threatens to usurp their place on campus and the forces of hell come knocking on their door.
The sorority girls at Kappa Rho Nu—the Ravens—are determined to restore balance to the world. After destroying an ancient talisman and barely saving their sorority in the process, they'll go to any lengths to keep their secret as Westerly's most powerful coven of witches.
Scarlett Winter, a legacy Raven, has finally gotten what she's always wanted: the Kappa Rho Nu presidency. After the disaster that killed the sorority's last president, Scarlett is determined that no sister will fall under the sway of wicked magic ever again. But the powers of the presidency have their own pitfalls—and Scarlett has big shoes to fill.
Vivi Devereaux, a freshman, finally knows what it feels like to belong. For the first time ever, she's got it all: her Kappa Rho Nu sisters and a sweet (and hot) boyfriend. When Scarlett assigns Vivi the coveted role of social chair, Vivi is determined to live up to her Big's expectations—even if that means dabbling in a new form of magic.
Unbeknownst to the Ravens, new rivals and ancient evils lurk on Westerly's campus. With Kappa Rho Nu's future on their shoulders and their pasts still haunting them, will Scarlett and Vivi be able to save their sisterhood once again?
Every single day holds so many possibilities–how do you choose what to do when you wake up? Award-winning author Seth Fishman and acclaimed illustrator Jessixa Bagley introduce a young child and four different paths for their day in this inventive and original picture book that recognizes the imagination, courage, and independence of every child.
When an imaginative young child wakes up before their parents, they know that they're supposed to stay in bed until the clock says 7:00. But that's no fun–so what should they do instead? Make breakfast? Build a city? Ride a scooter? Dig in the garden?
Each choice leads to a different path for the day. And in the end, the child makes the best decision of all–to curl up, safe and loved, between Mom and Dad.
When I Wake Up begins in black-and-white, and then each of the child's four choices is rendered in a different color. Every spread includes all four choices, so readers can enjoy this book traditionally, reading all four colors at once, or they can choose one color to follow from beginning to end.
Jessixa Bagley's masterful and ingenious artwork beautifully complements Seth Fishman's lyrical text that celebrates imagination, creativity, independence, and love. When I Wake Up begs to be read over and over again–and can change every time. Both children and parents will enjoy sharing this timeless story–no matter when they wake up or what time the clock says.
Set in a fragmented future England, The Outlaws Scarlett and Browne introduces us to a world where gunfights and monsters collide, and where the formidable outlaw Scarlett McCain fights daily against the odds. When she discovers a wrecked coach on a lonely road, there is only one survivor – the seemingly hapless youth, Albert Browne. Against her instincts, Scarlett agrees to escort him to safety. This is a mistake. Soon, new and implacable enemies are on her heels. As a relentless pursuit continues across the broken landscape of England, Scarlett must fight to uncover the secrets of Albert's past – and come to terms with the implications of her own.
In his first new project since Lockwood & Co., Jonathan once again fuses action, humour and mystery to create a uniquely exciting adventure with two fascinating heroes at its heart.
Elizebeth Smith Friedman always had a penchant for solving riddles. It was this skill, and a desire to do something with her life that led her to become one of the top cryptanalysts in America during both World War I and II. She originally came to codebreaking through her love for Shakespeare when she was hired by an eccentric billionaire to prove that Shakespeare's plays had secret messages in them and were written by Frances Bacon. Though she came to the conclusion that there were not any secret messages in the plays, she learned so much about coding that she went on to play a major role in decoding messages during WWI and WWII and also for the US Coast Guard's own war against smugglers. Elizebeth and her husband, William, became the top codebreaking team in the US, and she did it all at a time when women weren't a welcome presence in the workforce.
Amy Butler Greenfield is an award-winning historian and novelist who aims to shed light on this unsung female pioneer of the STEM community.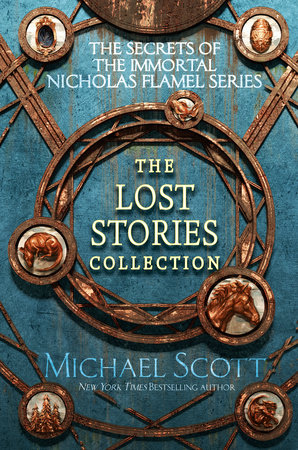 Nicholas Flamel appeared in J. K. Rowling's Harry Potter series—but did you know he really lived? You can learn his secrets in the bestselling Secrets of the Immortal Nicholas Flamel series, and discover the Lost Stories—tales of myth, legend, and magic, previously lost to history and never before seen in print!
Enter the world of the Secrets of the Immortal Nicholas Flamel like you never have before.

The legendary alchemyst Nicholas Flamel and his wife, the sorceress Perenelle, traveled the globe for centuries before they discovered the Twins of Legend, Josh and Sophie Newman. Secrets abound—and now you can discover even more of the Flamels' story in this volume of eight stories set in the world of the internationally bestselling series.

Stand with the Flamels when they find the Codex, the book that holds the secret to their immortality. Follow Machiavelli under the perilous streets of Paris. Join Scatty and her twin, Aoife, as they journey through mysterious Shadowrealms. Within these pages you will meet enemies old and new and forge alliances with characters from history, myth, and legend, all as you uncover new mysteries and discover answers to questions remaining in the original series.

The Lost Stories Collection contains never-seen-in-print stories featuring series favorites like Niccolò Machiavelli, Billy the Kid, and Virginia Dare, as well as new characters like Edgar Allan Poe and St. Nicholas.

Every myth holds a grain of truth. Discover the truth now!
An unforgettable fantasy debut inspired by West African mythology, this is Children of Blood and Bone meets The Little Mermaid, in which a mermaid takes on the gods themselves.
A way to survive.
A way to serve.
A way to save.
Simi prayed to the gods, once. Now she serves them as Mami Wata–a mermaid–collecting the souls of those who die at sea and blessing their journeys back home.
But when a living boy is thrown overboard, Simi does the unthinkable–she saves his life, going against an ancient decree. And punishment awaits those who dare to defy it.
To protect the other Mami Wata, Simi must journey to the Supreme Creator to make amends. But something is amiss. There's the boy she rescued, who knows more than he should. And something is shadowing Simi, something that would rather see her fail. . . .
Danger lurks at every turn, and as Simi draws closer, she must brave vengeful gods, treacherous lands, and legendary creatures. Because if she doesn't, then she risks not only the fate of all Mami Wata, but also the world as she knows it.
This young adult adaptation of acclaimed geochemist and geobiologist Hope Jahren's highly respected nonfiction work is the perfect book for those interested in learning about climate change and how they can contribute to creating a more sustainable future.
Hope Jahren, acclaimed geochemist and geobiologist, details the science behind key inventions, clarifying how electricity, large-scale farming, and automobiles have both helped and harmed our world.
Jahren explains the current and projected consequences of unchecked global warming, from superstorms to rising sea levels, resulting from the unprecedented amounts of greenhouse gases being released into our atmosphere. The links between human consumption habits and our endangered existence are very real, with consequences leading to a crossroads of survival and extinction.
Still, Jahren maintains that our ever-broadening science-based knowledge can help us counter this dilemma. The eye-opening information provided in The Story of More will help readers understand the path we must take. If we collectively make informed choices now, Jahren reassures us, our future can be as bright as we imagine it can be.
The squad you love is out of time. Prepare for the thrilling finale in the epic, best-selling Aurora Cycle series about a band of unlikely heroes who just might be the galaxy's last hope for survival.
Is this the end?
What happens when you ask a bunch of losers, discipline cases, and misfits to save the galaxy from an ancient evil? The ancient evil wins, of course.
Wait. . . . Not. So. Fast.
When we last saw Squad 312, they were working together seamlessly (aka, freaking out) as an intergalactic battle raged and an ancient superweapon threatened to obliterate Earth. Everything went horribly wrong, naturally.
But as it turns out, not all endings are endings, and the te4am has one last chance to rewrite thirs. Maybe two. It's complicated.
Cue Zila, Fin, and Scarlett (and MAGELLAN!): making friends, making enemies, and making history? Sure, no problem
Cue Tyler, Kal, and Auri: uniting with two of the galaxy's most hated villains? Um, okay. That, too.
Actually saving the galaxy, though?
Now that will take a miracle.
From the #1 New York Times bestselling author of the Reckoners series, the Mistborn trilogy, and the Stormlight Archive comes the third book in an epic series about a girl who will travel beyond the stars to save the world she loves from destruction.
Spensa's life as a Defiant Defense Force pilot has been far from ordinary. She proved herself one of the best starfighters in the human enclave of Detritus and she saved her people from extermination at the hands of the Krell—the enigmatic alien species that has been holding them captive for decades. What's more, she traveled light-years from home as an undercover spy to infiltrate the Superiority, where she learned of the galaxy beyond her small, desolate planet home.
Now, the Superiority—the governing galactic alliance bent on dominating all human life—has started a galaxy-wide war. And Spensa's seen the weapons they plan to use to end it: the Delvers. Ancient, mysterious alien forces that can wipe out entire planetary systems in an instant. Spensa knows that no matter how many pilots the DDF has, there is no defeating this predator.
Except that Spensa is Cytonic. She faced down a Delver and saw something eerily familiar about it. And maybe, if she's able to figure out what she is, she could be more than just another pilot in this unfolding war. She could save the galaxy.
The only way she can discover what she really is, though, is to leave behind all she knows and enter the Nowhere. A place from which few ever return.
To have courage means facing fear. And this mission is terrifying.
Ivy, Mateo, and Cal used to be close. Now all they have in common is Carlton High and the beginning of a very bad day.
Type A Ivy lost a student council election to the class clown, and now she has to face the school, humiliated. Heartthrob Mateo is burned out–he's been working two jobs since his family's business failed. And outsider Cal just got stood up…. again.
So when Cal pulls into campus late for class and runs into Ivy and Mateo, it seems like the perfect opportunity to turn a bad day around. They'll ditch and go into the city. Just the three of them, like old times. Except they've barely left the parking lot before they run out of things to say…
Until they spot another Carlton High student skipping school–and follow him to the scene of his own murder. In one chance move, their day turns from dull to deadly. And it's about to get worse.
It turns out Ivy, Mateo, and Cal still have some things in common. They all have a connection to the dead kid. And they're all hiding something.
Now they're all wondering–could it be that their chance reconnection wasn't by chance after all?
From the author of One of Us Is Lying comes a brand-new pulse-pounding thriller. It's Ferris Bueller's Day Off with murder when three old friends relive an epic ditch day, and it goes horribly–and fatally–wrong.
Knives Out meets One of Us is Lying! In this paperback original thriller a group of famous TikTokers find themselves turning on each other when one member of the group turns up dead at their beachfront Malibu mansion.
35 million followers. One dead body.
The six teenagers who make up the Hype House seem to have it all. A beach front Malibu mansion, millions of TikTok followers, model good looks, and sponsorship deals up to $30,000 per post. Everything's pretty much a Gen-Z paradise. Except that one member of the house has just turned up dead in the infinity pool. And the rest of them are suspects.
When the group TikTok account starts posting cryptic messages about the murder, the police limit their investigation to the members of the house. Now old joke videos are filed as evidence and past rivalries start to look like motives.
As investigators dig into these influencers' lives beyond their glossy internet personalities, they discover all five had reasons their lives would've been easier with Sydney Reynolds dead. But only one of them killed her.
Underlined is a line of totally addictive romance, thriller, and horror paperback original titles coming to you fast and furious each month. Enjoy everything you want to read the way you want to read it.
.
The gripping conclusion to the acclaimed Arthurian fantasy trilogy from New York Times bestselling author Kiersten White finds Guinevere questioning everything—friends and enemies, good and evil, and, most of all, herself.
While journeying north toward the Dark Queen, Guinevere falls into the hands of her enemies. Behind her are Lancelot, trapped on the other side of the magical barrier they created to protect Camelot, and Arthur, who has been led away from his kingdom, chasing after false promises. But the greatest danger isn't what lies ahead of Guinevere—it's what's been buried inside her.
Vowing to unravel the truth of her past with or without Merlin's help, Guinevere joins forces with the sorceress Morgana and her son, Mordred—and faces the confusing, forbidden feelings she still harbors for him. When Guinevere makes an agonizing discovery about who she is and how she came to be, she finds herself with an impossible choice: fix a terrible crime, or help prevent war.
Guinevere is determined to set things right, whatever the cost. To defeat a rising evil. To remake a kingdom. To undo the mistakes of the past…even if it means destroying herself.
Guinevere has been a changeling, a witch, a queen—but what does it mean to be just a girl?
Not everyone who hears the call to adventure wants to answer it….
Jedi Padawan Reath Silas loves adventure—reading about it, that is, not living it. Content to spend hours browsing the Jedi Archives on Coruscant, Reath dreams of being one of the great scholars of the Jedi Order. But Reath's master, the well-respected and virtuous Jora Malli, has other plans: she's taken a post at Starlight Beacon, the Republic's shining new outpost on the edge of known space. As her Padawan, Reath must join her, whether he likes the idea or not. (And he most definitely does not.)
So Reath reluctantly boards the ship that will take him and a few other Jedi to the dedication of Starlight Beacon, where Master Jora waits for him to start their new adventurous life on the frontier. But trouble in hyperspace leaves the ship and other nearby vessels stranded, with only an eerie abandoned space station reachable for shelter. And the secrets hidden there will not only bring Reath to a crossroads but, if left unchecked, could plunge the entire galaxy into darkness….
The darkest secrets are the hardest to bring to light….
Sylvestri Yarrow is on a streak of bad luck with no end of sight. She's been doing her best to keep the family cargo business going after her mom's death, but between mounting debt and increasing attacks by the Nihil on unsuspecting ships, Syl is in danger of losing all she has left of her mother. She heads to the galactic capital of Coruscant for help, but gets sidetracked when she's drawn into a squabble between two of the Republic's most powerful families over a patch of space on the frontier. Tangled up in familial politics is the last place Syl wants to be, but the promise of a big payoff is enough to keep her interested…
Meanwhile, Jedi Knight Vernestra Rwoh has been summoned to Coruscant, but with no idea of why or by whom. She and her Padawan Imri Cantaros arrive at the capital along with Jedi Master Cohmac Vitus and his Padawan, Reath Silas–and are asked to assist with the property dispute on the frontier. But why? What is so important about an empty patch of space? The answer will lead Vernestra to a new understanding of her abilities, and take Syl back to the past…and to truths that will finally come out of the shadows.
Long before the Clone Wars, the Empire, or the First Order, the Jedi lit the way for the galaxy in a golden age known as the High Republic!
Vernestra Rwoh is a brand-new Jedi Knight at age sixteen, but her first real assignment feels an awful lot like babysitting. She's been charged with supervising twelve-year old aspiring inventor Avon Starros on a luxury liner headed to the dedication of a wondrous new space station called Starlight Beacon.
But early in their journey, bombs go off aboard the ship. After narrowly avoiding being sucked into the vacuum of space, Vernestra; Avon; Avon's droid J-6; a Jedi Padawan; and an ambassador's son make it to an shuttle, but communications are out and supplies are low. They decide to land on a nearby moon, which offers shelter but not much more. And unbeknownst to them, danger lurks in the jungle….
Another exciting story in the #1 New York Times best-selling series!

The Republic Fair is coming! Visitors from all over the galaxy are traveling to the planet Valo for a massive, awe-inspiring festival celebrating the Republic. While his fellow Valons prepare for the fair, Jedi Padawan Ram Jomaram is hiding out in his favorite place: a dingy garage filled with mechanical parts and tools. But when a security alarm goes off on the nearby hilltop nicknamed Crashpoint Peak, he ventures out with his trusty droid V-18 to investigate. There he discovers that someone has knocked out Valo's communications tower—a frightening sign that Valo, and the Republic Fair, are in danger. Sure enough, as Ram races to warn the Jedi, the dreaded Nihil unleash a surprise attack! It's up to Ram to face down the enemy at Crashpoint Tower and send a call for help to the Republic. Luckily, he's about to get some assistance from unexpected new friends…
THE YEAR WE WERE FAMOUS is based on the true story of Clara and her suffragist mother, Helga Estby, who walked 4,000 miles from their farm in Mica Creek Washington, to New York City in 1896 in a heroic attempt to win $10,000 that would save the family's farm and prove women could do it.
Equipped only with satchels containing compass and maps, first-aid supplies, journals, pistol, and a curling iron, they headed east along the railroad tracks. In two hundred thirty-two days, they wore out thirty-two pairs of shoes, crossed mountains, deserts, and plains, and survived a highwayman attack, flash flood, blizzards, and days without food and water. For a year, they were famous as they met governors and mayors, camped with Indians, and visited the new president-elect, William McKinley.
They intended to write a book about their adventures, but because of the way their trip ended, their journals were burned. Fortunately, newspapers across the country reported on their travels, and THE YEAR WE WERE FAMOUS is based on those articles, with imagination filling the gaps between known facts.
THE YEAR WE WERE FAMOUS won the Will Rogers Medallion, the Willa award from Women Writing the West, was selected by the American Library Association for its 2012 Amelia Bloomer List of Best Feminist Fiction, and won the Sue Alexander Award from the Society of Children's Book Writers and Illustrators.
I know what you're thinking.
You're thinking this will be just one more story of the ignored, "big-boned " girl, who sheds her glasses and a few extra pounds and finally attracts the notice of the most popular guy in school.
Except it isn't. Because I'm not unpopular. Not all that ignored. And I love the way I look―just as I am.
Then someone puts my name in for Homecoming Court.
The bigger surprise?
People actually vote for me!
Now, I'm a "princess"―whether I like it or not―but the guy I'm paired with isn't exactly Prince Charming.
Rhys Castle is the strong, silent type who always wears a frown―he's certainly never smiled at me. I'm 99.9% sure he hates being on Court and being my partner, but surprisingly…he doesn't switch when he gets the chance.
Turns out Rhys has a secret―something that makes him run hot and cold throughout the entire three weeks of Homecoming festivities. Whether he's stepping on my feet during dance lessons or gallantly escorting me through the Homecoming parade, I can't get a read on this guy, and for the first time, I find my confidence wavering.
But there's more to Rhys than meets the eye. And the more the spotlight shines on me, I realize there's more to me, too.
The third book in the instant New York Times bestselling series that began with The Beautiful.
Pippa Montrose is tired of losing everything she loves. When her best friend Celine disappears under mysterious circumstances, Pippa resolves to find her, even if the journey takes her into the dangerous world of the fae, where she might find more than she bargained for in the charismatic Arjun Desai.
Renée is back with her rich, atmospheric fantasy world that will continue to enthrall readers, new romance and mystery, and lush, pacey writing.
The competition has come to a disastrous end, and Daron Demarco's fall from grace is now front page news. But little matters to him beyond Kallia, the contestant he fell for who is now lost to this world and in the hands of a dangerous magician. Daron is willing to do whatever it takes to find her. Even if it means embarking on a dark and treacherous journey, risking more than just his life, with no promise of return.
After awaking in darkness, Kallia has never felt more lost. Especially with Jack by her side, the magician with who has the answers but cannot be trusted. Together, they must navigate a dazzling world where mirrors show memories and illusions shadow every corner, one ruled by a powerful game master who could all too easily destroy the world she left behind — and the boy she can't seem to forget. With time running out, Kallia must embrace her role in a darker destiny, or lose everyone she loves, forever.
Eighteen-year-olds Ruben Montez and Zach Knight are two members of the boy-band Saturday, one of the biggest acts in America. Along with their bandmates, Angel Phan and Jon Braxton, the four are teen heartbreakers in front of the cameras and best friends backstage. But privately, cracks are starting to form: their once-easy rapport is straining under the pressures of fame, and Ruben confides in Zach that he's feeling smothered by management's pressure to stay in the closet.
On a whirlwind tour through Europe, with both an unrelenting schedule and minimal supervision, Ruben and Zach come to rely on each other more and more, and their already close friendship evolves into a romance. But when they decide they're ready to tell their fans and live freely, Zach and Ruben start to truly realize that they will never have the support of their management. How can they hold tight to each other when the whole world seems to want to come between them?
Hawk, the daughter of Maximum Ride, teams with her mother up to help save their beloved but dangerous city in this action-packed thriller.
For Hawk, being a hero weighs heavily on her wings.
In the City of the Dead, life happens in the shadows. That's why a war is brewing against an enemy no one can see.
Hawk and Maximum Ride never back down from a conflict, or from each other, and they argue more than they agree.
But as the dead begin to outnumber the living, a mother's experience and a daughter's instinct can make one powerful arsenal.
MADNESS, SECRETS, AND LIES
Wheeler, Arkansas, 1907
When their father descends into madness after the death of their mother, Verity Pruitt and her little sister Lilah find themselves on an orphan train to rural Arkansas.
In Wheeler, eleven-year-old Lilah is quickly adopted, but seventeen-year-old Verity is not. Desperate to stay close to her sister, Verity indentures herself as a farmhand. But even charming farm boy Abel Atchley can't completely distract her from the sense that something is not quite right in this little town. Strange local superstitions abound, especially about the eerie old well at the center of the forest. The woods are play tricks, unleashing heavy fog and bone-chilling cold…and sometimes visions of things that aren't there.
But for Verity, perhaps most unsettling of all is the revelation that her own parents have a scandalous history in this very town. And as she tries to unearth the past, sinister secrets come with it—secrets that someone will go to violent lengths to protect….
Acclaimed author Sara B. Larson continues her enchanting YA fantasy duology with a timeless fairytale feel in an original voice.
The doorway between the magical Visempirum and the human world has been reopened. Paladin are once more living in the citadel where Zuhra and Inara grew up completely isolated by the magical hedge that trapped them there. Amidst the brewing conflict between the Paladin and humans looms the threat of Barloc, who has stolen Inara's immense power and continues to elude the Paladin who are desperately searching for him.
In this sequel to Sisters of Shadow and Light, Inara and Zuhra must navigate the treacherous paths of self-discovery, their love for each other, and for the boys who have captured their hearts. Together, they search for the strength within themselves to bridge the divide between the two worlds they inhabit, even as war threatens to destroy everything—and everyone—they love.
A fantasy novel about finding home and falling in love amidst the dangers of a desert where stories come to life.
Xochital is destined to wander the desert alone, speaking her troubled village's stories into its arid winds. Her only companions are the blessed stars above and enimagic lines of poetry magically strewn across dusty dunes.
Her one desire: to share her heart with a kindred spirit.
One night, Xo's wish is granted—in the form of Emilia, the cold and beautiful daughter of the town's murderous mayor. But when the two set out on a magical journey across the desert, they find their hearts could be a match… if only they can survive the nightmare-like terrors that arise when the sun goes down.
The Blood Moon rises. The Blood Veil falls. The Tournament begins.
Every generation, at the coming of the Blood Moon, seven families in the remote city of Ilvernath each name a champion to compete in a tournament to the death.
The prize? Exclusive control over a secret wellspring of high magick, the most powerful resource in the world–one thought long depleted.
This year, thanks to a salacious tell-all book, the seven champions are thrust into worldwide spotlight, granting each of them new information, new means to win, and most importantly: a choice – accept their fate or rewrite their story.
But this is a story that must be penned in blood.
The Mirror: Shattered Midnight is the second novel in the innovative four-book fairy-tale series written by Julie C. Dao, Dhonielle Clayton, J.C. Cervantes, and L. L. McKinney, following one family over several generations, and the curse that plagues it.
Zora Broussard has arrived in New Orleans with not much more than a bag of clothes, a beautiful voice, and a pair of enchanted red shoes. Running from a tragic accident caused by her magic, Zora wants nothing more than to blend in, as well as to avoid her overbearing aunt and mean-spirited cousins. Music becomes Zora's only means of escape, yet she wonders if she should give it all up to remove the powers that make her a target, especially as a Black woman in the South.
But when Zora gets the chance to perform in a prominent jazz club, she meets a sweet white pianist named Phillip with magic of his own, including a strange mirror that foretells their future together. Falling into a forbidden love, Zora and Phillip must keep their relationship a secret. And soon the two discover the complicated connection between their respective families, a connection that could lead to catastrophe for them both. In the era of segregation and speakeasies, Zora must change her destiny and fight for the one she loves . . . or risk losing everything.
Chicago, 1893. For Alter Rosen, this is the land of opportunity, and he dreams of the day he'll have enough money to bring his mother and sisters to America, freeing them from the oppression they face in his native Romania.

But when Alter's best friend, Yakov, becomes the latest victim in a long line of murdered Jewish boys, his dream begins to slip away. While the rest of the city is busy celebrating the World's Fair, Alter is now living a nightmare: possessed by Yakov's dybbuk, he is plunged into a world of corruption and deceit, and thrown back into the arms of a dangerous boy from his past. A boy who means more to Alter than anyone knows.

Now, with only days to spare until the dybbuk takes over Alter's body completely, the two boys must race to track down the killer—before the killer claims them next.
Death lurks around every corner in this unforgettable Jewish historical fantasy about a city, a boy, and the shadows of the past that bind them both together.
No one ever said love would be easy…but did they mention it would be freezing?
Adam Stillwater is in over his head. At least, that's what his best friend would say. And his mom. And the guy who runs the hardware store down the street. But this pinball arcade is the only piece of his dad that Adam has left, and he's determined to protect it from Philadelphia's newest tech mogul, who wants to turn it into another one of his cold, lifeless gaming cafés.
Whitney Mitchell doesn't know how she got here. Her parents split up. She lost all her friends. Her boyfriend dumped her. And now she's spending her senior year running social media for her dad's chain of super successful gaming cafés—which mostly consists of trading insults with that decrepit old pinball arcade across town.
But when a huge snowstorm hits, Adam and Whitney suddenly find themselves trapped inside the arcade. Cut off from their families, their worlds, and their responsibilities, the tension between them seems to melt away, leaving something else in its place. But what happens when the storm stops?
A historical novel, set in postwar New York City.
In 1946, Eva leaves behind the rubble of Berlin for the streets of New York City, stepping from the fiery aftermath of one war into another, far colder one, where power is more important than principles, and lies are more plentiful than the truth. Eva holds the key to a deadly secret: Project Bluebird — a horrific experiment of the concentration camps, capable of tipping the balance of world power. Both the Americans and the Soviets want Bluebird, and it is something that neither should ever be allowed to possess.
But Eva hasn't come to America for secrets or power. She hasn't even come for a new life. She has come to America for one thing: justice. And the Nazi that has escaped its net.
When Claire Draper's fictional love story goes viral in the wake of a pandemic, the line between reality and fiction is blurred. But will she be able to tell the difference?
Claire is a junior in high school when a worldwide pandemic strikes, and she's in the epicenter of it all in New York City. Suddenly, Claire is forced to isolate with her family indefinitely, which means she won't be able to see her friends or even her girlfriend, Vanessa, in person for a long time.
At first it's not so bad, but the longer the pandemic lasts, the more Claire feels her priorities changing. That's when she looks outside her bedroom window and notices something new: A girl who lives in the building across the street sitting on her fire escape.
So Claire starts writing a story online about a girl who falls for the girl across the street. To Claire's surprise, the story goes viral-and it seems people think it's true. But how true is true? And what if Vanessa finds out? Will Claire be able to manage her newfound internet fame before everything spirals out of control?
A powerful story of friendship, bravery, and a desperate bid for freedom, inspired by true events.
Ming survived the famine that killed his parents during China's "Great Leap Forward", and lives a hard but adequate life, working in the fields.
When a group of city boys comes to the village as part of a Communist Party re-education program, Ming and his friends aren't sure what to make of the new arrivals. They're not used to hard labor and village life. But despite his reservations, Ming befriends a charming city boy called Li. The two couldn't be more different, but slowly they form a bond over evening swims and shared dreams.
But as the bitterness of life under the Party begins to take its toll on both boys, they begin to imagine the impossible: freedom.
~GIVEAWAY~
One winner will receive books from the Buzzworthy Books of Winter 2021 ~ (US Only)