Are you wondering what's new in
YA today? Check out these
wonderful new releases!
A stunning, terrifying novel about a house the color of blood and the two sisters who are trapped there, by The Dead House author Dawn Kurtagich
When Silla and Nori arrive at their aunt's home, it's immediately clear that the "blood manor" is cursed. The creaking of the house and the stillness of the woods surrounding them would be enough of a sign, but there are secrets too–the questions that Silla can't ignore: Who is the beautiful boy that's appeared from the woods? Who is the man that her little sister sees, but no one else? And why does it seem that, ever since they arrived, the trees have been creeping closer?
Filled with just as many twists and turns as The Dead House, and with achingly beautiful, chilling language that delivers haunting scenes, AND THE TREES CREPT IN is the perfect follow-up novel for master horror writer Dawn Kurtagich.
From the acclaimed author of Lies We Tell Ourselves, Robin Talley, comes a Shakespeare-inspired story of revenge and redemption, where fair is foul, and foul is fair.
Maria Lyon and Lily Boiten are their school's ultimate power couple—but one thing stands between them and their perfect future: campus superstar Delilah Dufrey. Golden child Delilah is a legend at exclusive Acheron Academy, and the presumptive winner of the distinguished Cawdor Kingsley Prize. But Delilah doesn't know that Lily and Maria are willing to do anything—absolutely anything—to unseat Delilah for the scholarship. After all, it would lock in Maria's attendance at Stanford—and assure her and Lily four more years in a shared dorm room.
Together, Maria and Lily harness the dark power long rumored to be present on the former plantation that houses their school. But when feuds turn to fatalities, and madness begins to blur the distinction between what's real and what's imagined, the girls must attempt to put a stop to the chilling series of events they've accidentally set in motion.
What if Belle's mother cursed the Beast? As Old as Time is the third book in a new YA line that reimagines classic Disney stories in surprising new ways. When Belle touches the Beast's enchanted rose, memories flood through Belle's mind-memories of a mother she thought she would never see again. And, stranger still, she sees that her mother is none other than the beautiful enchantress who cursed the castle and all its inhabitants. Shocked and confused, Belle and the Beast will have to unravel a dark mystery about their families that is 21 years in the making.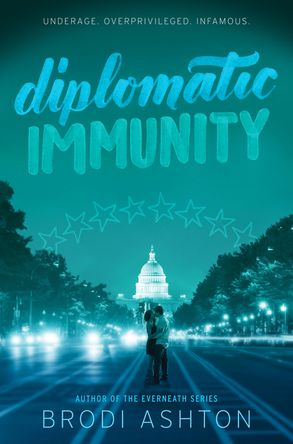 Anna and the French Kiss meets The Disreputable History of Frankie Landau-Banks in a romantic and hilarious new novel from Brodi Ashton, the author of the Everneath trilogy.
Raucous parties, privileged attitudes, underage drinking, and diplomatic immunity . . . it's all part of student life on Embassy Row.
Piper Baird has always dreamed of becoming a journalist. So when she scores a scholarship to exclusive Chiswick Academy in Washington, DC, she knows it's her big opportunity. Chiswick offers the most competitive prize for teen journalists—the Bennington scholarship—which would ensure her acceptance to one of the best schools in the country.
Piper isn't at Chiswick for two days before she witnesses the extreme privilege of the young and wealthy elite who attend her school—and realizes that access to these untouchable students just might give her the edge she'll need to blow the lid off life at the school in a scathing and unforgettable exposé worthy of the Bennington.
The key to the whole story lies with Rafael Amador, the son of the Spanish Ambassador—and the boy at the center of the most explosive secrets and scandals on Embassy Row. Rafael is big trouble—and when he drops into her bedroom window one night, asking for help, it's Piper's big chance to get the full scoop. Except Piper discovers that despite his dark streak, Rafael is smart, kind, funny, and gorgeous—and she might have real feelings for him. How can she break the story of a lifetime if it will destroy the boy she just might love?
Joy knows she'll be facing more dangerous Othersiders than ever before as a new member of the Elite Hunter unit, but if anyone is up to the challenge it's her. She's been Hunting these monsters since she was a child, and has a pack of eleven fiercely protective magical Hounds. Then the rules change. Monsters unlike any Joy's ever seen or even heard of are breaking through Apex City's barriers, and the Hunters are scrambling to find new ways to fight them-all the while hiding the true danger Apex faces from the Cits, who are ignorant of the severity of the Othersiders' attacks.
The leaders of Apex must come together to protect the city, but tensions have never been higher between the Hunters and the powerful PsiCorps, with each group competing to be the primary protector of the city. The conflict escalates even further when Joy starts discovering bodies of Psimons while patrolling the city sewers on a special assignment from her uncle, who commands the Hunters. Someone is killing Psimons, and if Joy doesn't uncover the true culprit she might just take the fall for it.
Chaos erupts when Ace, the murderous Hunter who tried to kill Joy at her Elite trials, escapes from the Army's captivity and defects to the Othersiders. Joy has no idea what Ace might be capable of with the help of the cunning Folk, but she may be about to find out; Othersider forces are gaining strength and momentum just beyond the barriers. A storm is approaching Apex City, and unless Joy and her fellow Hunters put up the fight of their lives, it might just sweep them all away . . .
Kingdoms collide in Sarah J. Maas's epic fifth installment in the New York Times bestselling Throne of Glass series.
The long path to the throne has only just begun for Aelin Galathynius. Loyalties have been broken and bought, friends have been lost and gained, and those who possess magic find themselves at odds with those who don't.
With her heart sworn to the warrior-prince by her side, and her fealty pledged to the people she is determined to save, Aelin will delve into the depths of her power to protect those she loves. But as monsters emerge from the horrors of the past, and dark forces become poised to claim her world, the only chance for salvation will lie in a desperate quest that may mark the end of everything Aelin holds dear.
In this breathtaking fifth installment of the New York Times bestselling Throne of Glass series, Aelin will have to choose what — and who — to sacrifice if she's to keep the world of Erilea from breaking apart.
'The Ministry of Magic felt strongly, however, that to construct an additional wizarding station in the middle of London would stretch even the Muggles' notorious determination not to notice magic when it was exploding in front of their faces.' – J.K. Rowling
Pottermore Presents is a collection of J.K. Rowling's writing from the Pottermore archives: short reads originally featured on pottermore.com. These eBooks, with writing curated by Pottermore, will take you beyond the Harry Potter stories as J.K. Rowling reveals her inspiration, intricate details of characters' lives and surprises from the wizarding world.
Hogwarts An Incomplete and Unreliable Guide takes you on a journey to Hogwarts School of Witchcraft and Wizardry. You'll venture into the Hogwarts grounds, become better acquainted with its more permanent residents, learn more about lessons and discover secrets of the castle . . . all at the turn of a page.
In spare, understated prose heightened by a keen lyricism, a debut author will take your breath away.

A new state, a new city, a new high school. Mike's father has already found a new evangelical church for the family to attend, even if Mike and his plainspoken little sister, Toby, don't want to go. Dad wants Mike to ditch art for sports, to toughen up, but there's something uneasy behind his demands. Then Mike meets Sean, the new kid, and "hey" becomes games of basketball, partnering on a French project, hanging out after school. A night at the beach. The fierce colors of sunrise. But Mike's father is always watching. And so is Victor from school, cell phone in hand. In guarded, Carveresque prose that propels you forward with a sense of stomach-dropping inevitability, Rafi Mittlefehldt tells a wrenching tale of first love and loss that exposes the undercurrents of a tidy suburban world. Heartbreaking and ultimately life-affirming, It Looks Like This is a novel of love and family and forgiveness—not just of others, but of yourself.
"Enchanting and complex. Every page is filled with magic." ―Danielle Paige, New York Times best-selling author of Dorothy Must Die
Nothing says Happy Birthday like summoning the spirits of your dead relatives.
Alex is a bruja, the most powerful witch in a generation…and she hates magic. At her Deathday celebration, Alex performs a spell to rid herself of her power. But it backfires. Her whole family vanishes into thin air, leaving her alone with Nova, a brujo boy she can't trust. A boy whose intentions are as dark as the strange marks on his skin.
The only way to get her family back is to travel with Nova to Los Lagos, a land in-between, as dark as Limbo and as strange as Wonderland…
Gilmore Girls meets Fresh Off the Boat in this witty novel about navigating life in private school while remaining true to yourself.

Lucy is a bit of a pushover, but she's ambitious and smart, and she has just received the opportunity of a lifetime: a scholarship to a prestigious school, and a ticket out of her broken-down suburb. Though she's worried she will stick out like badly cut bangs among the razor-straight students, she is soon welcomed into the Cabinet, the supremely popular trio who wield influence over classmates and teachers alike.

Linh is blunt, strong-willed, and fearless—everything Lucy once loved about herself. She is also Lucy's last solid link to her life before private school, but she is growing tired of being eclipsed by the glamour of the Cabinet.

As Lucy floats further away from the world she once knew, her connection to Linh—and to her old life—threatens to snap. Sharp and honest, Alice Pung's novel examines what it means to grow into the person you want to be without leaving yourself behind.
'Minerva was the Roman goddess of warriors and wisdom. William McGonagall is celebrated as the worst poet in British history. There was something irresistible to me about his name, and the idea that such a brilliant woman might be a distant relative of the buffoonish McGonagall.' – J.K. Rowling
Pottermore Presents is a collection of J.K. Rowling's writing from the Pottermore archives: short reads originally featured on pottermore.com with some exclusive new additions. These eBooks, with writing curated by Pottermore, will take you beyond the Harry Potter stories as J.K. Rowling reveals her inspiration, intricate details of characters' lives and surprises from the wizarding world.
These stories of heroism, hardship and dangerous hobbies profile two of the Harry Potter stories' most courageous and iconic characters: Minerva McGonagall and Remus Lupin. J.K. Rowling also gives us a peek behind the closed curtains of Sybill Trelawney's life, and you'll encounter the reckless, magical-beast-loving Silvanus Kettleburn along the way.
'No Muggle Prime Minister has ever set foot in the Ministry of Magic, for reasons most succinctly summed up by ex-Minister Dugald McPhail (term of office 1858-1865): "their puir wee braines couldnae cope wi' it."' – J.K. Rowling
Pottermore Presents is a collection of J.K. Rowling's writing from the Pottermore archives: short reads originally featured on pottermore.com with some exclusive new additions. These eBooks, with writing curated by Pottermore, will take you beyond the Harry Potter stories as J.K. Rowling reveals her inspiration, intricate details of characters' lives and surprises from the wizarding world.
These stories of power, politics and pesky poltergeists give you a glimpse into the darker side of the wizarding world, revealing the ruthless roots of Professor Umbridge, the lowdown on the Ministers for Magic and the history of the wizarding prison Azkaban. You will also delve deeper into Horace Slughorn's early years as Potions master at Hogwarts – and his acquaintance with one Tom Marvolo Riddle.
When an insecure teen starts impersonating someone else, her life spirals dangerously out of control in a realistic, relatable novel about finding yourself—and discovering your true friends.

Leah Lobermier dreams of becoming a doctor, but it's hard to stay focused on getting good grades when boys make oinking sounds at her in school and her mother spends every night on the couch with a bottle of wine. Leah's skinny and popular "friends," Kristy and Corinne, aren't much better and can hardly be counted on for support. When the girls convince a handsome older man to buy them beer, Leah takes his phone number and calls him, pretending to be Kristy—coy and confident—and they develop a relationship, talking and texting day after day. But as the lie she created grows beyond her control, can Leah put a stop to things before she—or Kristy—is seriously hurt?
Lolcats. Salsa dancing. Unrequited love. Tom Crosshill's smart and witty debut teen novel treads a colorful coming-of-age journey from New York City to Havana that will appeal to fans of books by Matthew Quick and Junot Díaz.
When Rick Gutiérrez—known as "That Cat Guy" at school—gets dumped on his sixteenth birthday for uploading cat videos from his bedroom instead of experiencing the real world, he realizes it's time for a change. So Rick joins a salsa class . . . because of a girl, of course. Ana Cabrera is smart, friendly, and smooth on the dance floor. He might be half Cuban, but Rick dances like a drunk hippo. Desperate to impress Ana, he invites her to spend the summer in Havana. The official reason: learning to dance. The hidden agenda: romance under the palm trees.
Except Cuba isn't all sun, salsa, and music. As Rick and Ana meet his family and investigate the reason why his mother left Cuba decades ago, they learn that politics isn't just something that happens to other people. And when they find romance, it's got sharp edges.
When a glamorous family of teenage witches brings a mysterious new girl into their fold, they unwittingly nurture a powerful black magic that could destroy them all. This paranormal YA fantasy features intrigue, spells, and a devastating twist. In The Graces, the first rule of witchcraft states that if you want something badly enough, you can get it . . . no matter who has to pay.

Everyone loves the Graces. Fenrin, Thalia, and Summer Grace are captivating, wealthy, and glamorous. They've managed to cast a spell over not just their high school but also their entire town—and they're rumored to have powerful connections all over the world. If you're not in love with one of them, you want to be them. Especially River: the loner, new girl at school. She's different from her peers, who both revere and fear the Grace family. She wants to be a Grace more than anything. But what the Graces don't know is that River's presence in town is no accident.

This fabulously addictive fantasy combines sophisticated and haunting prose with a gut-punching twist that readers will be dying to discuss. Perfect for fans of We Were Liars as well as nostalgic classics like Buffy the Vampire Slayer and the 1996 movie The Craft, The Graces marks the beginning of a new wave of teen witches.
Poppy Hooper and Ember Hawkweed couldn't lead more different lives. Poppy is a troubled teen: moving from school to school, causing chaos wherever she goes, never making friends or lasting connections. Ember is a young witch, struggling to find a place within her coven and prove her worth. Both are outsiders: feeling like they don't belong and seeking escape.

Poppy and Ember soon become friends, and secretly share knowledge of their two worlds. Little do they know that destiny has brought them together: an ancient prophecy, and a life-changing betrayal. Growing closer, they begin to understand why they've never belonged and the reason they are now forever connected to each other.

Switched at birth by the scheming witch Raven Hawkweed, Poppy and Ember must come to terms with their true identities and fight for their own place in the world. Enter Leo, a homeless boy with a painful past who – befriending them both – tests their love and loyalty. Can Poppy and Ember's friendship survive? And can it withstand the dark forces that are gathering?
On the morning of September 11, 2001, sixteen-year-old Kyle Donohue watches the first twin tower come down from the window of Stuyvesant High School. Moments later, terrified and fleeing home to safety across the Brooklyn Bridge, he stumbles across a girl perched in the shadows, covered in ash, and wearing a pair of costume wings. With his mother and sister in California and unable to reach his father, a NYC detective likely on his way to the disaster, Kyle makes the split-second decision to bring the girl home. What follows is their story, told in alternating points of view, as Kyle tries to unravel the mystery of the girl so he can return her to her family. But what if the girl has forgotten everything, even her own name? And what if the more Kyle gets to know her, the less he wants her to go home? The Memory of Things tells a stunning story of friendship and first love and of carrying on with our day-to-day living in the midst of world-changing tragedy and unforgettable pain―it tells a story of hope.
We are not all created equal.
Seventeen-year-old Cody and her boyfriend, James, were two of the lucky ones randomly selected before birth to receive genetic engineering.
Known as the Ones, this one percent of the population is healthy, beautiful, and talented…and to some that's not fair. Mounting fear and jealousy of the Ones' success leads to the creation of the Equality Movement, which quickly gains enough political traction to demote Cody, James, and others like them to second-class citizens.
Cody knows even before the brick smashes through her window that it's going to be bad. As their school, the government, and even family and friends turn against them, Cody begins to believe they have no other choice but to protect their own. She draws closer to a group of radical Ones led by the passionate and fevered Kai, and James begins to question just how far she is willing to go for the cause…
Themes of justice, discrimination and terrorism mix with actual science to create a frightening version of our near future in Daniel Sweren-Becker's pulse-pounding thriller.
Together is somewhere they long to be.
Ash Gupta has a life full of possibility. His senior year is going exactly as he's always wanted– he's admired by his peers, enjoying his classes and getting the kind of grades that his wealthy, immigrant parents expect. There's only one obstacle in Ash's path: Eden Moore―the senior most likely to become class valedictorian. How could this unpopular, sharp-tongued girl from the wrong side of the tracks stand in his way?
All Eden's ever wanted was a way out. Her perfect GPA should be enough to guarantee her a free ride to college — and an exit from her trailer-park existence for good. The last thing she needs is a bitter rivalry with Ash, who wants a prized scholarship for his own selfish reasons. Or so she thinks. . .When Eden ends up working with Ash on a class project, she discovers that the two have more in common than either of them could have imagined. They're both in pursuit of a dream — one that feels within reach thanks to their new connection. But what does the future hold for two passionate souls from totally different worlds?
Sometimes heroes can be found in the most unlikely places.

Fourteen-year-old Clarence Feather knows no world beyond desolate Mayfair Heights. Three years ago, his mother was killed before his eyes by a stray bullet. When his father becomes unable to keep the family afloat, Clarence is manipulated into running drugs. But he longs to be a good person, in spite of the seemingly impossible odds.

Wandering through his neighborhood, Clarence meets Mona, a huge albino Great Dane. The two develop a deep bond. When he is forced to attend a dog fight as a rite of passage, Clarence realizes that Mona isn't safe, and neither is he. Can he find a way to protect Mona? Can he survive life in Mayfair Heights and still become the person his mother wanted him to be?

A novel about self-reliance, difficult choices, and imagination in the face of danger and isolation, Wirewalker is a masterfully written debut that blends gritty realism with moments of fantastical escape.
**DISCLAIMER**
If there are any new YA books we missed, let us know in the comments below,
and we'll add them to the list!