Are you wondering what's new in
YA today? Check out these
wonderful new releases!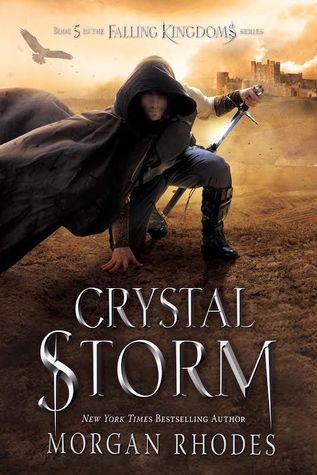 An epic clash between gods and mortals threatens to tear Mytica apart . . . and prove that not even the purest of love stands a chance against the strongest of magic.
MAGNUS and CLEO are forced to test the strength of their love when Gaius returns to Mytica claiming he's no longer the King of Blood but a changed man seeking redemption.
LUCIA, pregnant with the child of a Watcher, has escaped the clutches of the unhinged fire god. Her powers are dwindling as she goes forth to fulfill a prophecy that will keep her baby safe . . . but could mean her demise.
JONAS treks back to Mytica with a plan to overtake Amara, but fate takes hold when he runs into the beautiful Princess Lucia and joins her on her perilous journey.
AMARA has taken the Mytican throne, but with no way to unleash the water magic trapped within her stolen crystal, she'll never be able to seize glory and get sweet revenge.
And what kind of darkness will descend–and who will be safe–after Prince Ashur reveals the dangerous price he paid to cheat death?
Lily Bennett is less than thrilled to be the new kid as she starts her junior year in high school.
But soon after classes begin, she meets a classmate, Cole Drepeau, with whom she forms an immediate and intimate bond. As Cole and Lily grow closer, Lily learns about the murder that divided the town more than thirty years before. In 1985, graduating senior Amber Greeley snapped, killing her boyfriend Ben—Cole's uncle—and taking her own life.
Lily feels inexplicably linked to Amber, and she can't help but think that there's more to the girl's story. Determined to investigate the truth about Cole's uncle's death, Lily and Cole are pulled into a dark mystery—one that shakes the constraints of the world they've always believed in.
Masterfully told by best-selling author Victoria Laurie, this novel alternates voices between Lily and Amber, a generation apart, as decades of dark family secrets and treacherous betrayals are woven into the most epic of love stories.
Lorna's adopted sister, Callie, is part of a mysterious group of non-lingual teens, Icelings, born on a remote Arctic island, who may not be entirely human. Now Callie wants to go home.
Seventeen-year-old Lorna loves her adoptive sister, Callie. But Callie can't say "I love you" back. In fact, Callie can't say anything at all.
Because Callie is an Iceling—one of hundreds of teens who were discovered sixteen years ago on a remote Arctic island, all of them lacking the ability to speak or understand any known human language.
Mysterious and panicked events lead to the two sisters embarking on a journey to the north, and now Lorna starts to see that there's a lot more to Callie's origin story than she'd been led to believe. Little does she know what's in store, and that she's about to uncover the terrifying secret about who—and what—Callie really is.
**DISCLAIMER**
If there are any new YA books we missed,
let us know in the comments below,
and we'll add them to the list!