Waiting on Wednesday is a weekly event that is hosted by Jill at
and spotlights upcoming releases that we're eagerly anticipating.
*Beth's Choice*
(Assistant Blog Manager for YABC)
The Beast Is An Animal (Peternelle van Arsdale)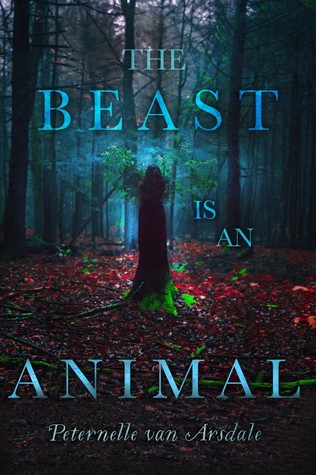 Author: Peternelle van Arsdale

Book: Hardcover, 352 pages
Expected publication: March 7th, 2017
Publisher: Margaret K. McElderry Books
A girl with a secret talent must save her village from the encroaching darkness in this haunting and deeply satisfying tale.
Alys was seven when the soul eaters came to her village.
These soul eaters, twin sisters who were abandoned by their father and slowly morphed into something not quite human, devour human souls. Alys, and all the other children, were spared—and they were sent to live in a neighboring village. There the devout people created a strict world where good and evil are as fundamental as the nursery rhymes children sing. Fear of the soul eaters—and of the Beast they believe guides them—rule village life. But the Beast is not what they think it is. And neither is Alys.
Inside, Alys feels connected to the soul eaters, and maybe even to the Beast itself. As she grows from a child to a teenager, she longs for the freedom of the forest. And she has a gift she can tell no one, for fear they will call her a witch. When disaster strikes, Alys finds herself on a journey to heal herself and her world. A journey that will take her through the darkest parts of the forest, where danger threatens her from the outside—and from within her own heart and soul.
Carve The Mark (Veronica Roth)
Author: Veronica Roth

Book: Hardcover, 480 pages
Expected publication: January 17th 2017
Publisher: Katherine Tegen Books
Fans of Star Wars and Divergent will revel in internationally bestselling author Veronica Roth's stunning new science-fiction fantasy series.
On a planet where violence and vengeance rule, in a galaxy where some are favored by fate, everyone develops a currentgift, a unique power meant to shape the future. While most benefit from their currentgifts, Akos and Cyra do not—their gifts make them vulnerable to others' control. Can they reclaim their gifts, their fates, and their lives, and reset the balance of power in this world?
Cyra is the sister of the brutal tyrant who rules the Shotet people. Cyra's currentgift gives her pain and power—something her brother exploits, using her to torture his enemies. But Cyra is much more than just a blade in her brother's hand: she is resilient, quick on her feet, and smarter than he knows.
Akos is from the peace-loving nation of Thuvhe, and his loyalty to his family is limitless. Though protected by his unusual currentgift, once Akos and his brother are captured by enemy Shotet soldiers, Akos is desperate to get his brother out alive—no matter what the cost. When Akos is thrust into Cyra's world, the enmity between their countries and families seems insurmountable. They must decide to help each other to survive—or to destroy one another.
*Kayla's Choice*
(Blog Manager for YABC)
What Light (Jay Asher)
Author: Jay Asher

Book: Hardcover, 256 pages
Expected publication: October 11th, 2016
Publisher: Razorbill
From Jay Asher, #1 New York Times bestselling author of Thirteen Reasons Why, comes a romance that will break your heart, but soon have you believing again. . . .
Sierra's family runs a Christmas tree farm in Oregon—it's a bucolic setting for a girl to grow up in, except that every year, they pack up and move to California to set up their Christmas tree lot for the season. So Sierra lives two lives: her life in Oregon and her life at Christmas. And leaving one always means missing the other.
Until this particular Christmas, when Sierra meets Caleb, and one life eclipses the other.
By reputation, Caleb is not your perfect guy: years ago, he made an enormous mistake and has been paying for it ever since. But Sierra sees beyond Caleb's past and becomes determined to help him find forgiveness and, maybe, redemption. As disapproval, misconceptions, and suspicions swirl around them, Caleb and Sierra discover the one thing that transcends all else: true love.
What Light is a love story that's moving and life-affirming and completely unforgettable.
*Elisha's Choice*
(Staff Reviewer for YABC)
King's Cage (Victoria Aveyard)
Author: Victoria Aveyard

Book: Hardcover, 448 pages
Expected publication: February 7th, 2017
Publisher: Harper Teen
In this breathless third installment to Victoria Aveyard's bestselling Red Queen series, allegiances are tested on every side. And when the Lightning Girl's spark is gone, who will light the way for the rebellion?
Mare Barrow is a prisoner, powerless without her lightning, tormented by her lethal mistakes. She lives at the mercy of a boy she once loved, a boy made of lies and betrayal. Now a king, Maven Calore continues weaving his dead mother's web in an attempt to maintain control over his country—and his prisoner.
As Mare bears the weight of Silent Stone in the palace, her once-ragtag band of newbloods and Reds continue organizing, training, and expanding. They prepare for war, no longer able to linger in the shadows. And Cal, the exiled prince with his own claim on Mare's heart, will stop at nothing to bring her back.
When blood turns on blood, and ability on ability, there may be no one left to put out the fire—leaving Norta as Mare knows it to burn all the way down.
*Kristie's Choice*
(Promotions Manager for YABC)
Mabel Jones and The Doomsday Book (Will Mabbitt)
Author: Will Mabbitt

Book: Hardcover, 304 pages
Expected publication: October 4th, 2016
Publisher: Viking Books for Young Readers
Delivering belly laughs and heart-stopping action in equal measure, this third installment of the Mabel Jones saga is an excellent family read-aloud.
Trapped in the Noo World, Mabel Jones is determined to make the most of her time in this strange future run by animals. Her next mission: find the Doomsday Book, a guidebook used to wipe out humanity. If Mabel can find out what happened to her species, there's a chance she can prevent its extinction. But an elusive creature known as Von Klaar is also after the book . . . and her intentions reek of malice.
Join Mabel and her crewmates as they race Von Klaar to the sacred city of Otom. Hoomankind depends on it!
*Amy's Choice*
(Staff Reviewer for YABC)
A Conjuring Of Light (V.E. Schwab)
Author: V.E. Schwab

Book: Hardcover, 592 pages
Expected publication: February 21st, 2017
Publisher: Tor Books
The battle between four magical Londons comes to a head in this stunning finale to the New York Times bestselling Shades of Magic trilogy by rising star V. E. Schwab
London's fall and kingdoms rise while darkness sweeps the Maresh Empire—and the fraught balance of magic blossoms into dangerous territory while heroes and foes struggle alike. The direct sequel to A Gathering of Shadows, and the final book in the Shades of Magic epic fantasy series, A Conjuring of Light sees Schwab reach a thrilling culmination concerning the fate of beloved protagonists—and old enemies.
*Melissa's Choice*
(YABC Indie Manager)
The Hands Of Time (Michelle Madow)
Author: Michelle Madow

Book: Kindle, 190 pages
Expected publication: November 25, 2016
Publisher: Dreamscape Publishing
Time is running out. War will be waged. Sacrifices will be made.
Months ago, Nicole Cassidy's life was turned upside-down when she discovered that she was a witch descended from the Greek gods. She and the four other witches gifted with elemental powers fought all over the world—and in another dimension—to battle the supporters of the Titans and fight for the people they love.
Now the Elementals must stop Typhon—the most dangerous monster in the world—from rising, and seal the portal to the dangerous prison world of Kerberos. But they won't be able to do that without facing their hardest decision yet… a sacrifice so great that it may be one they're not willing to make.
*Michelle's Choice*
(Staff Reviewer for YABC)
Emerge: The Judgement (Melissa Craven)
Author: Melissa Craven
Book:
Expected publication:
Publisher: Indie
The prophecy's about you, Red…
Allie Carmichael has been haunted by those words for months. After dropping a huge bombshell and then leaving her in limbo, Greggory McBrien still hasn't given her the answers she craves. The knowledge of her past and the absence of both Gregg and her father have left Allie an angry, twisted mess of emotions. She still feels an immeasurable amount of guilt for her mistakes that left her scarred for life and her friend, Quinn a captive of the Coalition. Allie finds herself constantly dancing on the edge of losing control of her power, too afraid to confide in anyone––even her handsome and broody best friend, Aidan.
A chance encounter at a dangerous nightclub reserved for Unproven Immortals, gives Allie and her friends the missing piece of the puzzle. If they have any hope of bringing Quinn home, they have to act quickly.
As Allie approaches her seventeenth birthday, the nightmares that only Aidan can keep at bay, return with a vengeance and she vows to finally face them on her own. But she struggles to understand what her clairvoyant gift is trying to tell her. When she finally begins to truly understand her gift, she fears it might be too late––and this time the price for her mistakes will be too high.
Last time she was afraid. This time she's angry.
What book are you looking forward to in 2016?
Comment the name of the book below!