Waiting on Wednesday is a weekly event that is hosted by Jill at
and spotlights upcoming releases that we're eagerly anticipating.
*Beth's Choice*
(Assistant Blog Manager for YABC)
Gilded Cage (Vic James)
Author: Vic James

Book: Hardcover, 368 pages
Expected publication: February 14th, 2017
Publisher: Del Ray Books
Not all are free. Not all are equal. Not all will be saved.
Our world belongs to the Equals — aristocrats with magical gifts — and all commoners must serve them for ten years. But behind the gates of England's grandest estate lies a power that could break the world.
A girl thirsts for love and knowledge.
Abi is a servant to England's most powerful family, but her spirit is free. So when she falls for one of the noble-born sons, Abi faces a terrible choice. Uncovering the family's secrets might win her liberty, but will her heart pay the price?
A boy dreams of revolution.
Abi's brother, Luke, is enslaved in a brutal factory town. Far from his family and cruelly oppressed, he makes friends whose ideals could cost him everything. Now Luke has discovered there may be a power even greater than magic: revolution.
And an aristocrat will remake the world with his dark gifts.
He is a shadow in the glittering world of the Equals, with mysterious powers no one else understands. But will he liberate—or destroy?
Dividing Eden (Joelle Charbonneau)
Author: Joelle Charbonneau

Book: Hardcover, 336 pages
Expected publication: June 6th, 2017
Publisher: Harper Teen
A sweeping fantasy, by the bestselling author of The Testing, about two royal siblings forced to compete for the crown.
Twins Carys and Andreus were never destined to rule Eden. With their older brother next in line to inherit the throne, the future of the kingdom was secure.
But appearances—and rivals—can be deceiving. When Eden's king and crown prince are killed by assassins, Eden desperately needs a monarch, but the line of succession is no longer clear. With a ruling council scheming to gain power, Carys and Andreus are faced with only one option: to take part in a Trial of Succession that will determine which one of them is worthy of ruling the kingdom.
As sister and brother, Carys and Andreus have always kept each other safe—from their secrets, from the court, and from the monsters lurking in the mountains beyond the kingdom's wall. But the Trial of Succession will test the bonds of trust and family.
With their country and their hearts divided, Carys and Andreus will discover exactly what each will do to win the crown. How long before suspicion takes hold and the thirst for power leads to the ultimate betrayal?
*Melissa R's Choice*
(YABC Staff Reviewer)
Carve The Mark (Veronica Roth)
Author: Veronica Roth

Book: Hardcover, 480 pages
Expected publication: January 17th, 2017
Publisher: Katherine Tegen Books
Fans of Star Wars and Divergent will revel in internationally bestselling author Veronica Roth's stunning new science-fiction fantasy series.
On a planet where violence and vengeance rule, in a galaxy where some are favored by fate, everyone develops a currentgift, a unique power meant to shape the future. While most benefit from their currentgifts, Akos and Cyra do not—their gifts make them vulnerable to others' control. Can they reclaim their gifts, their fates, and their lives, and reset the balance of power in this world?
Cyra is the sister of the brutal tyrant who rules the Shotet people. Cyra's currentgift gives her pain and power—something her brother exploits, using her to torture his enemies. But Cyra is much more than just a blade in her brother's hand: she is resilient, quick on her feet, and smarter than he knows.
Akos is from the peace-loving nation of Thuvhe, and his loyalty to his family is limitless. Though protected by his unusual currentgift, once Akos and his brother are captured by enemy Shotet soldiers, Akos is desperate to get his brother out alive—no matter what the cost. When Akos is thrust into Cyra's world, the enmity between their countries and families seems insurmountable. They must decide to help each other to survive—or to destroy one another.
*Amy's Choice*
(YABC Staff Reviewer)
The Names They Gave Us (Emery Lord)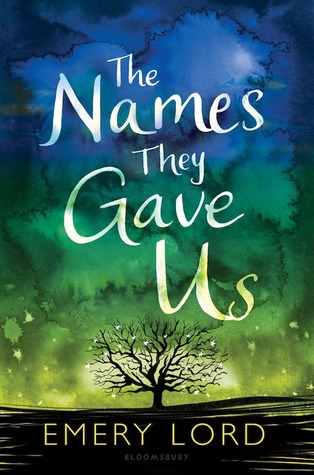 Author: Emery Lord

Book: Hardcover, 400 pages
Expected publication: May 16th, 2017
Publisher: Bloomsbury USA Childrens
From acclaimed author Emery Lord comes a vibrant, compelling story of love, loss, faith, and friendship.
Lucy Hansson was ready for a perfect summer with her boyfriend, working at her childhood Bible camp on the lake. But when her mom's cancer reappears, Lucy falters—in faith, in love, and in her ability to cope. When her boyfriend "pauses" their relationship and her summer job switches to a different camp—one for troubled kids—Lucy isn't sure how much more she can handle. Attempting to accept a new normal, Lucy slowly regains footing among her vibrant, diverse coworkers, Sundays with her mom, and a crush on a fellow counselor. But when long-hidden family secrets emerge, can Lucy set aside her problems and discover what grace really means?
Emotionally-charged and unforgettable, Emery Lord's storytelling shines with the promise of new love and true friendship, even in the face of life's biggest challenges.
*Melissa C's Choice*
(YABC Indie Staff Manager)
Strain Of Defiance (Michelle Bryan)
Eight years of fighting alien invaders has hardened Bixby and her crew of survivors at the Grand Hotel. They thought they had seen it all.
They were wrong.
The invaders have evolved. They've become smarter. Stronger. Deadlier.
There is only one possible way to eradicate this new threat. But that entails a perilous expedition over three hundred miles of infested territory. Three hundred miles of leeches, ravagers, and hybrids all on the hunt for blood.
What could possibly go wrong.
Rebel (Joanne MacGregor)
Can you win a war without losing yourself?
Sixteen year-old online gamer Jinxy James has been trained as an expert sniper in the war against a terrorist-spread plague which has decimated the USA. Now she's a wanted fugitive, on the run with a rebel splinter group, risking everything to save and protect her loved ones.
Jinxy has never wanted to hurt or kill, but the rebels are determined to uncover the truth about The Game, the government, and ASTA's sinister activities, whatever the cost. She will need all her courage, skill and strength if she hopes to help liberate the nation from the second war, without betraying herself, or her love.
Rebel is the third book in the Recoil Trilogy (young adult dystopian romance) and follows on from Recoil and Refuse. It begins immediately after the exciting ending of Refuse. Buy it now to continue the compelling story of Jinxy, Quinn and the forces determined to bring them down and tear them apart.
What book are you looking forward to in 2016?
Comment the name of the book below!