Waiting on Wednesday is a weekly event that is hosted by Jill at
and spotlights upcoming releases that we're eagerly anticipating.
*Beth's Choice*
(Assistant Blog Manager for YABC)
Waiting on Wednesday is a weekly event that is hosted by Jill at
and spotlights upcoming releases that we're eagerly anticipating.
*Beth's Choice*
(Assistant Blog Manager for YABC)
Wicked Like A Wildfire (Lana Popovic)
Author: Lana Popovic

Book: Hardcover, 352 pages
Expected publication: August 15th, 2017
Publisher: Katherine Tegen Books
All the women in Iris and Malina's family are born with a gleam—a unique way of manipulating beauty through magic. Seventeen-year-old Iris sees flowers as fractals and turns her kaleidoscope visions into glasswork, her twin sister Malina interprets moods as music, and their cold, distant mother Jasmina bakes scenery into decadent treats at her confectionery in Old Town Cattaro, Montenegro.
Jasmina forbids Iris and Malina to share their gleams with anyone, and above all, she forbids them to fall in love—being discovered could shatter the quiet lives they've built in their tucked-away, seaside town. But Iris and Malina are tired of abiding by their mother's rules and rebel in secret whenever they can.
Yet when a mysterious, white-haired woman attacks their mother and leaves her hovering between life and death, the sisters unearth an ancient curse that haunts their line—a wicked bargain that masquerades as a blessing, and binds the twins' fates—and hearts—to a force larger than life. To save each other, they must untangle a thousand years of lies and reveal their own hurtful secrets. But even the deepest sacrifice might not be enough.
Wicked Like a Wildfire is the first book in a sumptuous, bewitching duology about the power of love, death, magic, and the many faces of beauty.
Returned (Kimberley Griffiths Little)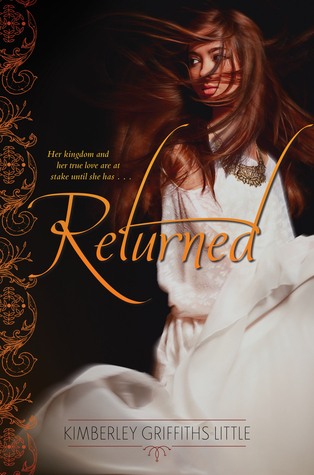 Author: Kimberley Griffiths Little

Book: Hardcover, 384 pages
Expected publication: February 7th, 2017
Publisher: Katherine Tegen Books
After tragedy strikes on the day they were to wed, Jayden must support Kadesh as he ascends the throne and becomes king of Sariba. But with the dark priestess Aliyah conspiring to control the crown, and the arrival of Horeb, Jayden's former betrothed, Kadesh's kingdom, as well as his status as king, is at stake.
Jayden knows that the time to be merciful has come and gone, and that some enemies can only be halted by death. Now she and Kadesh must prepare to fight not only for their love, but also for their kingdom.
*Sage's Choice*
(YABC Staff Reviewer)
Traitor To The Throne (Alwyn Hamilton)
Author: Alwyn Hamilton

Book: Hardcover, 528 pages
Expected publication: March 7th, 2017
Publisher: Viking Books For Young Readers
The sizzling, un-put-downable sequel to the bestselling Rebel of the Sands!
Mere months ago, gunslinger Amani al'Hiza fled her dead-end hometown on the back of a mythical horse with the mysterious foreigner Jin, seeking only her own freedom. Now she's fighting to liberate the entire desert nation of Miraji from a bloodthirsty sultan who slew his own father to capture the throne.
When Amani finds herself thrust into the epicenter of the regime—the Sultan's palace—she's determined to bring the tyrant down. Desperate to uncover the Sultan's secrets by spying on his court, she tries to forget that Jin disappeared just as she was getting closest to him, and that she's a prisoner of the enemy. But the longer she remains, the more she questions whether the Sultan is really the villain she's been told he is, and who's the real traitor to her sun-bleached, magic-filled homeland.
Forget everything you thought you knew about Miraji, about the rebellion, about djinni and Jin and the Blue-Eyed Bandit. In Traitor to the Throne, the only certainty is that everything will change.
*Melissa R's Choice*
(YABC Staff Reviewer)
Literally (Lucy Keating)
Author: Lucy Keating

Book: Hardcover, 256 pages
Expected publication: April 11th, 2017
Publisher: HarperTeen
A girl realizes her life is being written for her in this unique, smart love story that is Stranger Than Fiction for fans of Stephanie Perkins.
Annabelle's life has always been Perfect with a capital P. Then bestselling young adult author Lucy Keating announces that she's writing a new novel—and Annabelle is the heroine.
It turns out, Annabelle is a character that Lucy Keating created. And Lucy has a plan for her.
But Annabelle doesn't want to live a life where everything she does is already plotted out. Will she find a way to write her own story—or will Lucy Keating have the last word?
The real Lucy Keating's delightful contemporary romance blurs the line between reality and fiction, and is the perfect follow-up for readers who loved her debut Dreamology, which SLJ called, "a sweet, quirky romance with appealing characters."
*Beth R's Choice*
(YABC Indie Staff Reviewer)
Emerge: The Judgement
Author: Melissa Craven

Book: Hardcover, 450 pages
Expected publication: December 15th, 2016
Publisher: Midnight Hour Studio
The prophecy's about you, Red…
Allie Carmichael has been haunted by those words for months. After dropping a huge bombshell and then leaving her in limbo, Greggory McBrien still hasn't given her the answers she craves. The knowledge of her past and the absence of both Gregg and her father have left Allie an angry, twisted mess of emotions. She still feels an immeasurable amount of guilt for her mistakes that left her scarred for life and her friend, Quinn a captive of the Coalition. Allie finds herself constantly dancing on the edge of losing control of her power, too afraid to confide in anyone––even her handsome and broody best friend, Aidan.
A chance encounter at a dangerous nightclub reserved for Unproven Immortals, gives Allie and her friends the missing piece of the puzzle. If they have any hope of bringing Quinn home, they have to act quickly.
As Allie approaches her seventeenth birthday, the nightmares that only Aidan can keep at bay, return with a vengeance and she vows to finally face them on her own. But she struggles to understand what her clairvoyant gift is trying to tell her. When she finally begins to truly understand her gift, she fears it might be too late––and this time the price for her mistakes will be too high.
Last time she was afraid. This time she's angry.
*Melissa C's Choice*
(YABC Indie Manager)
Secrets Of Shadows (Multiple Authors)
Packed with fairies, witches, shifters, ghosts, space soldiers, deadly magic, gritty dystopian worlds, complicated relationships, and the ultimate swoon worthy love interests, follow ten badass heroines with remarkable powers and gifts as they face extraordinary challenges and decisions with potentially deadly consequences. They will stop at nothing to protect everyone and everything they love. They are fierce!
The Secrets and Shadows Boxed Set is a compilation of TEN not to be missed Young Adult Paranormal, Fantasy and Science Fiction full-length novels that will have you turning the pages faster than ever before.
With over a million words and more than 900 combined four and five star reviews, this is your ultimate young adult collection of mesmerizing paranormal, action-packed urban fantasy, enthralling time travel, gripping dystopian and captivating space operas from 10 Award Winning, New York Times, USA Today, and International Bestselling authors!
What book are you looking forward to in 2016-2017?
Comment the name of the book below!