Waiting on Wednesday is a weekly event that is hosted by Jill at
and spotlights upcoming releases that we're eagerly anticipating.
*Beth's Choice's*
(Assistant Blog Manager for YABC)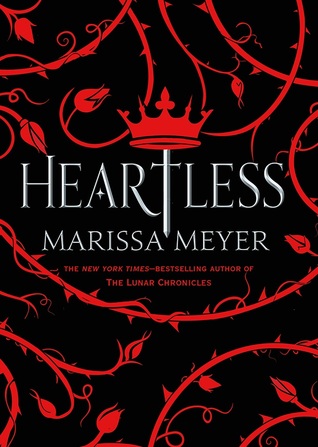 Author: Marissa Meyer

Book: Hardcover, 416 pages
Expected publication: November 8, 2016
Publisher: Feiwel & Friends
Long before she was the terror of Wonderland — the infamous Queen of Hearts
— she was just a girl who wanted to fall in love.
Catherine may be one of the most desired girls in Wonderland, and a favorite of the yet-unmarried King of Hearts, but her interests lie elsewhere. A talented baker, all she wants is to open a shop with her best friend and supply the Kingdom of Hearts with delectable pastries and confections. But according to her mother, such a goal is unthinkable for the young woman who could be the next Queen.
At a royal ball where Cath is expected to receive the king's marriage proposal, she meets Jest, the handsome and mysterious court joker. For the first time, she feels the pull of true attraction. At the risk of offending the King and infuriating her parents, she and Jest enter into an intense, secret courtship.
Cath is determined to define her own destiny and fall in love on her terms. But in a land thriving with magic, madness, and monsters, fate has other plans.
Why Beth chose Heartless:
OK I am a HUGE fan of Marissa Meyer and I love anything to do with Queens so this was a no- brainer for me! Everything about this book screams AWESOMENESS!!!! Even the beautiful cover will grab your attention and then you read the synopsis and it just sounds amazing!! I really cannot wait to read this new story by Marissa Meyer!!!
WHAT THE DEAD WANT by Norah Olson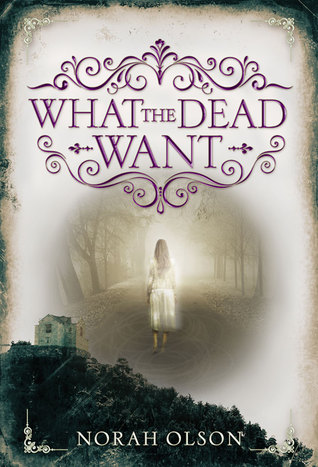 Author: Norah Olson

Book: Hardcover, 320 pages
Expected publication: July 26, 2016
Publisher: Katherine Tegen Books
16 -year-old Gretchen takes photographs to understand the world around her, a passion her mother Mona fostered and encouraged when she was still around. Since her mom disappeared years ago, Gretchen and her dad have lived on their own in New York City, haunted by Mona's absence.
When Gretchen's great aunt Esther calls unexpectedly to tell her that she has inherited the pre-Civil War mansion on her mother's side of the family in upstate New York, Gretchen understands nothing except that her aunt needs her help. But what she finds there is beyond her imagination. The house is crumbling apart, filled with stacks of papers and journals from decades, even centuries past, and it's crawling with rodents. It's also full of secrets and a legacy of racism and violence so reprehensible that the ghosts of the past are exacting revenge on the living.
Somehow the mystery of Mona's disappearance and the atrocities that happened on the land during the Civil War are inextricably intertwined, and it's up to Gretchen to figure out how…before even more lives are lost.
Why Beth chose What The Dead Want:
I absolutely love a good mystery and What The Dead Want is exactly that….and not to mention GHOSTS and THE DEAD….YEP! Im in! I love a good ghost story whether its scary or just intriguing and after reading the synopsis of What The Dead Want, I literally cannot wait to read this book and discover the secrets of What The Dead Want.
Author: Katrina Leno

Book: Hardcover, 352 pages
Expected publication: July 5, 2016
Publisher: Harper Teen
A charming and imaginative new novel about getting lost before you can be found.
LOST:
Frannie and Louis met in an online support group when they were both younger. They have never met face-to-face. They don't even know each other's real names. All they know is that they both have a mysterious tendency to lose things. Well, not lose them, exactly. Things just seem to…disappear.
FOUND:
They each receive news in the mail that sets them off on a road trip to Austin, Texas, looking for answers—and each other. Along the way, each one begins to find, as if by magic, important things the other has lost. And by the time they finally meet in person, they realize that the things you lose might be things you weren't meant to have at all, and that you never know what you might find if you just take a chance.
The Lost & Found is a bighearted novel about connections (missed and found), family (the kind you're born with and the kind you make for yourself), and unexpected journeys (on the road, and of the heart), from an author who Publishers Weekly called "a fierce new presence."
*Joanne's Choice*
(Staff Reviewer for YABC)
The Thousandth Floor by Katharine McGee
Author: Katharine McGee

Book: Hardcover, 448 pages
Expected publication: August 30, 2016
Publisher: Katherine Tegen Books
New York City as you've never seen it before. A thousand-story tower stretching into the sky. A glittering vision of the future, where anything is possible—if you want it enough.
Welcome to Manhattan, 2118.
A hundred years in the future, New York is a city of innovation and dreams. But people never change: everyone here wants something…and everyone has something to lose.
Leda Cole's flawless exterior belies a secret addiction—to a drug she never should have tried and a boy she never should have touched.
Eris Dodd-Radson's beautiful, carefree life falls to pieces when a heartbreaking betrayal tears her family apart.
Rylin Myers's job on one of the highest floors sweeps her into a world—and a romance—she never imagined…but will her new life cost Rylin her old one?
Watt Bakradi is a tech genius with a secret: he knows everything about everyone. But when he's hired to spy by an upper-floor girl, he finds himself caught up in a complicated web of lies.
And living above everyone else on the thousandth floor is Avery Fuller, the girl genetically designed to be perfect. The girl who seems to have it all—yet is tormented by the one thing she can never have.
Debut author Katharine McGee has created a breathtakingly original series filled with high-tech luxury and futuristic glamour, where the impossible feels just within reach. But in this world, the higher you go, the farther there is to fall….
Why Joanne chose The Thousandth Floor:
I just finished The Thousandth Floor by Katharine McGee Debut author. It is coming out the end of August. This one took me by surprise. Picked it up on Sunday and was finished with 448 pages by Monday afternoon. While some of it has some of the typical drama of Gossip Girl and Pretty Little Liars, it is set up in NYC 100 years from now. The detailed descriptions of the technology and world building is awe inspiring. Told it multiple narratives, as a reader it feels like you are a secret detective trying to piece together a huge mystery. It is a mash-up of some romance and mystery all carefully thrown into this crazy science fiction future that words just can't describe. I am recommending it as a fantastic summer read!
What book are you looking forward to in 2016?
Comment the name of the book below!