Waiting on Wednesday is a weekly event that is hosted by Jill at
and spotlights upcoming releases that we're eagerly anticipating.
*Beth's Choice*
(Assistant Blog Manager for YABC)
Stealing Snow by Danielle Paige
Seventeen-year-old Snow has spent the majority of her life within the walls of the Whittaker Institute, a high security mental hospital in upstate New York. Deep down, she knows she's not crazy and doesn't belong there. When she meets a mysterious, handsome new orderly and dreams about a strange twisted tree she realizes she must escape and figure out who she really is.
Using her trusting friend Bale as a distraction, Snow breaks free and races into the nearby woods. Suddenly, everything isn't what it seems, the line between reality and fantasy begins to blur, and she finds herself in icy Algid–her true home–with witches, thieves, and a strangely alluring boy named Kai, none of whom she's sure she can trust. As secret after secret is revealed, Snow discovers that she is on the run from a royal lineage she's destined to inherit, a father more powerful and ruthless than she could have imagined, and choices of the heart that could change the fate of everything…including Snow's return to the world she once knew.
This breathtaking first volume begins the story of how Snow becomes a villain, a queen, and ultimately a hero.
Why Beth chose Stealing Snow:
I have loved every book written by Danielle Paige and I absolutely devoured her Oz series!!!!! LOVED LOVED LOVED it!!! So of course when I saw she had a new book out then I knew I had to have it!! I have seen so many good reviews and some people even stating that it is better than her Oz series!!!! So yes….I am VERY excited about Stealing Snow!!!!
*Melissa's Choice*
(Staff Reviewer for YABC)
Three Dark Crowns by Kendare Blake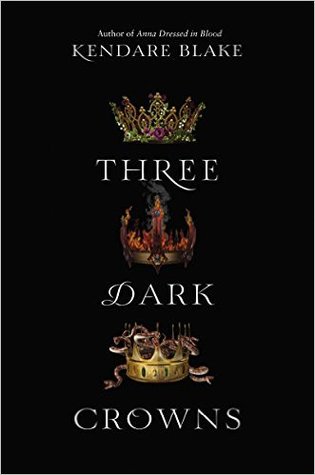 Author: Kendare Blake

Book: Hardcover, 416 pages
Expected publication: September 20th, 2016
Publisher: Harper Teen
Every generation on the island of Fennbirn, a set of triplets is born: three queens, all equal heirs to the crown and each possessor of a coveted magic. Mirabella is a fierce elemental, able to spark hungry flames or vicious storms at the snap of her fingers. Katharine is a poisoner, one who can ingest the deadliest poisons without so much as a stomachache. Arsinoe, a naturalist, is said to have the ability to bloom the reddest rose and control the fiercest of lions.
But becoming the Queen Crowned isn't solely a matter of royal birth. Each sister has to fight for it. And it's not just a game of win or lose…it's life or death. The night the sisters turn sixteen, the battle begins. The last queen standing gets the crown.
If only it was that simple. Katharine is unable to tolerate the weakest poison, and Arsinoe, no matter how hard she tries, can't make even a weed grow. The two queens have been shamefully faking their powers, taking care to keep each other, the island, and their powerful sister Mirabella none the wiser. But with alliances being formed, betrayals taking shape, and ruthless revenge haunting the queens' every move, one thing is certain: the last queen standing might not be the strongest…but she may be the darkest.
Why Melissa chose Three Dark Crowns:
This was a "love at first sight" kind of thing for me when I first saw the ARC flying around social media. The cover of this book is GORGEOUS, and when I looked up its synopsis, my need to read it multiplied by a million. I mean, three sisters (each with a different skill) fighting to death to win the crown? Just… whoa. Release day can't come soon enough!
*Sage's Choice*
(Staff Reviewer for YABC)
Author: E.K. Johnston

Book: Hardcover, 368 pages
Expected publication: December 6th, 2016
Publisher: Disney-Hyperion
The world is made safe by a woman…but it is a very big world.
It has been generations since the Storyteller Queen drove the demon out of her husband and saved her country from fire and blood. Her family has prospered beyond the borders of their village, and two new kingdoms have sprouted on either side of the mountains where the demons are kept prisoner by bright iron, and by the creatures the Storyteller Queen made to keep them contained.
But the prison is crumbling. Through years of careful manipulation, a demon has regained her power. She has made one kingdom strong and brought the other to its knees, waiting for the perfect moment to strike. When a princess is born, the demon is ready with the final blow: a curse that will cost the princess her very soul, or force her to destroy her own people to save her life.
The threads of magic are tightly spun, binding princess and exiled spinners into a desperate plot to break the curse before the demon can become a queen of men. But the web of power is dangerously tangled–and they may not see the true pattern until it is unspooled.
I absolutely loved A Thousand Nights, and immediately fell in love with this author's writing. It's elegant, beautiful, and she writes thought provoking, brilliant stories that you can't help but love! I mostly want this book because it's a spin off/sequel of sorts to A Thousand Nights, and I adore that story! I can't wait to see what else the author has in store for us.:)
*Melissa C's Choice*
(Staff/Indie Reviewer for YABC)
The Head of Medusa by Michelle Madow
Author: Michelle Madow

Book: eBook
Expected publication: June 29th, 2016
Publisher: Dreamscape Publishing
The epic story of witches, gods, and monsters that USA Today called a "must read" continues in the third book of the Elementals series!
When Nicole Cassidy moved to a new town, she discovered that she was a witch descended from gods. But that was nothing compared to learning that it was up to her and four others with mysterious elemental powers to help save the world from the Titans, who would soon return to Earth.
Now her relationship with Blake — the fire Elemental — is finally heating up. But she must remain focused, because Typhon, one of the deadliest creatures in history, has escaped from the weakening prison world. Only one object can destroy him — the head of Medusa herself.
Follow the Elementals as they journey to the end of the Earth, facing choices that will put their lives and the entire world at risk. Will they all survive the mission? Find out in the riveting third book in the Elementals series, The Head of Medusa.
Why Melissa C. chose The Head of Medusa (Elementals #3):
I absolutely adore the concept of this series and I'm totally hooked on anything by Michelle Madow. Witches are real, but they're the descendants of Greek Gods? Okay, I'm totally in! It's like Harry Potter and Percy Jackson with a little bit of the Secret Circle all rolled into one unique and exciting read. The best part about this series is it's new and fresh, with gorgeous covers and amazing characters, but there's no wait. The author has released the series very quickly and I know the fourth one is also coming soon too.
*Hannah's Choice*
(Staff Reviewer for YABC)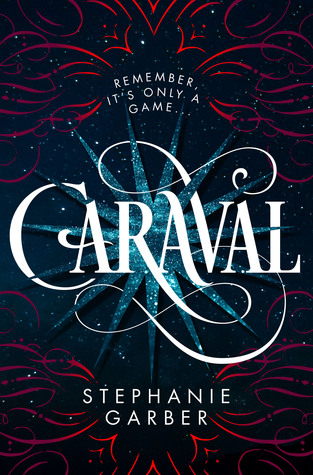 Author: Stephanie Garber

Book: Hardcover, 416 pages
Expected publication: January 31st, 2017
Publisher: Flatiron Books
Before you enter the world of Caraval, you must remember that it's all a game . . .
Scarlett has never left the tiny island where she and her beloved sister, Tella, live with their ruthless father. Now Scarlett's father has arranged a marriage for her, and Scarlett thinks her dreams of seeing Caraval, the legendary, once-a-year performance where the audience participates in the show, are over.
Then, Scarlett's long-dreamt of invitation to Caraval finally arrives. So, Tella enlists a mysterious sailor's help to whisk Scarlett away to this year's show. But as soon as the trio arrives, Tella is kidnapped by Caraval's mastermind organizer, Legend.
Scarlett has been told that everything that happens during Caraval is only an elaborate performance. But she nonetheless soon becomes enmeshed in a game of love, heartbreak, and magic with her sister, with Legend, and with the other players in the game. And whether Caraval is real or not, she must find Tella before the five nights of the game are over, a dangerous domino effect of consequences is set off, and her sister disappears forever.
Why Hannah chose Caraval:
I'm waiting on CARAVAL by Stephanie Garber! I love stories about sisters, and I love a great fantasy.
This books sounds like the best of both worlds!


What book are you looking forward to in 2016?
Comment the name of the book below!