Waiting on Wednesday is a weekly event that is hosted by Jill at
and spotlights upcoming releases that we're eagerly anticipating.
*Beth's Choice*
(Assistant Blog Manager for YABC)
Flashfall
Author: Jenny Moyer

Book: Hardcover, 325 pages
Expected publication: November 15th, 2016
Publisher: Henry Holt & Company
Orion is a Subpar, expected to mine the tunnels of Outpost Five, near the deadly flash curtain. For generations, her people have chased cirium—the only element that can shield humanity from the curtain's radioactive particles. She and her caving partner, Dram work the most treacherous tunnel, fighting past flash bats and tunnel gulls, in hopes of mining enough cirium to earn their way into the protected city.
But when newcomers arrive at Outpost Five, Orion uncovers disturbing revelations that make her question everything she thought she knew about life on both sides of the cirium shield. As conditions at the outpost grow increasingly dangerous, it's up to Orion to forge a way past the flashfall, beyond all boundaries, beyond the world as she knows it.
Why Beth chose Flashfall:
Everything about this book sounds amazing!! Thrilling adventure with suspense, action, and survival all mixed in! Sounds like the perfect mix for an amazing book!! I have been excited about this book since I first heard about it months ago and cannot wait to read this one!!! It is definitely high on my list for the fall!!!!
*Melissa's C Choice*
(Staff Reviewer for YABC)
The Retreat: The After Trilogy
Author: Kelly St Clare
Expected publication: August 30th, 2016
Publisher: Indie
Earth is ruined. Humankind destroyed. And it's old news.
Romy's life is simple—for a genetically enhanced space soldier; pick up space junk with her four friends, and stave off the invaders fixated on stealing Planet Earth.
It isn't much. But it's temporary—only another 850 years to go, give or take.
When her crew tangles with a gulp-worthy alien mothership, Romy's return to Earth is brought forwards at hurtling pace.
Strength comes from the unlikeliest of quarters.
As does leadership.
…As does betrayal.
Why Melissa C. chose The Retreat:
I was lucky enough to read an advanced copy of The Retreat and loved it. I can't wait for fans of Kelly's first series, The Tainted Accords, to see how great this new book is. I mean, that cover is just gorgeous! And I'm happy to say the book lives up to its pretty exterior. This is sci-fi for people who don't like
s​ci-fi. And St Clare really knows how to write ​
​an amazing book boyfriend. (Don't worry, fans of Jovan from Tainted Accords will LOVE Atlas.)
*Amy's Choice*
(Staff Reviewer for YABC)
A Million Worlds Without You (Firebird #3)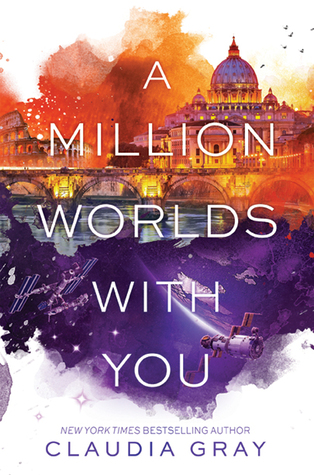 Author: Claudia Gray

Book: Hardcover, 432 pages
Expected publication: November 1st, 2016
Publisher: Harper Teen
A million universes. A million dangers. One destiny.
The fate of the multiverse rests in Marguerite Caine's hands. Marguerite has been at the center of a cross-dimensional feud since she first traveled to another universe using her parents' invention, the Firebird. Only now has she learned the true plans of the evil Triad Corporation—and that those plans could spell doom for dozens or hundreds of universes, each facing total annihilation.
Paul Markov has always been at Marguerite's side, but Triad's last attack has left him a changed man—angry and shadowed by tragedy. He struggles to overcome the damage done to him, but despite Marguerite's efforts to help, Paul may never be the same again.
So it's up to Marguerite alone to stop the destruction of the multiverse. Billions of lives are at stake. The risks have never been higher. And Triad has unleashed its ultimate weapon: another dimension's Marguerite—wicked, psychologically twisted, and always one step ahead.
In the epic conclusion to Claudia Gray's Firebird trilogy, fate and family will be questioned, loves will be won and lost, and the multiverse will be forever changed. It's a battle of the Marguerites . . . and only one can win.
Why Amy chose A Million Worlds Without You (Firebird #3):
Out November 1 ,2016.
I've been obsessed with this series since the first book was released and Im itching to find out how it all ends!
*Sage's Choice*
(Staff Reviewer for YABC)
The Architect of Song (Haunted Hearts Legacy #1)
Author: A.G. Howard

Book: Hardcover, 425 pages
Expected publication: August 15th, 2016
Publisher: Golden Orb Press
A lady imprisoned by deafness, an architect imprisoned by his past, and a ghost imprisoned within the petals of a flower – intertwine in this love story that transcends life and death.
For most of her life, nineteen-year-old Juliet Emerline has subsisted – isolated by deafness – making hats in the solitude of her home. Now, she's at risk to lose her sanctuary to Lord Nicolas Thornton, a twenty-seven-year-old mysterious and eccentric architect with designs on her humble estate. When she secretly witnesses him raging beside a grave, Juliet investigates, finding the name "Hawk" on the headstone and an unusual flower at the base. The moment Juliet touches the petals, a young English nobleman appears in ghostly form, singing a song only her deaf ears can hear. The ghost remembers nothing of his identity or death, other than the one name that haunts his afterlife: Thornton.
To avenge her ghostly companion and save her estate, Juliet pushes aside her fear of society and travels to Lord Thornton's secluded holiday resort, posing as a hat maker in one of his boutiques. There, she finds herself questioning who to trust: the architect of flesh and bones who can relate to her through romantic gestures, heartfelt notes, and sensual touches … or the specter who serenades her with beautiful songs and ardent words, touching her mind and soul like no other man ever can. As sinister truths behind Lord Thornton's interest in her estate and his tie to Hawk come to light, Juliet is lured into a web of secrets. But it's too late for escape, and the tragic love taking seed in her heart will alter her silent world forever.
International and NYT bestselling author, A.G. Howard, brings her darkly magical and visual/visceral storytelling to Victorian England. The Architect of Song is the first installment in her lush and romantic Haunted Hearts Legacy series, a four book gothic saga following the generations of one family as – haunted by both literal and figurative ghosts – they search for self-acceptance, love, and happiness.
Why Sage chose The Architect of Song:
I've heard a lot of great things about this book so far!
It sounds intriguing and mysterious, especially since it's about the deaf hearing the songbird the dead. d:
It also seems to have a strong message, and I'm looking forward to seeing how the author pulls it off!
*Eden's Choice*
(Staff Reviewer for YABC)
Kids of Appetite
Author: David Arnold

Book: Hardcover, 352 pages
Expected publication: September 20th, 2016
Publisher: Viking Books for Young Readers
The bestselling author of Mosquitoland brings us another batch of unforgettable characters in this tragicomedy about first love and devastating loss.
Victor Benucci and Madeline Falco have a story to tell.
It begins with the death of Vic's father.
It ends with the murder of Mad's uncle.
The Hackensack Police Department would very much like to hear it.
But in order to tell their story, Vic and Mad must focus on all the chapters in between.
This is a story about:
1. A coded mission to scatter ashes across New Jersey.
2. The momentous nature of the Palisades in winter.
3. One dormant submarine.
4. Two songs about flowers.
5. Being cool in the traditional sense.
6. Sunsets & ice cream & orchards & graveyards.
7. Simultaneous extreme opposites.
8. A narrow escape from a war-torn country.
9. A story collector.
10. How to listen to someone who does not talk.
11. Falling in love with a painting.
12. Falling in love with a song.
13. Falling in love.
Why Eden chose Kids of Appetite:
David Arnold's debut contemporary YA MOSQUITOLAND hit the book world by storm early last year, and his second book is garnering even more hype. The story of first love, devastating loss, and the real, important connections between people is impeccably written and highly relatable.
Arnold's style is literary and classic while at the same time high-interest and clever. Everyone is going to want to be reading this novel come September, and I'm one of them!
What book are you looking forward to in 2016?
Comment the name of the book below!