Waiting on Wednesday is a weekly event that is hosted by Jill at
and spotlights upcoming releases that we're eagerly anticipating.
*Beth's Choice*
(Assistant Blog Manager for YABC)
The Forgetting by Sharon Cameron
Author: Sharon Cameron

Book: Hardcover, 416 pages
Expected publication: September 13, 2016
Publisher: Scholastic Press
What isn't written, isn't remembered. Even your crimes.
Nadia lives in the city of Canaan, where life is safe and structured, hemmed in by white stone walls and no memory of what came before. But every twelve years the city descends into the bloody chaos of the Forgetting, a day of no remorse, when each person's memories – of parents, children, love, life, and self – are lost. Unless they have been written.
In Canaan, your book is your truth and your identity, and Nadia knows exactly who hasn't written the truth. Because Nadia is the only person in Canaan who has never forgotten.
But when Nadia begins to use her memories to solve the mysteries of Canaan, she discovers truths about herself and Gray, the handsome glassblower, that will change her world forever. As the anarchy of the Forgetting approaches, Nadia and Gray must stop an unseen enemy that threatens both their city and their own existence – before the people can forget the truth. And before Gray can forget her.
Why Beth chose The Forgetting:
This book sounds so intriguing!!
Everything from the cover to the synopsis looks amazing
and I have heard from several other reviewers that this is amazing book with fantastic characters and story!
I can't wait to get the chance to read it!!
*C.J. 's Choice*
(Owner of YABC)
Kingdom of Ash and Briars
Author: Hannah West

Book: Hardcover, 352 pages
Expected publication: August 30, 2016
Publisher: Holiday House
Bristal, an orphaned kitchen maid, lands in a gritty fairy tale gone wrong when she discovers she is an elicromancer with a knack for shape-shifting. An ancient breed of immortal magic beings, elicromancers have been winnowed down to merely two – now three – after centuries of bloody conflict in the realm. Their gifts are fraught with responsibility, and sixteen-year-old Bristal is torn between two paths. Should she vow to seek the good of the world, to protect and serve mortals? Or should she follow the strength of her power, even if it leads to unknown terrors? She draws on her ability to disguise herself as a man to infiltrate a prince's band of soldiers, and masquerades as a fairy godmother to shield a cursed princess, but time is running out. As an army of dark creatures grows closer, Bristal faces a supernatural war. To save the kingdoms, Bristal must find the courage to show her true form.
Building on homages to Cinderella, Sleeping Beauty, Jane Austen's Emma and the Chinese legend of Hua Mulan, Hannah West makes a spectacular debut.
Why CJ chose Kingdom of Ash and Briars:
I'm super excited about KINGDOM OF ASH AND BRIAR by Hannah West. I got to read an early copy of this book, and it is incredible. Fans of fairy tales, epic fantasy, and truly unique magic are going to LOVE this book. I can't wait to have my shiny, pretty hardcover sitting on my shelf!
*Inah's Choice*
(YABC Staff Reviewer)
This Is Our Story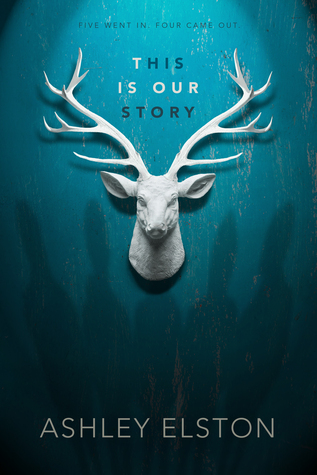 Author: Ashley Elston

Book: Hardcover, 320 pages
Expected publication: November 15, 2016
Publisher: Disney-Hyperion
No one knows what happened that morning at River Point. Five boys went hunting. Four came back. The boys won't say who fired the shot that killed their friend; the evidence shows it could have been any one of them.

Kate Marino's senior year internship at the District Attorney's Office isn't exactly glamorous—more like an excuse to leave school early that looks good on college applications. Then the DA hands her boss, Mr. Stone, the biggest case her small town of Belle Terre has ever seen. The River Point Boys are all anyone can talk about. Despite their damning toxicology reports the morning of the accident, the DA wants the boys' case swept under the rug. He owes his political office to their powerful families.

Kate won't let that happen. Digging up secrets without revealing her own is a dangerous line to walk; Kate has her own reasons for seeking justice for Grant. As she and Stone investigate—the ageing prosecutor relying on Kate to see and hear what he cannot—she realizes that nothing about the case—or the boys—is what it seems. Grant wasn't who she thought he was, and neither is Stone's prime suspect. As Kate gets dangerously close to the truth, it becomes clear that the early morning accident might not have been an accident at all—and if Kate doesn't uncover the true killer, more than one life could be on the line…including her own.
Why Inah chose This Is our Story:
I'm really excited for it because I've read really cool thriller YAs in the past weeks and
I'm always in the search for more and this book is just perfect for me!
The synopsis is just so captivating, I can't wait to read it!
*Sage's Choice*
(YABC Staff Reviewer)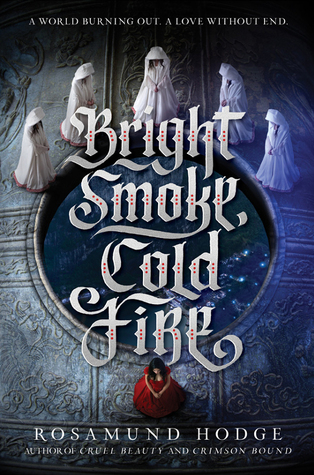 Author: Rosamund Hodge
Book: Hardcover, 320 pages
Expected publication: September 27, 2016
Publisher: Balzar & Bray
When the mysterious fog of the Ruining crept over the world, the living died and the dead rose. Only the walled city of Viyara was left untouched.
The heirs of the city's most powerful—and warring—families, Mahyanai Romeo and Juliet Catresou share a love deeper than duty, honor, even life itself. But the magic laid on Juliet at birth compels her to punish the enemies of her clan—and Romeo has just killed her cousin Tybalt. Which means he must die.
Paris Catresou has always wanted to serve his family by guarding Juliet. But when his ward tries to escape her fate, magic goes terribly wrong—killing her and leaving Paris bound to Romeo. If he wants to discover the truth of what happened, Paris must delve deep into the city, ally with his worst enemy . . . and perhaps turn against his own clan.
Mahyanai Runajo just wants to protect her city—but she's the only one who believes it's in peril. In her desperate hunt for information, she accidentally pulls Juliet from the mouth of death—and finds herself bound to the bitter, angry girl. Runajo quickly discovers Juliet might be the one person who can help her recover the secret to saving Viyara.
Both pairs will find friendship where they least expect it. Both will find that Viyara holds more secrets and dangers than anyone ever expected. And outside the walls, death is waiting. . .
Why Sage chose Bright Smoke, Cold Fire:
It sounds pretty great, and I'm hoping for violence and action. d:
It also sounds a bit unique, so I'm excited to see if that holds true.
Vassa In The Night by Sarah Porter
Author: Sarah Porter
Book: Hardcover, 304 pages
Expected publication: September 20, 2016
Publisher: Tor Teen
In the enchanted kingdom of Brooklyn, the fashionable people put on cute shoes, go to parties in warehouses, drink on rooftops at sunset, and tell themselves they've arrived. A whole lot of Brooklyn is like that now—but not Vassa's working-class neighborhood.
In Vassa's neighborhood, where she lives with her stepmother and bickering stepsisters, one might stumble onto magic, but stumbling out again could become an issue. Babs Yagg, the owner of the local convenience store, has a policy of beheading shoplifters—and sometimes innocent shoppers as well. So when Vassa's stepsister sends her out for light bulbs in the middle of night, she knows it could easily become a suicide mission.
But Vassa has a bit of luck hidden in her pocket, a gift from her dead mother. Erg is a tough-talking wooden doll with sticky fingers, a bottomless stomach, and a ferocious cunning. With Erg's help, Vassa just might be able to break the witch's curse and free her Brooklyn neighborhood. But Babs won't be playing fair. . . .
Inspired by the Russian folktale Vassilissa the Beautiful and Sarah Porter's years of experience teaching creative writing to New York City students.
Why Sage chose Vassa In The Night:
This sounds different from my usual read, but at the same time, that's why it intrigues me.
I have heard good things, and I can't wait to immerse myself in this world and read about the strange characters!
What book are you looking forward to in 2016?
Comment the name of the book below!