YABC Staff's Current Reads ~ October 1st, 2018
Hello YABC'ers!
Welcome to the weekly post by the Staff at YA Books Central called Current Reads Monday!
We love everything bookish and just wanted to share with our readers what books we are currently reading and obsessing about! So check out what books the YABC Staff are currently reading below and comment to let us know what your book or books your reading as well!!
Share, Tweet, and post with the hashtag #YABCCurrentReads!
Happy Reading!!
*Bethany R's Current Reads*
(YABC Staff Reviewer)
A Long Line Of Cakes (Deborah Wiles)
Author:

Deborah Wiles
Expected publication: August 28th, 2018
Publisher: Scholastic Press
Emma Lane Cake has five brothers, four dogs, and a family that can't stay put. The Cake family travels from place to place, setting up bakeries in communities that need them. Then, just when Emma feels settled in with new friends . . . they move again.
Now the Cakes have come to Aurora County, and Emma has vowed that this time she is NOT going to get attached to ANYONE or ANYTHING. Why bother, if her father's only going to uproot her again?
But fate has different plans. And so does Ruby Lavender, who is going to show Emma Lane Cake a thing or two about making friendship last.
*Beth's Current Reads*
(YABC Blog Manager)
Bloodleaf (Crystal Smith)
Expected publication: March 5th, 2018
Publisher: HMH BYR
Princess Aurelia is a prisoner to her crown and the heir that nobody wants. Surrounded by spirits and banned from using her blood-magic, Aurelia flees her country after a devastating assassination attempt. To escape her fate, Aurelia disguises herself as a commoner in a new land and discovers a happiness her crown has never allowed. As she forges new bonds and perfects her magic, she begins to fall for a man who is forbidden to rule beside her.

But the ghosts that haunt Aurelia refuse to abandon her, and she finds herself succumbing to their call as they expose a nefarious plot that only she can defeat. Will she be forced to choose between the weight of the crown and the freedom of her new life?
*Bethany W's Current Reads*
(YABC Staff Reviewer)
Wings & Destruction (G.K. Rosa)
Author:

G.K. DeRosa
Expected publication: September 25th, 2018
First the vampires attacked.
Then the angels came.
Humans thought they were saved.
They were wrong.
In less than a year, the Vampire and Angel War ravaged the country and decimated the human population, razing lands in golden fire and pools of crimson blood.
Seventeen year-old Liv thinks the immortals have stolen everything from her until a warrior nephilim drops from the sky and snatches away the only person she has left. Now Liv must risk everything to rescue Asher from the dreaded angel tower.
Even if that means trusting Declan, a gorgeous stranger who saves her from a pair of ravenous vampires. As much as Liv hates to admit it, she needs him to survive the perilous trek south. Declan's cunning, strong, and charming, but he's definitely keeping secrets.
Those dark secrets, once revealed, will force Liv to question whether Declan will be the key to rescuing Asher or her ultimate downfall.
*CJ's Current Reads*
(YABC Blog Owner)
The Caged Queen (Kristen Ciccarelli)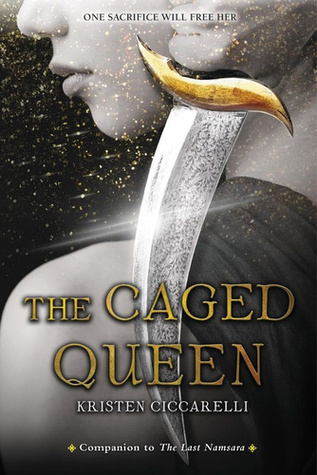 Author:

Kristen Ciccarelli
Expected publication: September 25th, 2018
Publisher: HarperTeen
Once there were two sisters born with a bond so strong that it forged them together forever. When they were angry, mirrors shattered, and when they were happy, flowers bloomed. It was a magic they cherished—until the day a terrible accident took Essie's life and trapped her soul in this world.

Dax—the heir to Firgaard's throne—was responsible for the accident. Roa swore to hate him forever. But eight years later he returned, begging for her help. He was determined to dethrone his cruel father, under whose oppressive reign Roa's people had suffered. Roa made him a deal: she'd give him the army he needed if he made her queen.

Together with Dax and his sister, Asha, Roa and her people waged war and deposed a tyrant. But now Asha is on the run, hiding from the price on her head. And Roa is an outlander queen, far from home and married to her enemy. Worst of all: Dax's promises go unfulfilled. Roa's people continue to suffer.

Then a chance to right every wrong arises—an opportunity for Roa to rid herself of this enemy king and rescue her beloved sister. During the Reliquishing, when the spirits of the dead are said to return, Roa can reclaim her sister for good.

All she has to do is kill the king.
What book are you currently reading? Comment below!
Share, Tweet, and post with the hashtag #YABCCurrentReads!
Related Posts
Comments
No comments made yet. Be the first to submit a comment