Going Through Riverdale Withdrawal? Us too! Check out these 10 YA Thrillers to Tide You Over Until the Show's Return.
Are you missing your weekly dose of secrets, swoons, and murder? So are we! Luckily, we've found 10 outstanding novels that will scratch that itch until Riverdale comes back.
1. One of Us is Lying by Karen M. McManus
"Breakfast Club Meets Pretty Little Liars." Five very different students walk into detention—the smart one, the beautiful one, the athlete, the outcast, and the troublemaker. Only the troublemaker, Simon, never makes it out. He's dead. What happened in that room?
2. What We Buried by Kate A. Boorman
Liv a former beauty pageant and reality tv star wants emancipation from her parents. Her brother Jory, who's lived in the shadows—thinks Liv is pulling another stunt. Then their parents mysteriously disappear and they set off on a road trip to find them. What starts off as a simple journey turns dangerous.
3.Sadie by Courtney Summers
Sadie is raising her sister, Mattie. Mattie is killed—and the police haven't done their job. Sadie is determined to bring her sister's killer to justice, with the help of a radio personality, just as eager to solve the mystery.
4.You Owe Me A Murder by Eileen Cook
17-year old Kim's boyfriend dumped her for someone else. And now stuck on a class trip with him, she wishes he were dead. A mysterious meeting on a plane and now her ex-boyfriend is dead. The mysterious stranger has done her a favor and now she wants the same favor in return—or she'll go down for a murder she didn't commit.
5. The Best Lies by Sarah Lyu
Remy's life was perfectly set up. She had the perfect boyfriend and best friend. But now he boyfriend is dead, and she's the one who pulled the trigger. Is Remy a cold-blooded killer? Or did she act in self defense?
6. Spin by Lamar Giles
Sixteen-year old Paris Secord aka Dj ParSec's young life has come to an end. Her best friend, Kya, and main groupie, Fuse—are feeling the pain of the lost. Aside from the lost, they suspect foul play. Paris was set to score a major deal. Did someone want the life she was getting ready to have?
7. A Good Girls Guide to Murder by Holly Jackson
Case Closer. Five years ago Andie Bell was murdered by Sal Singh. Pippa Fitz-Amobi doesn't buy it. She takes on the case for her final year project. During her research she uncovers secrets, and she believes the real killer is still on the loose.
8.Missing, Presumed Dead by Emma Berquist
Lexi can touch people and know when they will die. She forsees the death of Jane. But, Jane doesn't go quietly. Her ghost remains behind and she wants Lexi's help to find her murderer and get the revenge she's seeking.
9. Keep This To Yourself byTom Ryan
The Catalog Killer has terrorized the sleepy town of Camera Cove. He killed four people and disappeared. Mac's best friend Connor was one of the victims. Out of nowhere Mac gets a message from a very dead Connor. Now he's hunting down the killer—and everyone is suspicious.
10 Killing November by Adriana Mather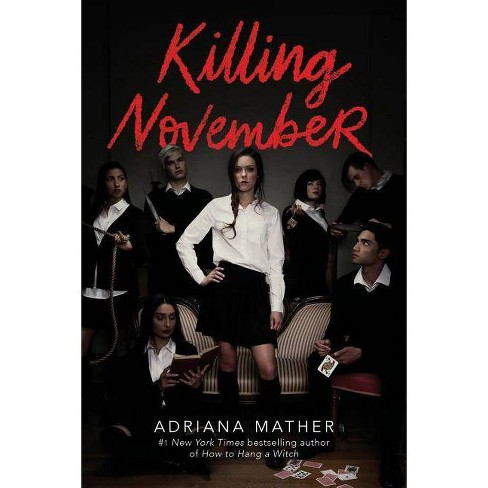 November is set to attend a school for spies. They're learning more than how to do fractions. But when November arrives she realizes just how tight the school is. There's no room for newbies in these cliques. Then a student is murdered and she's the prime suspect.
Comments
No comments made yet. Be the first to submit a comment