YABC Buzzworthy Books Of Winter 2018, Plus HUGE Giveaway!!
There are SO MANY amazing books hitting the shelves this Winter....
Which ones are we buzzing about?
Check out our list and be sure to enter the awesome giveaway for a chance to win some of these buzzworthy books!
The Traitor Prince (CJ Redwine)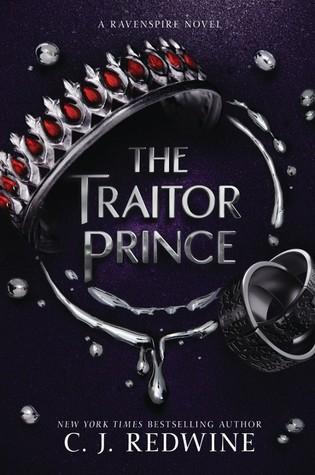 Javan Najafai, crown prince of Akram, has spent the last ten years at an elite boarding school, far away from his kingdom. But his eagerly awaited return home is cut short when a mysterious imposter takes his place—and no one believes Javan is the true prince.
After barely escaping the imposter's assassins, Javan is thrown into Maqbara, the kingdom's most dangerous prison. The only way to gain an audience with the king — and reveal Javan's identity — is to fight in Maqbara's yearly tournament. But winning is much harder than acing competitions at school, and soon Javan finds himself beset not just by the terrifying creatures in the arena, but also a band of prisoners allied against him, and even the warden herself.
The only person who can help him is Sajda, who has been enslaved by Maqbara's warden since she was a child, and whose guarded demeanor and powerful right hook keep the prisoners in check. Working with Sajda might be the only way Javan can escape alive — but she has dangerous secrets.
Together, Javan and Sajda have to outwit the vicious warden, outfight the deadly creatures, and outlast the murderous prisoners intent on killing Javan. If they fail, they'll be trapped in Maqbara for good—and the secret Sajda's been hiding will bury them both.
Everless (Sara Holland)
In the kingdom of Sempera, time is currency—extracted from blood, bound to iron, and consumed to add time to one's own lifespan. The rich aristocracy, like the Gerlings, tax the poor to the hilt, extending their own lives by centuries.

No one resents the Gerlings more than Jules Ember. A decade ago, she and her father were servants at Everless, the Gerlings' palatial estate, until a fateful accident forced them to flee in the dead of night. When Jules discovers that her father is dying, she knows that she must return to Everless to earn more time for him before she loses him forever.

But going back to Everless brings more danger—and temptation—than Jules could have ever imagined. Soon she's caught in a tangle of violent secrets and finds her heart torn between two people she thought she'd never see again. Her decisions have the power to change her fate—and the fate of time itself.
The Prince and the Dressmaker (Jen Wang)
Paris, at the dawn of the modern age:

Prince Sebastian is looking for a bride―or rather, his parents are looking for one for him. Sebastian is too busy hiding his secret life from everyone. At night he puts on daring dresses and takes Paris by storm as the fabulous Lady Crystallia―the hottest fashion icon in the world capital of fashion!

Sebastian's secret weapon (and best friend) is the brilliant dressmaker Frances―one of only two people who know the truth: sometimes this boy wears dresses. But Frances dreams of greatness, and being someone's secret weapon means being a secret. Forever. How long can Frances defer her dreams to protect a friend? Jen Wang weaves an exuberantly romantic tale of identity, young love, art, and family. A fairy tale for any age, The Prince and the Dressmaker will steal your heart.
Broken Beautiful Hearts (Kami Garcia)
Before, Peyton was a star soccer player with the perfect boyfriend, Reed. Now, she has a torn knee ligament, a scholarship on the line, and a shattered sense of self. No one believes Reed pushed her, causing her injury, and Peyton just wants to leave the trauma behind. Living with her uncle and twin cousins in their small, football-obsessed town seems like a great escape plan.

There, Peyton meets Owen—high school classmate and local MMA fighter. Though Owen is charming and gentle, Peyton is determined to repress her growing attraction. But when her old and new life collide, Peyton must reclaim the truth of her past in order to save her future.
Let's Talk About Love (Claire Kann)
Alice had her whole summer planned. Non-stop all-you-can-eat buffets while marathoning her favorite TV shows (best friends totally included) with the smallest dash of adulting--working at the library to pay her share of the rent. The only thing missing from her perfect plan? Her girlfriend (who ended things when Alice confessed she's asexual). Alice is done with dating--no thank you, do not pass go, stick a fork in her, done.

But then Alice meets Takumi and she can't stop thinking about him or the rom com-grade romance feels she did not ask for (uncertainty, butterflies, and swoons, oh my!).

When her blissful summer takes an unexpected turn, and Takumi becomes her knight with a shiny library employee badge (close enough), Alice has to decide if she's willing to risk their friendship for a love that might not be reciprocated—or understood.
Unearthed (Amie Kaufman/Meagan Spooner)
When Earth intercepts a message from a long-extinct alien race, it seems like the solution the planet has been waiting for. The Undying's advanced technology has the potential to undo environmental damage and turn lives around, and Gaia, their former home planet, is a treasure trove waiting to be uncovered.

For Jules Addison and his fellow scholars, the discovery of an alien culture offers unprecedented opportunity for study... as long as scavengers like Amelia Radcliffe don't loot everything first. Mia and Jules' different reasons for smuggling themselves onto Gaia put them immediately at odds, but after escaping a dangerous confrontation with other scavvers, they form a fragile alliance.

In order to penetrate the Undying temple and reach the tech and information hidden within, the two must decode the ancient race's secrets and survive their traps. But the more they learn about the Undying, the more their presence in the temple seems to be part of a grand design that could spell the end of the human race...
Runaways (Christopher Golden)
"The Pride, back in L.A.? Their parents, alive? Karolina had never realized hope and fear could feel so much alike."

Written by New York Times best-selling author Christopher Golden, Runaways: An Original Novel is a fresh take on the Marvel fan favorite. Including the first issue of the revived Runaways comic series written by Rainbow Rowell and with art by Kris Anka, it's easy for fans of the comics, fans of the new Hulu TV show, and first-time readers to all enjoy this new take on an old classic.

Turns out murderous Super Villains don't make for good parents. The Runaways had no choice. They had to kill them. Well, more or less. Now Nico, Karolina, Gert, Chase, and Molly are on the run again, hiding out and trying to regain a sense of normalcy. But kids with super powers don't get to be normal.

The city is overrun with criminals, each faction bent on murdering them for one reason or another. It's only when the Runaways uncover the truth behind their parents' past that they realize the evil isn't just in L.A.
The Belles (Dhonielle Clayton)
Camellia Beauregard is a Belle. In the opulent world of Orléans, Belles are revered, for they control Beauty, and Beauty is a commodity coveted above all else. In Orléans, the people are born gray, they are born damned, and only with the help of a Belle and her talents can they transform and be made beautiful.
But it's not enough for Camellia to be just a Belle. She wants to be the favorite—the Belle chosen by the Queen of Orléans to live in the royal palace, to tend to the royal family and their court, to be recognized as the most talented Belle in the land. But once Camellia and her Belle sisters arrive at court, it becomes clear that being the favorite is not everything she always dreamed it would be. Behind the gilded palace walls live dark secrets, and Camellia soon learns that the very essence of her existence is a lie—that her powers are far greater, and could be more dangerous, than she ever imagined. And when the queen asks Camellia to risk her own life and help the ailing princess by using Belle powers in unintended ways, Camellia now faces an impossible decision.
With the future of Orléans and its people at stake, Camellia must decide—save herself and her sisters and the way of the Belles—or resuscitate the princess, risk her own life, and change the ways of her world forever.
The Sweetest Kind Of Fate (Crystal Cestari)
GREAT. I've somehow found myself tangled up with a siren, a mermaid, and a homicidal wicked witch who once tried to strangle me to death. Way to go, Amber!

Amber Sand, legendary matchmaker, couldn't be more surprised when her arch nemesis, Ivy, comes asking for her help. Ivy's sister, Iris, is getting married, and Ivy wants to prove her sister is making a huge mistake. But as Amber looks into Iris's eyes, there doesn't seem to be a problem—Iris has clearly found her match.

It seems happily ever after is in the cards, but when Iris seeks out a dangerous, life-altering spell, it's up to Amber and Ivy to set aside their rivalry and save the day.

While Iris is willing to put everything on the line for love, Amber continues to wrestle with her own romantic future. Her boyfriend, Charlie, is still destined for another, and no matter how hard she clings to him, fear over their inevitable breakup shakes her belief system to the core.

Because the Fates are never wrong—right?
As You Wish (Chelsea Sedoti)
What if you could ask for anything- and get it?

In the sandy Mojave Desert, Madison is a small town on the road between nothing and nowhere. But Eldon wouldn't want to live anywhere else, because in Madison, everyone gets one wish—and that wish always comes true.

Some people wish for money, some people wish for love, but Eldon has seen how wishes have broken the people around him. And with the lives of his family and friends in chaos, he's left with more questions than answers. Can he make their lives better? How can he be happy if the people around him aren't? And what hope is there for any of them if happiness isn't an achievable dream? Doubts build, leading Eldon to a more outlandish and scary thought: maybe you can't wish for happiness…maybe, just maybe, you have to make it for yourself.
You Will Be Mine (Natasha Preston)
Love turns deadly in a new, heart-pounding thriller from Natasha Preston, author of the runaway bestsellers The Cellar and The Cabin.

ROSES ARE RED
VIOLETS ARE BLUE
WATCH YOUR BACK
I'M COMING FOR YOU

Lylah and her friends can't wait to spend a night out together. Partying is the perfect way to let loose from the stress of life and school, and Lylah hopes that hitting the dance floor with Chace, her best friend, will bring them closer together. She's been crushing on him since they met. If only he thought of her the same way...

The girls are touching up their makeup and the guys are sliding on their coats when the doorbell rings. No one is there. An envelope sits on the doormat. It's an anonymous note addressed to their friend Sonny. A secret admirer? Maybe. They all laugh it off.

Except Sonny never comes home. And a new note arrives:

YOUR TURN
Tess Of The Road (Rachel Hartman)
In the medieval kingdom of Goredd, women are expected to be ladies, men are their protectors, and dragons get to be whomever they want. Tess, stubbornly, is a troublemaker. You can't make a scene at your sister's wedding and break a relative's nose with one punch (no matter how pompous he is) and not suffer the consequences. As her family plans to send her to a nunnery, Tess yanks on her boots and sets out on a journey across the Southlands, alone and pretending to be a boy.
Where Tess is headed is a mystery, even to her. So when she runs into an old friend, it's a stroke of luck. This friend is a quigutl--a subspecies of dragon--who gives her both a purpose and protection on the road. But Tess is guarding a troubling secret. Her tumultuous past is a heavy burden to carry, and the memories she's tried to forget threaten to expose her to the world in more ways than one.
Batman: Nightwalker (Marie Lu)
Before he was Batman, he was Bruce Wayne. A reckless boy willing to break the rules for a girl who may be his worst enemy.

The Nightwalkers are terrorizing Gotham City, and Bruce Wayne is next on their list.

One by one, the city's elites are being executed as their mansions' security systems turn against them, trapping them like prey. Meanwhile, Bruce is turning eighteen and about to inherit his family's fortune, not to mention the keys to Wayne Enterprises and all the tech gadgetry his heart could ever desire. But after a run-in with the police, he's forced to do community service at Arkham Asylum, the infamous prison that holds the city's most brutal criminals.

Madeleine Wallace is a brilliant killer . . . and Bruce's only hope.

In Arkham, Bruce meets Madeleine, a brilliant girl with ties to the Nightwalkers. What is she hiding? And why will she speak only to Bruce? Madeleine is the mystery Bruce must unravel. But is he getting her to divulge her secrets, or is he feeding her the information she needs to bring Gotham City to its knees? Bruce will walk the dark line between trust and betrayal as the Nightwalkers circle closer.
Tempest and Slaughter (Tamora Pierce)
Arram. Varice. Ozorne. In the first book in the Numair Chronicles, three student mages are bound by fate . . . fated for trouble.

Arram Draper is a boy on the path to becoming one of the realm's most powerful mages. The youngest student in his class at the Imperial University of Carthak, he has a Gift with unlimited potential for greatness–and for attracting danger. At his side are his two best friends: Varice, a clever girl with an often-overlooked talent, and Ozorne, the "leftover prince" with secret ambitions. Together, these three friends forge a bond that will one day shape kingdoms. And as Ozorne gets closer to the throne and Varice gets closer to Arram's heart, Arram begins to realize that one day soon he will have to decide where his loyalties truly lie.

In the Numair Chronicles, readers will be rewarded with the never-before-told story of how Numair Salmalín came to Tortall. Newcomers will discover an unforgettable fantasy adventure where a kingdom's future rests on the shoulders of a talented young man with a knack for making vicious enemies.

Act fast! The first printing of the hardcover includes a collector's edition poster!
What The Night Sings (Vasper Stamper)
After losing her family and everything she knew in the Nazi concentration camps, Gerta is finally liberated, only to find herself completely alone. Without her Papa, her music, or even her true identity, she must move past the task of surviving and onto living her life.

In the displaced persons camp where she is staying, Gerta meets Lev, a fellow teen survivor who she just might be falling for, despite her feelings for someone else. With a newfound Jewish identity she never knew she had, and a return to the life of music she thought she lost forever, Gerta must choose how to build a new future.
Obsidio (Amie Kaufman/Jay Kristoff)
Kady, Ezra, Hanna, and Nik narrowly escaped with their lives from the attacks on Heimdall station and now find themselves crammed with 2,000 refugees on the container ship, Mao. With the jump station destroyed and their resources scarce, the only option is to return to Kerenza—but who knows what they'll find seven months after the invasion?
Meanwhile, Kady's cousin, Asha, survived the initial BeiTech assault and has joined Kerenza's ragtag underground resistance. When Rhys—an old flame from Asha's past—reappears on Kerenza, the two find themselves on opposite sides of the conflict.
With time running out, a final battle will be waged on land and in space, heros will fall, and hearts will be broken.
Layover (Amy Andelson/Emily Meyer)
Flynn: At first we were almost strangers. But ever since I moved to New York, Amos was the one person I could count on. And together we were there for Poppy. (I mean, what kind of parents leave their kid to be raised by a nanny?) I just didn't expect to fall for him—and I never expected him to leave us.

Amos: I thought I was the only one who felt it. I told myself it was because we were spending so much time together—taking care of Poppy and all. But that night, I could tell she felt it, too. And I freaked out—you're not supposed to fall for your stepsister. So I ran away to boarding school. I should have told her why I was leaving, but every time I tried, it felt like a lie.

One missed flight was about to change their lives forever….
The Beauty That Remains (Ashley Woodfolk)
Music brought Autumn, Shay, and Logan together. Death wants to tear them apart.

Autumn always knew exactly who she was—a talented artist and a loyal friend. Shay was defined by two things: her bond with her twin sister, Sasha, and her love of music. And Logan always turned to writing love songs when his love life was a little less than perfect.

But when tragedy strikes each of them, somehow music is no longer enough. Now Logan can't stop watching vlogs of his dead ex-boyfriend. Shay is a music blogger struggling to keep it together. And Autumn sends messages that she knows can never be answered.

Each of them wonders: How different would my life be if this hadn't happened? And now that it has . . . what's next?
S.T.A.G.S. (M.A. Bennett)
Nine students. Three bloodsports. One deadly weekend.
It is the autumn term and Greer MacDonald is struggling to settle into the sixth form at the exclusive St. Aidan the Great boarding school, known to its privileged pupils as S.T.A.G.S. Just when she despairs of making friends Greer receives a mysterious invitation with three words embossed upon on it: huntin' shootin' fishin'. When Greer learns that the invitation is to spend the half term weekend at the country manor of Henry de Warlencourt, the most popular and wealthy boy at S.T.A.G.S., she is as surprised as she is flattered.
But when Greer joins the other chosen few at the ancient and sprawling Longcross Hall, she realises that Henry's parents are not at home; the only adults present are a cohort of eerily compliant servants. The students are at the mercy of their capricious host, and, over the next three days, as the three bloodsports - hunting, shooting and fishing - become increasingly dark and twisted, Greer comes to the horrifying realisation that those being hunted are not wild game, but the very misfits Henry has brought with him from school...
The Hazel Wood (Melissa Albert)
Seventeen-year-old Alice and her mother have spent most of Alice's life on the road, always a step ahead of the uncanny bad luck biting at their heels. But when Alice's grandmother, the reclusive author of a cult-classic book of pitch-dark fairy tales, dies alone on her estate, the Hazel Wood, Alice learns how bad her luck can really get: her mother is stolen away―by a figure who claims to come from the Hinterland, the cruel supernatural world where her grandmother's stories are set. Alice's only lead is the message her mother left behind: "Stay away from the Hazel Wood."
Alice has long steered clear of her grandmother's cultish fans. But now she has no choice but to ally with classmate Ellery Finch, a Hinterland superfan who may have his own reasons for wanting to help her. To retrieve her mother, Alice must venture first to the Hazel Wood, then into the world where her grandmother's tales began―and where she might find out how her own story went so wrong.
Reign The Earth (A.C. Gaughen)
Shalia is a proud daughter of the desert, but after years of devastating war with the adjoining kingdom, her people are desperate for peace. Willing to trade her freedom to ensure the safety of her family, Shalia becomes Queen of the Bonelands.
But she soon learns that her husband, Calix, is motivated only by his desire to exterminate the Elementae—mystical people who can control earth, wind, air, and fire. Even more unsettling are Shalia's feelings for her husband's brother, which unleash a power over the earth she never knew she possessed—a power that could get her killed. As rumors of a rebellion against Calix spread, Shalia must choose between the last chance for peace and her own future as an Elementae.
This intense, richly drawn high-fantasy by the author of Scarletwill hold readers spellbound.
More Than We Can Tell (Brigid Kemmerer)
*While this book exists in the same universe as Letters to the Lost, it is a standalone title.*

Rev Fletcher is battling the demons of his past. But with loving adoptive parents by his side, he's managed to keep them at bay...until he gets a letter from his abusive father and the trauma of his childhood comes hurtling back.

Emma Blue spends her time perfecting the computer game she built from scratch, rather than facing her parents' crumbling marriage. She can solve any problem with the right code, but when an online troll's harassment escalates, she's truly afraid.

When Rev and Emma meet, they both long to lift the burden of their secrets and bond instantly over their shared turmoil. But when their situations turn dangerous, their trust in each other will be tested in ways they never expected. This must-read story will once again have readers falling for Brigid Kemmerer's emotional storytelling.
Fade To Us (Julia Day)
Fade To Us is a story about found families, the bond of sisterhood, and the agony and awe of first love.

Brooke's summer is going to be EPIC--having fun with her friends and a job that lets her buy a car. Then her new stepfather announces his daughter is moving in. Brooke has always longed for a sibling, so she's excited about spending more time with her stepsister. But she worries, too. Natalie has Asperger's--and Brooke's not sure how to be the big sister that Natalie needs.

After Natalie joins a musical theater program, Brooke sacrifices her job to volunteer for the backstage crew. She's mostly there for Natalie, but Brooke soon discovers how much she enjoys being part of the show. Especially sweet is the chance to work closely with charming and fascinating Micah--the production's stage manager. If only he wasn't Natalie's mentor…

When summer comes to an end, will Brooke finally have the family she so desperately wants–and the love she's only dreamed about?
Meet Cute: Some People Are Destined To Meet (Various Authors)
Whether or not you believe in fate, or luck, or love at first sight, every romance has to start somewhere. MEET CUTE is an anthology of original short stories featuring tales of "how they first met" from some of today's most popular YA authors.
Readers will experience Nina LaCour's beautifully written piece about two Bay Area girls meeting via a cranky customer service Tweet, Sara Shepard's glossy tale about a magazine intern and a young rock star, Nicola Yoon's imaginative take on break-ups and make-ups, Katie Cotugno's story of two teens hiding out from the police at a house party, and Huntley Fitzpatrick's charming love story that begins over iced teas at a diner. There's futuristic flirting from Kass Morgan and Katharine McGee, a riveting transgender heroine from Meredith Russo, a subway missed connection moment from Jocelyn Davies, and a girl determined to get out of her small town from Ibi Zoboi. Jennifer Armentrout writes a sweet story about finding love from a missing library book, Emery Lord has a heartwarming and funny tale of two girls stuck in an airport, Dhonielle Clayton takes a thoughtful, speculate approach to pre-destined love, and Julie Murphy dreams up a fun twist on reality dating show contestants.
This incredibly talented group of authors brings us a collection of stories that are at turns romantic and witty, epic and everyday, heartbreaking and real.
Nice Try Jane Sinner (Lianne Oelke)
The only thing 17-year-old Jane Sinner hates more than failure is pity. After a personal crisis and her subsequent expulsion from high school, she's going nowhere fast. Jane's well-meaning parents push her to attend a high school completion program at the nearby Elbow River Community College, and she agrees, on one condition: she gets to move out.

Jane tackles her housing problem by signing up for House of Orange, a student-run reality show that is basically Big Brother, but for Elbow River Students. Living away from home, the chance to win a car (used, but whatever), and a campus full of people who don't know what she did in high school… what more could she want? Okay, maybe a family that understands why she'd rather turn to Freud than Jesus to make sense of her life, but she'll settle for fifteen minutes in the proverbial spotlight.

As House of Orange grows from a low-budget web series to a local TV show with fans and shoddy T-shirts, Jane finally has the chance to let her cynical, competitive nature thrive. She'll use her growing fan base, and whatever Intro to Psychology can teach her, to prove to the world—or at least viewers of substandard TV—that she has what it takes to win.
FUM (Adam Rapp)
What is it like to be a giant? Meet Corinthia Bledsoe, a seven-foot tall high-school junior who can predict the future.

Over seven feet tall and with a newfound ability to sense future events, Corinthia Bledsoe is far more than just another Midwestern high-school junior; she's a force of nature. When she predicts with terrifying accuracy the outcome of a tornado that will hit her high school, leaving a cow standing midcourt in the Lugo Memorial field house, Corinthia finds herself at the epicenter of another kind of storm entirely. And as things get stranger and stranger — both in her small town and her own home — lives start to intersect in ways even Corinthia can't foresee.
The Radical Element (Jessica Spotswood)
In an anthology of revolution and resistance, a sisterhood of YA writers shines a light on a century and a half of heroines on the margins and in the intersections.

To respect yourself, to love yourself—should not have to be a radical decision. And yet it remains as challenging for an American girl to make today as it was in 1927 on the steps of the Supreme Court. It's a decision that must be faced whether you're balancing on the tightrope of neurodivergence, finding your way as a second-generation immigrant, or facing down American racism even while loving America. And it's the only decision when you've weighed society's expectations and found them wanting. In The Radical Element, twelve of the most talented writers working in young adult literature today tell the stories of the girls of all colors and creeds standing up for themselves and their beliefs—whether that means secretly learning Hebrew in early Savannah, using the family magic to pass as white in 1920s Hollywood, or singing in a feminist punk band in 1980s Boston. And they're asking you to join them.
The Last To Let Go (Amber Smith)
How do you let go of something you've never had?

Junior year for Brooke Winters is supposed to be about change. She's transferring schools, starting fresh, and making plans for college so she can finally leave her hometown, her family, and her past behind.

But all of her dreams are shattered one hot summer afternoon when her mother is arrested for killing Brooke's abusive father. No one really knows what happened that day, if it was premeditated or self-defense, whether it was right or wrong. And now Brooke and her siblings are on their own.

In a year of firsts—the first year without parents, first love, first heartbreak, and her first taste of freedom—Brooke must confront the shadow of her family's violence and dysfunction, as she struggles to embrace her identity, finds her true place in the world, and learns how to let go.
Begin, End, Begin (Danielle Binks)
The YA event of the year. Bestsellers. Award-winners. Superstars. This anthology has them all. With brilliantly entertaining short stories from beloved young adult authors Amie Kaufman, Melissa Keil, Will Kostakis, Ellie Marney, Jaclyn Moriarty, Michael Pryor, Alice Pung, Gabrielle Tozer, Lili Wilkinson and Danielle Binks, this all-new collection will show the world exactly how much there is to love about Aussie YA.
The Witch's Tear (Katherine & Elizabeth Corr)
Can true love's kiss break your heart...?

It's not easy being a teenage witch. Just ask Merry. She's drowning in textbooks and rules set by the coven; drowning in heartbreak after the loss of Jack. But Merry's not the only one whose fairy tale is over. Big brother Leo is falling apart and everything Merry does seems to push him further to the brink. And everything that happens to Leo makes her ache for revenge. So when strangers offering friendship show them a different path they'd be mad not to take it...

Some rules were made to be broken, right?
American Panda (Gloria Chao)
An incisive, laugh-out-loud contemporary debut about a Taiwanese-American teen whose parents want her to be a doctor and marry a Taiwanese Ivy Leaguer despite her squeamishness with germs and crush on a Japanese classmate.
At seventeen, Mei should be in high school, but skipping fourth grade was part of her parents' master plan. Now a freshman at MIT, she is on track to fulfill the rest of this predetermined future: become a doctor, marry a preapproved Taiwanese Ivy Leaguer, produce a litter of babies.
With everything her parents have sacrificed to make her cushy life a reality, Mei can't bring herself to tell them the truth--that she (1) hates germs, (2) falls asleep in biology lectures, and (3) has a crush on her classmate Darren Takahashi, who is decidedly not Taiwanese.
But when Mei reconnects with her brother, Xing, who is estranged from the family for dating the wrong woman, Mei starts to wonder if all the secrets are truly worth it. Can she find a way to be herself, whoever that is, before her web of lies unravels?
By A Charm and A Curse (Jaime Questell)
Le Grand's Carnival Fantastic isn't like other traveling circuses. It's bound by a charm, held together by a centuries-old curse, that protects its members from ever growing older or getting hurt. Emmaline King is drawn to the circus like a moth to a flame…and unwittingly recruited into its folds by a mysterious teen boy whose kiss is as cold as ice.

Forced to travel through Texas as the new Girl in the Box, Emmaline is completely trapped. Breaking the curse seems like her only chance at freedom, but with no curse, there's no charm, either—dooming everyone who calls the Carnival Fantastic home. Including the boy she's afraid she's falling for.

Everything—including his life—could end with just one kiss.
Tarnished (Kate Jarvik Birch)
Freedom comes at a cost...

Ella was genetically engineered to be the perfect pet—graceful, demure...and kept. In a daring move, she escaped her captivity and took refuge in Canada. But while she can think and act as she pleases, the life of a liberated pet is just as confining as the Congressman's gilded cage. Her escape triggered a backlash, and now no one's safe, least
of all the other pets. But she's trapped, unable to get back
to Penn—the boy she loves—or help the girls who need her.

Back in the United States, pets are turning up dead. With help from a very unexpected source, Ella slips deep into the dangerous black market, posing as a tarnished pet available to buy or sell. If she's lucky, she'll be able to rescue Penn and expose the truth about the breeding program. If she fails, Ella will pay not only with her life, but the lives
of everyone she's tried to save...
Love Between Enemies (Molly E Lee)
Zoey Handler is ready to put an end to her decade-long rivalry with Gordon Meyers. They've traded top spot between valedictorian and salutatorian for years, but all that's over now. Right? But after a crazy graduation speech prank gets out of hand, suddenly their rivalry turns into all-out war. Time to make peace with a little friendly payback.

Step one? Make him believe they're now friends.

Step two? Show him the time of his life at an epic graduation party.

Step three? Don't fall for his tricks.

Step four? Absolutely, positively, do not kiss him again.

So what if he's cute? (Okay, hot.) So what if he's charming? (Heaven help her, tempting.) So what if he apologizes? (That has to be fake.) She knows the real Gordon. And no matter how much her heart begs her to stop, there's no turning back.

Disclaimer: This Entangled Teen Crush book contains one epic party, complete with every high-schoolers-gone-bad shenanigan, and two rivals who discover maybe they could be something much more…if only they'd stop fighting long enough to notice it.
Lions and Tigers and Boys (Tawny Stokes)
The last thing a girl as awkward as Dani Gale should be doing is trying to learn the high wire. Yet that's exactly where Dani ends up—at OZ, the Oswald Zinzendorf School of Circus Arts. Trying to overcome her shyness is near impossible when her new partner—the hottest guy she's ever laid eyes on, and whose touch seems to give her poise she thought impossible—also seems to be sabotaging her progress.
The last thing Cai Coppersmith needs is a distraction, especially in the form of the new, cute shy girl. He needs to focus on trying not to shape-shift into a tiger on school grounds, and completing his mission to keep Dani from winning the school's high-wire competition. In fact, the entire safety of OZ is relying on Dani not succeeding. But there's something about the girl that draws him in. She has magic, he can feel it. So he'll do what he can to protect her, even if it means pushing her away.
In Sight Of Stars (Gae Polisner)
Seventeen-year-old Klee's father was the center of his life. He introduced Klee to the great museums of New York City and the important artists on their walls, he told him stories made of myths and magic. Until his death.

Now, forced to live in the suburbs with his mom, Klee can't help but feel he's lost all the identifying parts of himself—his beloved father, weekly trips to the MoMA, and the thrumming energy of New York City. That is until he meets wild and free Sarah in art class, with her quick smiles and jokes about his "brooding." Suddenly it seems as if she's the only thing that makes him happy. But when an act of betrayal sends him reeling, Klee lands in what is bitingly referred to as the "Ape Can," a psychiatric hospital for teens in Northollow.

While there, he undergoes intensive therapy and goes back over the pieces of his life to find out what was real, what wasn't, and whether he can stand on his own feet again. Told in alternating timelines, leading up to the event that gets him committed and working towards getting back out, Gae Polisner's In Sight of Starsis a gorgeous novel told in minimalist strokes to maximal effect, about what makes us fall apart and how we can put ourselves back together again.
Children Of Blood and Bone (Tomi Adeyemi)
Zélie Adebola remembers when the soil of Orïsha hummed with magic. Burners ignited flames, Tiders beckoned waves, and Zelie's Reaper mother summoned forth souls.
But everything changed the night magic disappeared. Under the orders of a ruthless king, maji were targeted and killed, leaving Zélie without a mother and her people without hope.
Now, Zélie has one chance to bring back magic and strike against the monarchy. With the help of a rogue princess, Zélie must outwit and outrun the crown prince, who is hell-bent on eradicating magic for good.
Danger lurks in Orïsha, where snow leoponaires prowl and vengeful spirits wait in the waters. Yet the greatest danger may be Zélie herself as she struggles to control her powers—and her growing feelings for the enemy.
Reign Of The Fallen (Sarah Glenn Marsh)
Odessa is one of Karthia's master necromancers, catering to the kingdom's ruling Dead. Whenever a noble dies, it's Odessa's job to raise them by retrieving their souls from a dreamy and dangerous shadow world called the Deadlands. But there is a cost to being raised--the Dead must remain shrouded, or risk transforming into zombie-like monsters known as Shades. If even a hint of flesh is exposed, the grotesque transformation will begin.
A dramatic uptick in Shade attacks raises suspicions and fears among Odessa's necromancer community. Soon a crushing loss of one of their own reveals a disturbing conspiracy: someone is intentionally creating Shades by tearing shrouds from the Dead--and training them to attack. Odessa is faced with a terrifying question: What if her necromancer's magic is the weapon that brings Karthia to its knees?
Daughter Of The Siren Queen (Tricia Levenseller)
Alosa's mission is finally complete. Not only has she recovered all three pieces of the map to a legendary hidden treasure, but the pirates who originally took her captive are now prisoners on her ship. Still unfairly attractive and unexpectedly loyal, first mate Riden is a constant distraction, but now he's under her orders. And she takes great comfort in knowing that the villainous Vordan will soon be facing her father's justice.

When Vordan exposes a secret her father has kept for years, Alosa and her crew find themselves in a deadly race with the feared Pirate King. Despite the danger, Alosa knows they will recover the treasure first . . . after all, she is the daughter of the Siren Queen.
Honor Among Thieves (Rachel Caine & Ann Aguirre)
Petty criminal Zara Cole has a painful past that's made her stronger than most, which is why she chose life in New Detroit instead moving with her family to Mars. In her eyes, living inside a dome isn't much better than a prison cell.
Still, when Zara commits a crime that has her running scared, jail might be exactly where she's headed. Instead Zara is recruited into the Honors, an elite team of humans selected by the Leviathan—a race of sentient alien ships—to explore the outer reaches of the universe as their passengers.
Zara seizes the chance to flee Earth's dangers, but when she meets Nadim, the alien ship she's assigned, Zara starts to feel at home for the first time. But nothing could have prepared her for the dark, ominous truths that lurk behind the alluring glitter of starlight.
The Rogue Queen (Emily R King)
Despite the odds, Kalinda has survived it all: Marriage to a tyrant. Tournaments to the death. The forbidden power to rule fire. The icy touch of a demon.
That same demon now disguises itself as Rajah Tarek, Kalinda's late husband and a man who has never stopped haunting her. Upon taking control of the palace and the army, the demon brands Kalinda and her companions as traitors to the empire. They flee across the sea, seeking haven in the Southern Isles.
In Lestari, Kalinda's powers are not condemned, as they are in her land. Now free to use them to protect those she loves, Kalinda soon realizes that the demon has tainted her with a cold poison, rendering her fire uncontrollable. But the lack of control may be just what she needs to send the demon back to the darkest depths of the Void.
To take back the empire, Kalinda will ally with those she distrusts—and risk losing those most loyal to her—to defeat the demon and bring peace to a divided nation.
Wicked Charm (Amber Hart)
Nothing good comes from living in the Devil's swamp.

Willow Bell thinks moving to the Okefenokee area isn't half bad, but nothing prepares her for what awaits in the shadows of the bog.

Girls are showing up dead in the swamp. And she could be next.

Everyone warns Willow to stay away from Beau Cadwell—the bad boy at the top of their suspect list as the serial killer tormenting the small town.

But beneath his wicked, depthless eyes, there's something else that draws Willow to him.

When yet another girl he knew dies, though, Willow questions whether she can trust her instincts…or if they're leading to her own death.
*GIVEAWAY DETAILS*
Want to win some books from this awesome list??
To enter, click on the Rafflecopter link below.
And be sure to comment and tell us which books on this list you're excited to add to your TBR!
Have a buzzworthy book that didnt make our list??
Comment with your most buzzed about choices below!!
Related Posts