Waiting On Wednesday ~ October 19, 2016
Waiting on Wednesday is a weekly event that is hosted by Jill at
and spotlights upcoming releases that we're eagerly anticipating.
*Beth's Choice*
(Assistant Blog Manager for YABC)
A Flame In The Mist (Renee Ahdieh)
Author: Renee Ahdieh

Book: Hardcover
Expected publication: May 2nd, 2017
Publisher: G.P. Putnam's Sons Books For Young Readers
The daughter of a prominent samurai, Mariko has long known her place—she may be an accomplished alchemist, whose cunning rivals that of her brother Kenshin, but because she is not a boy, her future has always been out of her hands. At just seventeen years old, Mariko is promised to Minamoto Raiden, the son of the emperor's favorite consort—a political marriage that will elevate her family's standing. But en route to the imperial city of Inako, Mariko narrowly escapes a bloody ambush by a dangerous gang of bandits known as the Black Clan, who she learns has been hired to kill her before she reaches the palace.
Dressed as a peasant boy, Mariko sets out to infiltrate the ranks of the Black Clan, determined to track down the person responsible for the target on her back. But she's quickly captured and taken to the Black Clan's secret hideout, where she meets their leader, the rebel ronin Takeda Ranmaru, and his second-in-command, his best friend Okami. Still believing her to be a boy, Ranmaru and Okami eventually warm to Mariko, impressed by her intellect and ingenuity. As Mariko gets closer to the Black Clan, she uncovers a dark history of secrets, of betrayal and murder, which will force her to question everything she's ever known.
Our Dark Duet (Victoria Schwab)
Author: Victoria Schwab

Book: Hardcover, 368 Pages
Expected publication: June 13th, 2017
Publisher: Greenwillow Books
Kate Harker is a girl who isn't afraid of the dark. She's a girl who hunts monsters. And she's good at it. August Flynn is a monster who can never be human, no matter how much he once yearned for it. He's a monster with a part to play. And he will play it, no matter the cost.
Nearly six months after Kate and August were first thrown together, the war between the monsters and the humans is terrifying reality. In Verity, August has become the leader he never wished to be, and in Prosperity, Kate has become the ruthless hunter she knew she could be. When a new monster emerges from the shadows—one who feeds on chaos and brings out its victim's inner demons—it lures Kate home, where she finds more than she bargained for. She'll face a monster she thought she killed, a boy she thought she knew, and a demon all her own.
*Melissa C's Choice*
(YABC Indie Staff Manager)
Queen Heir (Jaymin Eve Leia Stone)
Author: Jaymin Eve Leia Stone

Book: Hardcover, 250 Pages
Expected publication: December 13th, 2016
A gripping new fantasy series by USA today bestselling authors Jaymin Eve and Leia Stone.

Arianna is a queen heir and at 20 years old she's now eligible for the crown of wolf shifters. Heirs are trained and groomed so that they're ready, should the queen perish during their time of eligibility.

Of course, there's little chance of that happening. The Red Queen has stood for a century, and her power is beyond reckoning.

Or so Arianna believes, right up until the final tolling of the bells. The queen has fallen. Four heirs will now fight it out for the crown.

Let the summit begin.
Slumber (J.L. Weil)
Author: J.L. Weil

Book: Hardcover, 233 Pages
Expected publication: January 10th, 2017
Publisher: Dark Magick Publishing
There is no such thing as happily ever after.
Everything Charlotte Winston thought she knew has been thrown out the window. From the moment she opens her eyes, the world she remembered ceases to exist, and in its place is a post-apocalyptic realm filled with unimaginable dangers. And one very smoking hot guy who has an uncanny ability to make her blood sing, then boil in a blink of an eye.
Dash Darhk is everything her parents would hate. He's six feet and two inches of dark temptation and a killer smile, that's surely left a stream of broken hearts in his wake. But her parents are nowhere to be found. Charlotte is alone in this new world. Destroyed by a toxic mist, the land isn't the only thing altered, but the inhabitants as well.
As Charlotte begins the hunt for her family, gifts she's never fathom awake inside her. And with the gifts come problems. Enormous ones. Charlotte is running out of options and places to hide. If she can't figure out who to trust—and fast—she will lose more than her heart.
Fans of Hunger Games, The 100, and Divergent will fall in love with Slumber.
*Melissa R's Choice*
(YABC Staff Reviewer)
Caraval (Stephanie Garber)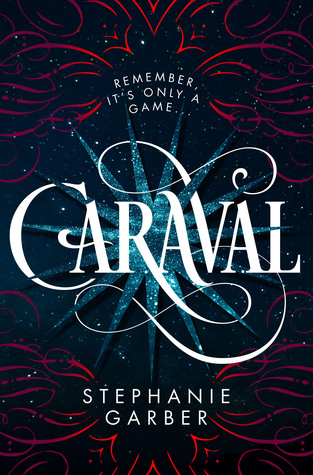 Author: Stephanie Garber

Book: Hardcover, 401 Pages
Expected publication: January 31st, 2017
Publisher: Flatiron Books
Before you enter the world of Caraval, you must remember that it's all a game . . .
Scarlett has never left the tiny island where she and her beloved sister, Tella, live with their ruthless father. Now Scarlett's father has arranged a marriage for her, and Scarlett thinks her dreams of seeing Caraval, the legendary, once-a-year performance where the audience participates in the show, are over.
Then, Scarlett's long-dreamt of invitation to Caraval finally arrives. So, Tella enlists a mysterious sailor's help to whisk Scarlett away to this year's show. But as soon as the trio arrives, Tella is kidnapped by Caraval's mastermind organizer, Legend.
Scarlett has been told that everything that happens during Caraval is only an elaborate performance. But she nonetheless soon becomes enmeshed in a game of love, heartbreak, and magic with her sister, with Legend, and with the other players in the game. And whether Caraval is real or not, she must find Tella before the five nights of the game are over, a dangerous domino effect of consequences is set off, and her sister disappears forever.
What book are you looking forward to in 2016?
Comment the name of the book below!
Comments
No comments made yet. Be the first to submit a comment