Waiting On Wednesday ~ November 23rd, 2016
Waiting on Wednesday is a weekly event that is hosted by Jill at
and spotlights upcoming releases that we're eagerly anticipating.
*Beth's Choice*
(YABC Assistant Blog Manager)
Wonder Woman (Leigh Bardugo)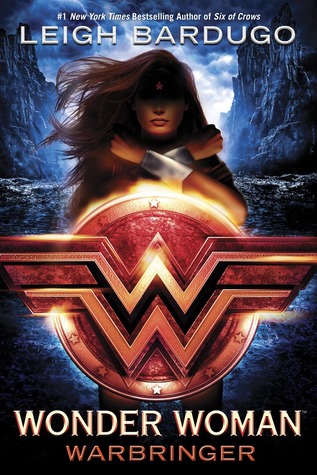 Author: Leigh Bardugo

Book: Hardcover, 304 pages
Expected publication: August 29th, 2017
Publisher: Random House Books For Young Readers
The highly anticipated coming-of-age story for the world's greatest super hero: WONDER WOMAN by the # 1 New York Times bestselling author LEIGH BARDUGO.
She will become one of the world's greatest heroes: WONDER WOMAN. But first she is Diana, Princess of the Amazons. And her fight is just beginning. . . .
Diana longs to prove herself to her legendary warrior sisters. But when the opportunity finally comes, she throws away her chance at glory and breaks Amazon law—risking exile—to save a mere mortal. Even worse, Alia Keralis is no ordinary girl and with this single brave act, Diana may have doomed the world.
Alia just wanted to escape her overprotective brother with a semester at sea. She doesn't know she is being hunted. When a bomb detonates aboard her ship, Alia is rescued by a mysterious girl of extraordinary strength and forced to confront a horrible truth: Alia is a Warbringer—a direct descendant of the infamous Helen of Troy, fated to bring about an age of bloodshed and misery.
Together, Diana and Alia will face an army of enemies—mortal and divine—determined to either destroy or possess the Warbringer. If they have any hope of saving both their worlds, they will have to stand side by side against the tide of war.
Given To The Sea (Mindy McGinnis)
Author: Mindy McGinnis

Book: Hardcover, 352 pages
Expected publication: April 11th, 2017
Publisher: Putnam Children's
Khosa is Given to the Sea, a girl born to be fed to the water, her flesh preventing a wave like the one that destroyed the Kingdom of Stille in days of old. But before she's allowed to dance – an uncontrollable twitching of the limbs that will carry her to the shore in a frenzy – she must produce an heir. Yet the thought of human touch sends shudders down her spine that not even the sound of the tide can match.
Vincent is third in line to inherit his throne, royalty in a kingdom where the old linger and the young inherit only boredom. When Khosa arrives without an heir he knows his father will ensure she fulfills her duty, at whatever cost. Torn between protecting the throne he will someday fill, and the girl whose fate is tied to its very existence, Vincent's loyalty is at odds with his heart.
Dara and Donil are the last of the Indiri, a native race whose dwindling magic grows weaker as the island country fades. Animals cease to bear young, creatures of the sea take to the land, and the Pietra – fierce fighters who destroyed the Indiri a generation before – are now marching from their stony shores for the twin's adopted homeland, Stille.
Witt leads the Pietra, their army the only family he has ever known. The stone shores harbor a secret, a growing threat that will envelop the entire land – and he will conquer every speck of soil to ensure the survival of his people.
The tides are turning in Stille, where royals scheme, Pietrans march, and the rising sea calls for its Given.
*Nanouk's Choice*
(Staff Reviewer for YABC)
Lifeblood (Gena Showalter)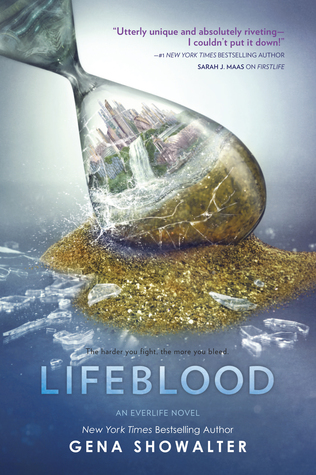 Author: Gena Showalter

Book: Hardcover, 443 pages
Expected publication: February 28th, 2017
Publisher: Harlequin Teen
My Firstlife is over, but my Everlife is only now beginning.
With her last living breath, Tenley "Ten" Lockwood made her choice and picked her realm in the Everlife. Now, as the war between Troika and Myriad rages, she must face the consequences.
Because Ten possesses a rare supernatural ability to absorb and share light, the Powers That Be have the highest expectations for her future—and the enemy wants her neutralized. Fighting to save her Secondlife, she must learn about her realm from the ground up while launching her first mission: convincing a select group of humans to join her side before they die. No pressure, right?
But Ten's competition is Killian, the boy she can't forget—the one who gave up everything for her happiness. He has only one shot at redemption: beating Ten at a game she's never even played. As their throw-downs heat up, so do their undeniable feelings, and soon, Ten will have to make another choice. Love…or victory.
What book are you looking forward to in 2017?
Comment the name of the book below!
Comments
No comments made yet. Be the first to submit a comment