Waiting On Wednesday
Waiting on Wednesday is a weekly event that is hosted by Jill at
and spotlights upcoming releases that we're eagerly anticipating.
Kayla's choice for Waiting On Wednesday
(Blog Manager for YABC)
REPLICA by Lauren Oliver ~10/4/16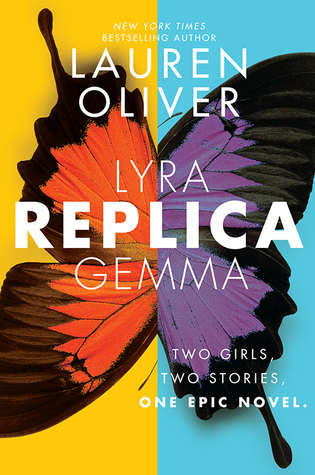 Author: Lauren Oliver
Book: Hardcover, 544 pages
Expected publication: October 4th 2016
Publisher: HarperTeen
Gemma has been in and out of hospitals since she was born. 'A sickly child', her lonely life to date has revolved around her home, school and one best friend, Alice. But when she discovers her father's connection to the top secret Haven research facility, currently hitting the headlines and under siege by religious fanatics, Gemma decides to leave the sanctuary she's always known to find the institute and determine what is going on there and why her father's name seems inextricably linked to it.
Amidst the frenzy outside the institute's walls, Lyra - or number 24 as she is known as at Haven - and a fellow experimental subject known only as 72, manage to escape. Encountering a world they never knew existed outside the walls of their secluded upbringing , they meet Gemma and, as they try to understand Haven's purpose together, they uncover some earth-shattering secrets that will change the lives of both girls forever...
Why Kayla chose Replica:
First of all, that cover! As a consistent fan of Lauren Oliver (despite the disappointment that it the end of the Delirium series, but I digress), I cannot wait to read this new beauty! With the freedom to read the stories within separately, one after another, or in alternating chapters, this book offers freedom and choices that are not often handed to readers. I have a feeling this will either be a glowing success or a floundering fail, but other way, I can't wait!
Amy's choice for Waiting On Wednesday
(Staff Reviewer for YABC)
THIS SAVAGE SONG by Victoria Schwab ~ 7/5/16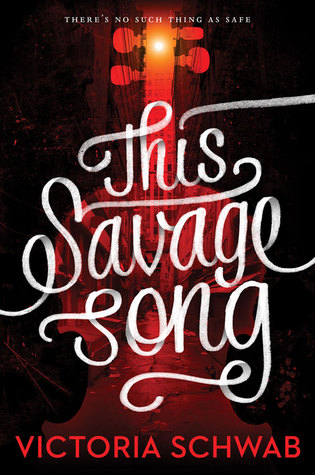 Author: Victoria Schwab

Book: Hardcover, 464 pages
Expected publication: July 5th, 2016
Publisher:
Greenwillow Books
There's no such thing as safe in a city at war, a city overrun with monsters. In this dark urban fantasy from author Victoria Schwab, a young woman and a young man must choose whether to become heroes or villains—and friends or enemies—with the future of their home at stake. The first of two books.
Kate Harker and August Flynn are the heirs to a divided city—a city where the violence has begun to breed actual monsters. All Kate wants is to be as ruthless as her father, who lets the monsters roam free and makes the humans pay for his protection. All August wants is to be human, as good-hearted as his own father, to play a bigger role in protecting the innocent—but he's one of the monsters. One who can steal a soul with a simple strain of music. When the chance arises to keep an eye on Kate, who's just been kicked out of her sixth boarding school and returned home, August jumps at it. But Kate discovers August's secret, and after a failed assassination attempt the pair must flee for their lives.
Why Nanouk chose The Savage Song:
I'm also really excited for This Savage Song by Victoria Schwab. I fell in love with her writing when I first read A Darker Shade of Magic and now she's on my auto preorder list. I recently met her at a book festival and she was so great to interact with and hearing how excited she was about this book made me so excited! It comes out July 5th and I'm already planning a trip to Parnassus in Nashville to see her on tour!
Beth's choice for Waiting On Wednesday
(Assistant Blog Manager for YABC)
MY LADY JANE by Cynthia Hand, Brodi Ashton, & Jodi Meadows ~ 6/7/16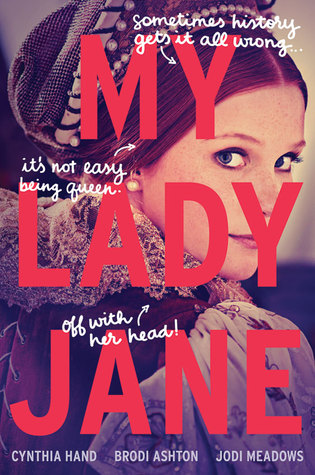 Author: Cynthia Hand, Brodi Ashston, & Jodi Meadows

Book: Hardcover, 512 pages
Expected publication: June 7th, 2016
Publisher: Harper Teen
For fans of The Princess Bride comes the comical, fantastical, romantical, (not) entirely true story of Lady Jane Grey.

Lady Jane Grey, sixteen, is about to be married to a total stranger—and caught up in an insidious plot to rob her cousin, King Edward, of his throne. But that's the least of Jane's problems. She's about to become Queen of England. Like that could go wrong.
Why Beth chose My Lady Jane:
I am completely obsessed with all things historical and/or Queens so when I saw the cover of this book I KNEW I had to have it!! and then after I read the synopsis of the book...I was completely hooked! Not to mention My Lady Jane was written by THREE of my favorite authors so it was like a match made in heaven!! :)
Cody-Leigh Duffy's choice for Waiting On Wednesday
(Staff Reviewer for YABC)
The Shadow Hour by Melissa Grey ~ 7/12/16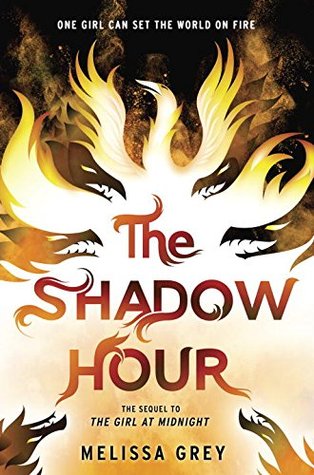 Author: Melissa Grey

Book: Hardcover, 432 pages
Expected publication: July 5th, 2016
Publisher:
Delacorte Press
Everything in Echo's life changed in a blinding flash when she learned the startling truth: she is the firebird, the creature of light that is said to bring peace.
The firebird has come into the world, but it has not come alone. Every action has an equal and opposite reaction, and Echo can feel a great and terrible darkness rising in the distance. Cosmic forces threaten to tear the world apart.
Echo has already lost her home, her family, and her boyfriend. Now, as the firebird, her path is filled with even greater dangers than the ones she's already overcome.
She knows the Dragon Prince will not fall without a fight.
Echo must decide: can she wield the power of her true nature--or will it prove too strong for her, and burn what's left of her world to the ground?
Welcome to the shadow hour.
Comments
No comments made yet. Be the first to submit a comment