Waiting on Wednesday is a weekly event that is hosted by Jill at
and spotlights upcoming releases that we're eagerly anticipating.
*Beth's Choice*
(Assistant Blog Manager for YABC)
Roar (Cora Carmack)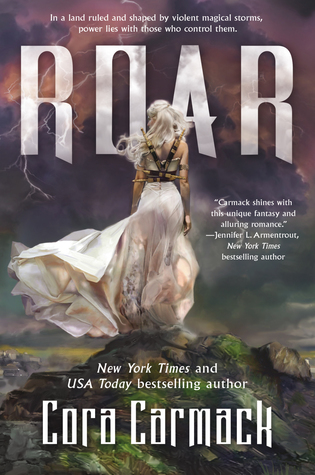 Author: Cora Carmack

Book: Hardcover, 352 pages
Expected publication: June 13th, 2017
Publisher: Tor Teen
In a land ruled and shaped by violent magical storms, power lies with those who control them.

Aurora Pavan comes from one of the oldest Stormling families in existence. Long ago, the ungifted pledged fealty and service to her family in exchange for safe haven, and a kingdom was carved out from the wildlands and sustained by magic capable of repelling the world's deadliest foes. As the sole heir of Pavan, Aurora's been groomed to be the perfect queen. She's intelligent and brave and honorable. But she's yet to show any trace of the magic she'll need to protect her people.

To keep her secret and save her crown, Aurora's mother arranges for her to marry a dark and brooding Stormling prince from another kingdom. At first, the prince seems like the perfect solution to all her problems. He'll guarantee her spot as the next queen and be the champion her people need to remain safe. But the more secrets Aurora uncovers about him, the more a future with him frightens her. When she dons a disguise and sneaks out of the palace one night to spy on him, she stumbles upon a black market dealing in the very thing she lacks—storm magic. And the people selling it? They're not Stormlings. They're storm hunters.

Legend says that her ancestors first gained their magic by facing a storm and stealing part of its essence. And when a handsome young storm hunter reveals he was born without magic, but possesses it now, Aurora realizes there's a third option for her future besides ruin or marriage.

She might not have magic now, but she can steal it if she's brave enough.

Challenge a tempest. Survive it. And you become its master.
Royal Bastards (Andrew Shvarts)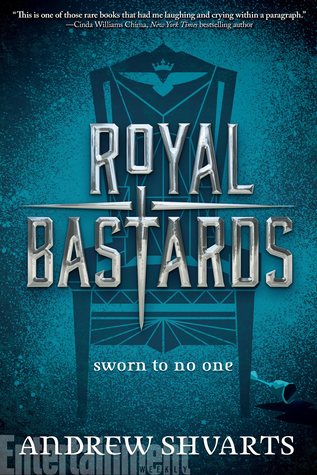 Author: Andrew Shvarts

Book: Hardcover, 352 pages
Expected publication: June 6th, 2017
Publisher: Disney-Hyperion
Being a bastard blows. Tilla would know. Her father, Lord Kent of the Western Province, loved her as a child, but cast her aside as soon as he had trueborn children.

At sixteen, Tilla spends her days exploring long-forgotten tunnels beneath the castle with her stablehand half brother, Jax, and her nights drinking with the servants, passing out on Jax's floor while her castle bedroom collects dust. Tilla secretly longs to sit by her father's side, resplendent in a sparkling gown, enjoying feasts with the rest of the family. Instead, she sits with the other bastards, like Miles of House Hampstedt, an awkward scholar who's been in love with Tilla since they were children.

Then, at a feast honoring the visiting princess Lyriana, the royal shocks everyone by choosing to sit at the Bastards' Table. Before she knows it, Tilla is leading the sheltered princess on a late-night escapade. Along with Jax, Miles, and fellow bastard Zell, a Zitochi warrior from the north, they stumble upon a crime they were never meant to witness.

Rebellion is brewing in the west, and a brutal coup leaves Lyriana's uncle, the Royal Archmagus, dead—with Lyriana next on the list. The group flees for their lives, relentlessly pursued by murderous mercenaries; their own parents have put a price on their heads to prevent the king and his powerful Royal Mages from discovering their treachery.

The bastards band together, realizing they alone have the power to prevent a civil war that will tear their kingdom apart—if they can warn the king in time. And if they can survive the journey . .
*Melissa C's Choice*
(YABC Indie Manager)
Collide (Michelle Madow)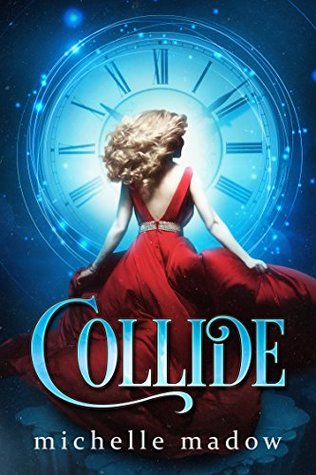 Author: Michelle Madow

Book: Hardcover, 352 pages
Expected publication: February 9th, 2017
Publisher: Dreamscape Publishing
I should have died when I was shot at the Halloween dance.

Instead I woke up—one week earlier, in a parallel universe where my mom's fatal car accident six months ago never happened.

A world with my mom still in it was all I ever wanted. But in this timeline, everything is different—my grades, my friends, and even my boyfriend. I'm a stranger in my own body, and I don't like who I've become.

But one thing is the same—that shooting will still happen at the end of the week.

I'm the only one who knows. Which means I'm the only one who can stop it.

But first I need to convince someone—anyone—that I'm telling the truth... and then get them to help me.
Who Are We Instead (Kyla Stone)
Author: Kyla Stone

Book: Hardcover, 285 pages
Expected publication: March 15th, 2017
Publisher: Paper Moon Press
When her father has a massive heart attack, 20-year-old photography major Lena McKenna leaves college to provide hospice care for him after her rebellious younger sister, Lux, disappears. At home in her basement darkroom, Lena develops old family photographs, increasingly haunted by the memories of her mother, an intensely unhappy woman who committed suicide eight years before.

Meanwhile, 17-year-old Lux, always wild and reckless, descends into desperate self-destruction. She can't face the guilt eating away at her. She'll do anything to escape it. Anything. Drugs, alcohol, boys. It doesn't matter, as long as she forgets the memories that won't let her go.

When her car breaks down, Lena runs into Eli, a former classmate and popular jock. While he's as cocky as ever, he's also full of surprises—including a two-year-old daughter he's raising as a single father. In spite of herself, Lena falls hard for this newer, kinder version of Eli. But how can she believe in love when everything's falling apart around her?

As their father's condition worsens, old memories rise to the surface. Lux's out-of-control behavior leaves a trail of devastation in her wake. Lena must make a choice. Escape her past and leave her sister behind, or turn and face the demons that may destroy them both.

Who We Are Instead explores the dynamics of familial responsibility, the volatile relationship between sisters—the memories that bind them together and the rivalries and resentments that tear them apart—and the way we blur the lines between loyalty and obligation, truth and deception, honor and betrayal.
What book are you looking forward to in 2017?
Comment the name of the book below!