Waiting On Wednesday ~ August 31, 2016
Waiting on Wednesday is a weekly event that is hosted by Jill at
and spotlights upcoming releases that we're eagerly anticipating.
*Beth's Choice*
(Assistant Blog Manager for YABC)
Glitter (Aprilynne Pike)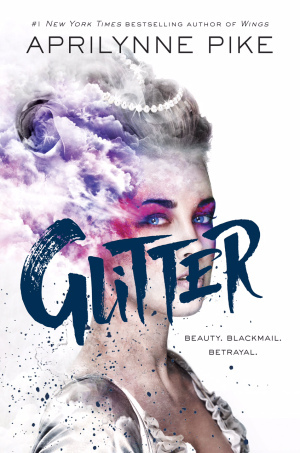 Author: Aprilynne Pike

Book: Hardcover, 384 pages
Expected publication: October 24, 2016
Publisher: Random House Books For Young Readers
From #1 New York Times bestselling author Aprilynne Pike comes a truly original new novel—Breaking Bad meets Marie Antoinette in a near-future world where the residents of Versailles live like it's the eighteenth century and an almost-queen turns to drug dealing to save her own life.

Outside the palace of Versailles, it's modern day. Inside, the people dress, eat, and act like it's the eighteenth century—with the added bonus of technology to make court life lavish, privileged, and frivolous. The palace has every indulgence, but for one pretty young thing, it's about to become a very beautiful prison.
When Danica witnesses an act of murder by the young king, her mother makes a cruel power play . . . blackmailing the king into making Dani his queen. When she turns eighteen, Dani will marry the most ruthless and dangerous man of the court. She has six months to escape her terrifying destiny. Six months to raise enough money to disappear into the real world beyond the palace gates.
Her ticket out? Glitter. A drug so powerful that a tiny pinch mixed into a pot of rouge or lip gloss can make the wearer hopelessly addicted. Addicted to a drug Dani can sell for more money than she ever dreamed.
But in Versailles, secrets are impossible to keep. And the most dangerous secret—falling for a drug dealer outside the palace walls—is one risk she has to take.
The Lovely Reckless (Kami Garcia)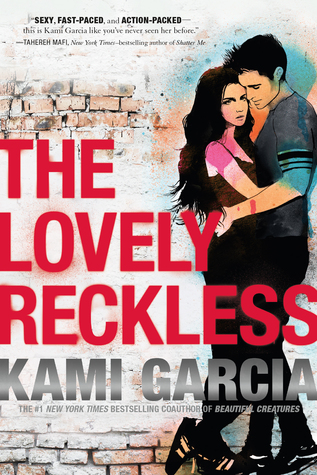 Author: Kami Garcia

Book: Hardcover, 384 pages
Expected publication: October 4, 2016
Publisher: Imprint/Macmillian
I've become an expert at avoiding things that could hurt me—which means I will figure out how to stay away from Marco Leone.
Seventeen-year-old Frankie Devereux would do anything to forget the past. Haunted by the memory of her boyfriend's death, she lives her life by one dangerous rule: Nothing matters. At least, that's what Frankie tells herself after a reckless mistake forces her to leave her privileged life in the Heights to move in with her dad—an undercover cop. She transfers to a public high school in the Downs, where fistfights don't faze anyone and illegal street racing is more popular than football.
Marco Leone is the fastest street racer in the Downs. Tough, sexy, and hypnotic, he makes it impossible for Frankie to ignore him—and how he makes her feel. But the risks Marco takes for his family could have devastating consequences for them both. When Frankie discovers his secret, she has to make a choice. Will she let the pain of the past determine her future? Or will she risk what little she has left to follow her heart?
Heartless (Marissa Meyer)
Author: Marissa Meyer

Book: Hardcover, 464 pages
Expected publication: November 8, 2016
Publisher: Feiwel & Friends
Long before she was the terror of Wonderland — the infamous Queen of Hearts — she was just a girl who wanted to fall in love.

Catherine may be one of the most desired girls in Wonderland, and a favorite of the yet-unmarried King of Hearts, but her interests lie elsewhere. A talented baker, all she wants is to open a shop with her best friend and supply the Kingdom of Hearts with delectable pastries and confections. But according to her mother, such a goal is unthinkable for the young woman who could be the next Queen.

At a royal ball where Cath is expected to receive the king's marriage proposal, she meets Jest, the handsome and mysterious court joker. For the first time, she feels the pull of true attraction. At the risk of offending the King and infuriating her parents, she and Jest enter into an intense, secret courtship.

Cath is determined to define her own destiny and fall in love on her terms. But in a land thriving with magic, madness, and monsters, fate has other plans.
*Kelly's Choice*
(Staff Reviewer for YABC)
Remember Yesterday (Pintip Dunn)
Author: Pintip Dunn

Book: Hardcover, 300 pages
Expected publication: October 4th, 2016
Publisher: Entangled Teen
The sequel to the sci-fi hit Forget Tomorrow is a twisting, turning roller-coaster ride—the perfect sci-fi futuristic read.

Seventeen-year-old Jessa Stone is the most valuable citizen in Eden City. Her psychic abilities could lead to significant scientific discoveries -- if only she'd let TechRA study her. But after they kidnapped and experimented on her as a child, cooperating with the scientists is the last thing Jessa would do.

But when she discovers the past isn't what she assumed, Jessa must join forces with budding scientist Tanner Callahan to rectify a fatal mistake made ten years ago. She'll do anything to change her past -- even if it means aligning herself with the enemy she swore to defeat.
What book are you looking forward to in 2016?
Comment the name of the book below!
Comments
No comments made yet. Be the first to submit a comment