Waiting On Wednesday
Waiting on Wednesday is a weekly event that is hosted by Jill at
and spotlights upcoming releases that we're eagerly anticipating.
Kayla's choice for Waiting On Wednesday
(Blog Manager for YABC)
A TORCH AGAINST THE NIGHT by Sabaa Tahir
Author: Sabaa Tahir
Book: Hardcover, 464 pages
Expected publication: August 30th 2016
Publisher: HarperVoyager
A Torch Against the Night takes readers into the heart of the Empire as Laia and Elias fight their way north to liberate Laia's brother from the horrors of Kauf Prison. Hunted by Empire soldiers, manipulated by the Commandant, and haunted by their pasts, Laia and Elias must outfox their enemies and confront the treacherousness of their own hearts.
In the city of Serra, Helene Aquilla finds herself bound to the will of the Empire's twisted new leader, Marcus. When her loyalty is questioned, Helene finds herself taking on a mission to prove herself—a mission that might destroy her, instead.
Why Kayla chose A Torch Against The Night:
The sequel to An Ember in the Ashes. That's right, a continuation of this fantastic series!! When I read last year that this was meant to be a standalone I felt it all: rage, sadness, anxiety--what would happen to my favorite character? And then we were promised more. With a knack for building extraordinary worlds and characters, I can't wait to see where Sabaa Tahir takes this story.
Nanouk's choice for Waiting On Wednesday
(Staff Reviewer for YABC)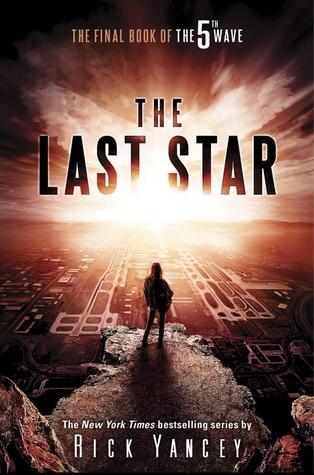 Author: Rick Yancey

Book: Hardcover, 352 pages
Expected publication: May 24th, 2016
Publisher:
G.P. Putnam's Sons Books for Young Readers
The Last Star is the heart-stopping finale to the bestselling 5th Wave series by award-winning author, Rick Yancey. Perfect for fans of The Hunger Games, Divergent and The Maze Runner.
'Wildly entertaining . . . I couldn't turn the pages fast enough' The New York Times
We're here, then we're gone, and that was true before they came. That's always been true. The Others didn't invent death; they just perfected it. Gave death a face to put back in our face, because they knew that was the only way to crush us. It won't end on any continent or ocean, no mountain or plain, jungle or desert. It will end where it began, where it had been from the beginning, on the battlefield of the last beating human heart.
Master storyteller Rick Yancey invokes triumph, loss, and unrelenting action as the fate of the planet is decided in the conclusion to this epic series.
Why Nanouk chose The Last Star:
Because the first two books were super exciting and there are so many things left to be resolved in the final installment of this trilogy! I can't wait to find out how Cassie is going to, you know, 'save the world' from the aliens. SO EXCITED!
Beth's choice for Waiting On Wednesday
(Assistant Blog Manager for YABC)
A SHADOW BRIGHT AND BURNING by Jessica Cluess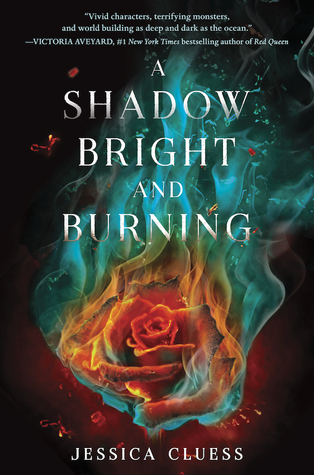 Author: Jessica Cluess

Book: Hardcover, 416 pages
Expected publication: September 20th, 2016
Henrietta Howel can burst into flames.
Forced to reveal her power to save a friend, she's shocked when instead of being executed, she's invited to train as one of Her Majesty's royal sorcerers.

Thrust into the glamour of Victorian London, Henrietta is declared the chosen one, the girl who will defeat the Ancients, bloodthirsty demons terrorizing humanity. She also meets her fellow sorcerer trainees, handsome young men eager to test her power and her heart. One will challenge her. One will fight for her. One will betray her.

But Henrietta Howel is not the chosen one.
As she plays a dangerous game of deception, she discovers that the sorcerers have their own secrets to protect. With battle looming, what does it mean to not be the one? And how much will she risk to save the city--and the one she loves?

Exhilarating and gripping, Jessica Cluess's spellbinding fantasy introduces Henrietta Howel, a powerful, unforgettable heroine, and an entertaining world filled with magic, monsters, and mayhem.
Why Beth chose A Shadow Bright and Burning:
When I first read the synopsis for A Shadow Bright and Burning I immediately knew that I couldn't wait to read this amazing book! I mean magic, suspense, and fantasy all mixed into one thrilling book?? Yep, this book is for me! I read where some people were comparing it to Harry Potter with all the magic involved in the story and this just made me want to stand up and yell, YEAH!!!!!! Really looking forward to this amazing book!!
Comments
No comments made yet. Be the first to submit a comment