Today we're spotlighting L.E. Sterling's novel, True North!!
Read on for more about L.E., her novel, a guest post, and a giveaway!
Meet L.E. Sterling!
L.E. Sterling had an early obsession with sci-fi, fantasy and romance to which she remained faithful even through an M.A. in Creative Writing and a PhD in English Literature - where she completed a thesis on magical representation. She is the author of two previous novels, the cult hit Y/A novel The Originals (under pen name L.E. Vollick), dubbed "the Catcher in the Rye of a new generation" by one reviewer, and the urban fantasy Pluto's Gate. Originally hailing from Parry Sound, Ontario, L.E. spent most of her summers roaming across Canada in a van with her father, a hippie musician, her brothers and an occasional stray mutt - inspiring her writing career. She currently lives in Toronto, Ontario.
Meet True North!
Abandoned by her family in Plague-ridden Dominion City, eighteen-year-old Lucy Fox has no choice but to rely upon the kindness of the True Borns, a renegade group of genetically enhanced humans, to save her twin sister, Margot. But Nolan Storm, their mysterious leader, has his own agenda. When Storm backtracks on his promise to rescue Margot, Lucy takes her fate into her own hands and sets off for Russia with her True Born bodyguard and maybe-something-more, the lethal yet beautiful Jared Price. In Russia, there's been whispered rumors of Plague Cure.

While Lucy fights her magnetic attraction to Jared, anxious that his loyalty to Storm will hurt her chances of finding her sister, they quickly discover that not all is as it appears…and discovering the secrets contained in the Fox sisters' blood before they wind up dead is just the beginning.??

As they say in Dominion, sometimes it's not you…it's your DNA.
Amazon * B & N * Indiebound
L.E. Sterling's Top 5 (Romantic) Classic Sci-Fi/Fantasy Films
Okay, so here's the truth: I'm an obsessive, over-the-top fan of sci-fi and fantasy. Everything: books, films, comics… I mean, there's a reason why I write the stuff, right? But here's a weird little factoid that very few people know about me: I'm one of those obsessive film fans, and I have a rather impressive collection of movies (not to rival Netflix, but…). So in honor of my love of this genre and its absolute profound influence on the True Born Trilogy (and in celebration of the release of Book 2 - True North) I thought I'd share a short list of some of my fave classic sci-fi fantasy flicks. (Big hint: each of these picks enjoys a heavy-duty romance streak, too!). It's likely that you've never heard of some of these—but you should definitely check them out if you can!
Bladerunner (1982)
This incredible film is based on the novella Do Androids Dream of Electric Sheep? by the godfather of modern sci-fi, Phillip K. Dick. And in case you're wondering, the book bears very little resemblance to the film! This is a beautiful love story about Rick Decker (played by a young and hunkyHarrison Ford), a man in a dystopian future complicated by rogue killer androids. Rick has been assigned to track down and eliminate the androids, and while on his case he comes across the beautiful and mysterious Rachel. He falls in love with Rachel—but the woman of his dreams may actually not be human.
(gif: https://goo.gl/images/jVXsBU)
(Gif: https://goo.gl/images/lHJwO3)
Night of the Comet (1984)
The original Canadian zombie film! Imagine that you get into a fight with your boyfriend and accidentally get locked in a steel storage shed on the same night that the biggest comet in history is expected to go past the earth. Worse, when you finally get out in the morning you realize that everyone seems to be…well, gone. Dust. That's what happens to 18-year old Regina Belmont. She survives, but people who've been partially exposed become cannibal zombies! Luckily, Regina finds her sister alive and well, along with two other (cute) survivors. The girls and their new best boyfriends forever (and also maybe the only men left on earth -- good thing they're so cute!) have to get away from some bad scientists and fight a horde of violent, flesh eating zombies. Oh - and in between there's the greatest shopping spree ever. And did I mention these sisters totally kick butt? Best. Night. Ever!
(gif: https://goo.gl/images/cQ6i0J)
(Gif: https://goo.gl/images/nM0VfG)
Dune (1984)
This is a spectacular film by David Lynch, based on the classic book by Frank Herbert. Dune is a sand planet where the mysterious Fremen live, carefully conserving water. What makes Dune special is the monstrously huge sandworms that make Spice, the most precious substance in the universe. The Fremen are the guardians of the planet, and the spice. Enter hunky Paul Atreides, whose mother is a witch and whose father is a duke. When his father is betrayed and assassignated, Paul falls in with the Fremen, where he falls in love—much to the chagrin of his politically-arranged fiancé.
(Gif: https://goo.gl/images/6zjCa2)
(Gif: https://goo.gl/images/ztXMXA)
(Gif: https://goo.gl/images/nCPQeG)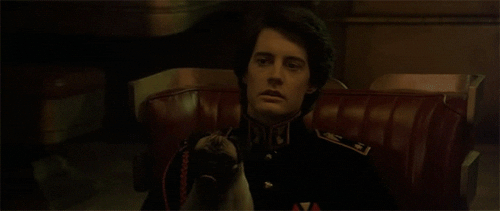 Starman (1984)
What would you do if a naked man showed up at your door, and he looked just like your dead husband? That's the starting point of Star Man, a film about a really sweet (and smoking hot) alien who finds love with the human woman who helps him survive his crash landing. And did I mention the alien, played by a very young and handsome Jeff Bridges, looks mighty fine??
(gif: https://goo.gl/images/U7JFbA)
(image: https://goo.gl/images/19XydO)
Gattaca (1997)
In a world where some people are considered genetically superior and others genetically interior, Vincent Freeman (played by a young and gorgeous Ethan Hawke) is willing to break the rules. He assumes the identity of one of the "upper class" genetically superior types, and ends up falling in love with the very superior Irene (played by an even more beautiful Uma Thurman). All Vincent really wants is to be free to travel space—but if he's caught, it's not only his life on the line, but his lady love's… Other eye candy in this beautiful and edge-of-your-seat film is an absurdly young and beautiful Jude Law.
(Gif: https://goo.gl/images/BjaPCb)
(Gif: https://goo.gl/images/Nrd2v4)
True North
By: L.E. Sterling
Release Date: April 4th, 2017
Publisher: Entangled Teen
*GIVEAWAY DETAILS*
One winner will receive an $5 Amazon Gift Card!
*Click the Rafflecopter link below to enter the giveaway*