Spotlight on Crazy House (James Patterson), Plus Excerpt & Giveaway!
Today we're spotlighting James Patterson's book, Crazy House!
Read on for more about James and his book, plus an excerpt and giveaway!
Meet James Patterson!
James Patterson has created more enduring fictional characters than any other novelist writing today with his Alex Cross, Michael Bennett, Women's Murder Club, Private, NYPD Red, Daniel X, Maximum Ride, and Middle School series. As of January 2016, he has sold over 350 million books worldwide and currently holds the Guinness World Record for the most #1 New York Times bestsellers. In addition to writing the thriller novels for which he is best known, he also writes children's, middle-grade, and young-adult fiction and is also the first author to have #1 new titles simultaneously on the New York Times adult and children's bestsellers lists.

The son of an insurance salesman and a schoolteacher, Patterson grew up in Newburgh, New York, and began casually writing at the age of nineteen. In 1969, he graduated from Manhattan College. He was given a full ride to Vanderbilt University's graduate program in English but dropped out after a year, knowing that he wouldn't be able to continue reading and writing for pleasure if he became a college professor.

Instead, he moved to New York to become a junior copywriter for the advertising agency J. Walter Thompson, eventually becoming CEO of its North American company.

In 1976, while still working for J. Walter Thompson, Patterson published his first novel, The Thomas Berryman Number, with Little, Brown and Company. After being turned down by thirty-one publishers, it won the Edgar Award for Best First Novel. Patterson's 1993 novel, Along Came a Spider, his first novel to feature Alex Cross, was also his first New York Times bestseller in fiction.

In 2001, Morgan Freeman starred as Alex Cross in a film adaptation of Along Came a Spider, and Tyler Perry also played the character in the 2012 film Alex Cross. A film adaptation of Patterson's middle-grade novel Middle School: The Worst Years of My Life will be released in theaters in October 2016.

For his initiatives to help kids become passionate readers and for his philanthropic efforts, Patterson was awarded the National Book Foundation's 2015 Literarian Award for Outstanding Service to the American Literary Community.

James Patterson has donated more than one million books to students, emphasizing some of the most under-resourced schools and youth programs in the country. In 2015, Patterson donated $1.75 million to school libraries throughout the United States, and $250,000 in holiday bonuses to individual bookstore employees. He also gave $1 million to independent bookstores in 2014.

Patterson has recently donated over $26 million to his and his wife's alma maters—the University of Wisconsin, Vanderbilt University, and Manhattan College—and he has established over four hundred Teacher Education Scholarships at twenty-four colleges and universities throughout the country. Patterson has also donated over 650,000 books to U.S. soldiers at home and overseas.

In May 2015, Patterson launched a new children's book imprint at Little, Brown, called JIMMY Patterson, that is unwaveringly focused on one goal: turning kids into lifelong readers. This imprint also provides resources, strategies, and programs to serve teachers, parents, librarians, and booksellers. Patterson will be investing proceeds from the sales of JIMMY Patterson Books in pro-reading initiatives.

Patterson has also founded ReadKiddoRead.com, a website designed to help parents, teachers, and librarians ignite a new generation's excitement for reading.
Website * Facebook * Twitter * Instagram
Meet Crazy House!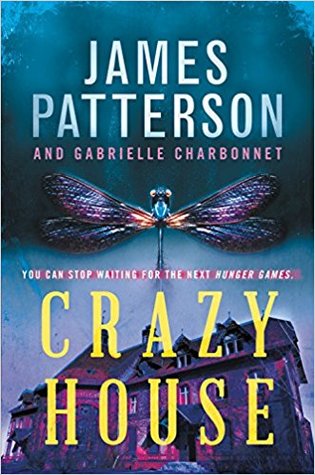 A thrilling new YA novel from master of suspense James Patterson, who's created a frightening new future: a world where teens are taken, imprisoned and forced to fight for their survival. Where 17-year-old Cass will do whatever it takes to save her twin sister from Death Row.

There were no charges. There was no trial. There will be no escape.

Seventeen-year-old Becca Greenfield was snatched from her small hometown. She was thrown into a maximum-security prison and put on Death Row with other kids her age. Until her execution, Becca's told to fit in and shut her mouth... but Becca's never been very good at either. Her sister Cassie was always the perfect twin.

Becca's only hope is that her twin sister will find her. That perfect little priss Cassie will stop following the rules and start breaking them, before it's too late. Because her jailers made a mistake that could get them both killed:

They took the wrong twin.
Amazon * B & N * Indiebound
CASSIE
THANK GOD FOR PROGRAMMABLE COFFEEMAKERS, that's all I want to
say. Actually, that's about all I can say until I've had that first cup. Right on time, 5:45 a.m., life's precious fluid starts seeping down to the carafe.
And thank God for coffee. Last year when we'd heard that a lot of coffee crops had failed, I thought the bottom of my life had dropped out. But this year coffee is back on the shelves at United All-Ways, and I for one am grateful.
Leaning back against the kitchen counter with my first hot cup, I looked out the torn window screen to see the barest hint of pink coming up over the tops of the trees by the Boundary. I guess peo- ple who live in cells by the ocean get to see the sun coming up over the water.
Actually, I don't know. I don't know if any people live near any ocean.
I felt the coffee igniting nerves throughout my body as I sipped and watched the sun come up. It was partly blocked by the carport where I kept my—
I bolted upright and peered through the ragged screen.
"No, she didn't!" I shrieked, wanting to hurl my coffee cup right out the window. It would have hit my truck if my truck had been there. Which it wasn't!
"Damnation, Rebecca!" I shouted, then wheeled and headed upstairs just to double-check. Just in case. Just in case my twin, Ridiculous Rebecca, was in fact still snoring in bed instead of joy- riding in my truck.
I slammed open her bedroom door, adrenaline making jumpy friends with all the caffeine in my system.
Becca's bed was empty.
Seething, I hurried to my room at the end of the hall, pass- ing the door to our parents' room, which we kept shut all the time nowadays. In my room I threw on yesterday's jeans and a plaid shirt that I'd been too hasty in assigning to the dirty clothes pile. Jamming my feet into my perfectly worn cowboy boots, I started rehearsing what I would say to my sister when I caught up with her. And I would catch up with her. There was zero doubt about that. Our cell was barely four miles across, a nice big crop circle.
Becca had no place to run, no place to hide.
2
I PUSHED OPEN OUR SCREEN door so hard that one of the hinges busted, making it tilt crazily. Watch it, idiot. Anything I broke, I had to fix. It wasn't like there was anyone else to do it.
Halfway around the side of the house, I remembered to look at my watch. 5:55. Silently I mouthed Crap! I turned around, stomped up the steps, across the porch, through the broken screen door, and into our living room. Curfew wasn't over till 6:00 a.m., and I'd seen what happened to people who didn't think the Provost meant what he said about curfew. He really, really meant it. He meant inside your house from 10:00 p.m. to 6:00 a.m. Not in your yard. Not under your carport. Not leaning against your fence, enjoying the breeze. And he always, always knew.
My jaw was so tight it was starting to hurt. Since I had four—no, three—minutes left to kill, I went back into the kitchen and cut myself a couple slices of bread. I had a PB & J in my hand by 6:01, and I hurried out to the carport where Ma's dinky purple moped was leaning against a pole.
Just looking at it bummed me out. For one thing it reminded me of Ma, which, obviously: bad. For another thing it reminded me of Becca, because she's the one who used the moped now, and I was ready to skin her alive. Third, it had a top speed of twelve miles an hour. Twelve. Miles. An. Hour. And that was on a full charge, which it had only if Becca remembered to plug it in the night before. Fourth, the pickup had been Pa's, and he'd left me in charge of it. There were only a few pickup trucks left in the entire cell. We'd only been allowed to keep it because it was so ancient that I practically had to push-start it. But I still loved it, I was still the one who used it, and now Becca had taken it, had left before curfew, and was probably already getting high with her loser doper friends. And who would have to come up with some lame excuse about her tardiness or absence at school? Me. Who had to hope that somehow she hadn't already been seen out before curfew? Me.
As mad as I was, I didn't want to see her go through that. I never wanted to see her go through that.
Ma's moped started easily enough and I wheeled it around, then got on and steered through our gate with my non-sandwich-holding hand. The more I heard the gentle hum of its little engine pushing us down the road, the madder I got.
My sandwich was gone by the time I reached Murphy's crossroads—not that there are any Murphys anymore. I guess "Forty-seven's crossroads" didn't have the same ring. At the big Healthier United sign I turned left to take the road to town, all the time searching the crop fields for the curved red roof of the pickup poking out above the wheat. Becca had several usual hangouts, and I circled down to the gully where kids went to smoke and generally be bad citizens. No one was there, and the tire tracks in the rutted mud looked a couple days old, at least.
By 7:30 I had puttered to all of Becca's lairs. Though I'd found several of her red-eyed friends, none of them admitted seeing Ridiculous, and no one had seen my truck. She'd done an excellent job of disappearing. Damnation!
Crazy House
By: James Patterson
Release Date: May 22, 2017
*GIVEAWAY DETAILS*
Five winners will receive a copy of Crazy House (James Patterson) ~ (US Only)
*Click the Rafflecopter link below to enter the giveaway*
Related Posts