SPIN THE DAWN giveaway! (US only)
Spin The Dawn (US Only)
Written and Illustrated by: Elizabeth Lim
Release Date: July 9, 2019
Publisher: Alfred A Knopf BYR
About the Book:
Maia Tamarin dreams of becoming the greatest tailor in the land, but as a girl, the best she can hope for is to marry well. When a royal messenger summons her ailing father, once a tailor of renown, to court, Maia poses as a boy and takes his place. She knows her life is forfeit if her secret is discovered, but she'll take that risk to achieve her dream and save her family from ruin. There's just one catch: Maia is one of twelve tailors vying for the job.
Backstabbing and lies run rampant as the tailors compete in challenges to prove their artistry and skill. Maia's task is further complicated when she draws the attention of the court magician, Edan, whose piercing eyes seem to see straight through her disguise.
And nothing could have prepared her for the final challenge: to sew three magic gowns for the emperor's reluctant bride-to-be, from the laughter of the sun, the tears of the moon, and the blood of stars. With this impossible task before her, she embarks on a journey to the far reaches of the kingdom, seeking the sun, the moon, and the stars, and finding more than she ever could have imagined.
Steeped in Chinese culture, sizzling with forbidden romance, and shimmering with magic, this young adult fantasy is pitch-perfect for fans of Sarah J. Maas or Renée Ahdieh.
About the Author: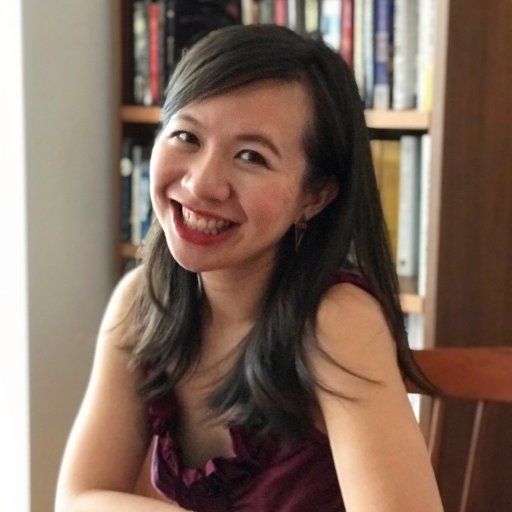 ELIZABETH LIM grew up in the San Francisco Bay Area, where she was raised on a hearty diet of fairy tales, myths, and songs. Before becoming an author, Elizabeth was a professional film and video game composer, and she still tends to come up with her best book ideas when writing near a piano. An alumna of Harvard College and the Juilliard School, she now lives in New York City with her husband and her daughter. Spin the Dawn is her first original novel, and its companion in the Blood of Stars series, Unravel the Dusk, will be published in summer 2020.
Learn More:
Website | Twitter | Instagram | Goodreads
Giveaway Details
Two winners will each receive a copy of Spin The Dawn (Elizabeth Lim) ~ US Only
Entering is simple, just fill out the entry form below. Winners will be announced on this site and in our monthly newsletter (sign up now!) within 30 days after the giveaway ends.
During each giveaway, we ask entrants a question pertaining to the book. Here is the question they'll be answering in the comments below for extra entries:
What do you think of the cover & synopsis?
*Click the Rafflecopter link to enter the giveaway*
RAFFLECOPTER GIVEAWAYRAFFLECOPTER GIVEAWAY
Related Posts