Rockstar Book Tours Blog Tour, Spotlight, & Giveaway: Frostblood (Elly Blake)
FROSTBLOOD
Author: Elly Blake
Pub. Date: January 10, 2017
Publisher: Little, Brown Books for Young Readers
Pages: 384
Formats: Hardcover, paperback, eBook, audiobook
Seventeen-year-old Ruby is a fireblood who must hide her powers of heat and flame from the cruel frostblood ruling class that wants to destroy all that are left of her kind. So when her mother is killed for protecting her and rebel frostbloods demand her help to kill their rampaging king, she agrees. But Ruby's powers are unpredictable, and she's not sure she's willing to let the rebels and an infuriating (yet irresistible) young man called Arcus use her as their weapon.
All she wants is revenge, but before they can take action, Ruby is captured and forced to take part in the king's tournaments that pit fireblood prisoners against frostblood champions. Now she has only one chance to destroy the maniacal ruler who has taken everything from her and from the icy young man she has come to love.
Fast-paced and compelling, Frostblood is the first in a page-turning new young adult three-book series about a world where flame and ice are mortal enemies—but together create a power that could change everything.
Amazon *Barnes & Noble *iBooks *Goodreads
Meet Elly Blake!!
Elly Blake loves fairy tales, old houses, and owls. After earning a BA in English literature, she held a series of seemingly random jobs, including project manager, customs clerk, graphic designer, reporter for a local business magazine, and library assistant. She lives in Southwestern Ontario with her husband, kids and a Siberian Husky mix who definitely shows Frostblood tendencies.
Her work is represented by Suzie Townsend of New Leaf Literary & Media.
Website | Twitter | Instagram | Tumblr |Pinterest | Facebook | Goodreads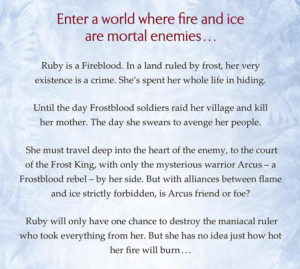 *GIVEAWAY DETAILS*
Three winners will receive a copy of Frostblood (Elly Blake) ~ (US Only)
*Click the Rafflecopter link below to enter the giveaway*
Tour Schedule:
Week One:
1/23/2017- Adventures of a Book Junkie- Interview
1/24/2017- Good Choice Reading- Review
1/25/2017-Page Turners Blog- Guest Post
1/26/2017- Tales of the Ravenous Reader- Review
1/27/2017- Two Chicks on Books- Interview
Week Two:
1/30/2017- Mundie Moms- Review
1/31/2017- Novel Novice- Guest Post
2/1/2017- Book Briefs- Review
2/2/2017- The Young Folks- Interview
2/3/2017- YA Books Central- Spotlight
Comments
1