Rockstar Book Tours Blog Tour, Interview, & Giveaway: Wintersong (S Jae Jones)
Here at YABC, we're thrilled to be hosting an interview with S Jae Jones about her new novel, Wintersong, as part of the book's blog tour!
Meet S Jae Jones!
S. Jae-Jones, called JJ, is a voracious and indiscriminate reader, an avid traveler, and something of an adrenaline junkie.
Born and raised in sunny Los Angeles, she lived in New York City for 10 years before relocating down to Dixie, where she is comfortably growing fat on grits and barbecue. When not writing, she can be find rock-climbing, skydiving, taking photographs, drawing pictures, and dragging her dog on ridiculously long hikes.
Website * Twitter * Facebook * Tumblr * Instagram * Pinterest * Goodreads
Meet Wintersong!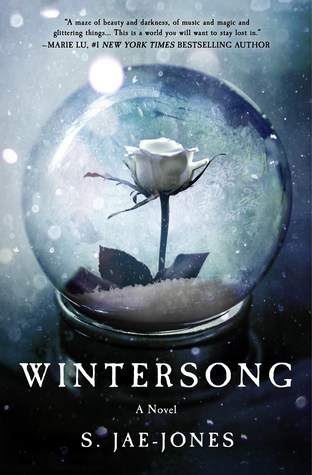 Beware the goblin men and the wares they sell.
All her life, nineteen-year-old Liesl has heard tales of the beautiful, mysterious Goblin King. He is the Lord of Mischief, the Ruler Underground, and the muse around which her music is composed. Yet, as Liesl helps shoulder the burden of running her family's inn, her dreams of composition and childish fancies about the Goblin King must be set aside in favor of more practical concerns.
But when her sister Käthe is taken by the goblins, Liesl journeys to their realm to rescue her sister and return her to the world above. The Goblin King agrees to let Käthe go—for a price. The life of a maiden must be given to the land, in accordance with the old laws. A life for a life, he says. Without sacrifice, nothing good can grow. Without death, there can be no rebirth. In exchange for her sister's freedom, Liesl offers her hand in marriage to the Goblin King. He accepts.
Down in the Underground, Liesl discovers that the Goblin King still inspires her—musically, physically, emotionally. Yet even as her talent blossoms, Liesl's life is slowly fading away, the price she paid for becoming the Goblin King's bride. As the two of them grow closer, they must learn just what it is they are each willing to sacrifice: her life, her music, or the end of the world.
Amazon * Barnes & Noble * iBooks * Audible * Goodreads
YABC : What gave you the inspiration to write this book?
I wish I had a great origin story for Wintersong (I elaborated a bit on my blogabout it), but the honest truth is, I wrote it because I was working at a soul-sucking customer service job in a town I had just moved to where I had no friends. I needed something to play with and keep me from burning the building down, so in between calls, I wrote a book.
Ideas are funny things though; you collect them thoughtlessly, mindlessly, until suddenly one day, you have a story you want to tell. Wintersong was borne of my love of all things gothic, Death and the Maiden tropes, Labyrinth, and music, and they all happened to come together in one book.
YABC: Who is your favorite character in the book?
Thistle. No contest. I love me some cantankerous characters. I like a little meanness, to be honest.
YABC: Which came first, the title or the novel?
The novel because I can't title anything to save my life. The working title of Wintersong as I was drafting it was 50 Shades of Labyrinth, and while on submission it was The Goblin King. In-house, it was called Underground for a while before my editor came up with Wintersong.
YABC: What scene in the book are you most proud of, and why?
I don't know if I have a scene I'm the most proud of, although I do have my favorites. I love all the scenes Liesl shares with her younger brother Josef, and also any where Thistle shows up because she's the best. But the one that is nearest and dearest to my heart is the one with Liesl and Josef playing together before his audition with Master Antonius because I feel in that moment, they are each their truest selves.
YABC: Thinking way back to the beginning, what's the most important thing you've learned as a writer from then to now?
That writing is not a linear progression. I don't necessarily mean the process of drafting; I mean that writing as a craft and as an art is not a straight line of improvement. I both learn and unlearn something new as I write each book.
YABC: What do you like most about the cover of the book?
Is it cheating to say the whole thing? If have to pick, I would probably say the flower in the globe because I had some input with the designer on that front.
YABC: What new release book are you looking most forward to in 2017?
So many! Way too many to name! But I'll pick the one that's most on my mind right now, which is Done Dirt Cheap by Sarah Lemon. Lemon has a way with language that makes me ache with nostalgia for a time and place I've never been, and I think y'all are in with a treat with her.
YABC: What was your favorite book in 2016?
THIS IS ALSO AN UNFAIR QUESTION. Obviously there are loads of great books that came out in 2016, many of which were by my friends. But again, I'll go with the one that's most on my mind right now, which is Stories of Your Life by Ted Chiang. It's a collection of speculative short stories, and the title story was the basis of the movie Arrival. I've been on a bit of a cerebral science fiction binge lately—Westworld, Arrival, and I also just reread Carl Sagan's Contact.
YABC: What's up next for you?
The sequel to Wintersong!
YABC: Is there anything that you would like to add?
I wrote Wintersong for the melodramatic goth sixteen-year-old girl I was, and I have to say I'm pretty proud with how it turned out.
YABC: Which was the most difficult or emotional scene to narrate?
Scenes aren't emotionally difficult for me to write, but they are often difficult for me to write from a plot standpoint. I am bad at plot. I know this. I am trying to get better at it, but it's hard when a character decides to do one thing when I need them to do another for plot reasons. But I'll say that the entire last act of the book was hard for me to write for this exact reason.
YABC: Which character gave you the most trouble when writing your latest book?
For both Wintersong and its sequel, the Goblin King was the most trouble. Unsurprisingly.
YABC: Which part of the writing process do you enjoy more: Drafting or Revising?
I usually say drafting because I'm an enormous pantser. I find drafting to be a joyous process of discovery, and it's the process during which I get to know my characters. However, when it comes to writing the sequel, I will definitely say that the joy of meeting my characters is gone (I know them already), so I think I'm going to find revising more enjoyable.
YABC: What would you say is your superpower?
Reading at the speed of light.
YABC: Is there an organization or cause that is close to your heart?
The ACLU.
*GIVEAWAY DETAILS*
Three winners will receive a finished copy of WINTERSONG (US Only)
*Click the Rafflecopter link below to enter the giveaway*
Tour Schedule:
Week One:
1/30/2017- Dazzled by Books- Review
1/31/2017- Adventures of a Book Junkie- Interview
2/1/2017- Nicole's Novel Reads-Excerpt
2/2/2017- A Backwards Story- Review
2/3/2017- Two Chicks on Books- Interview
Week Two:
1/6/2017- Buttermybooks- Review
1/7/2017- Mary Had a Little Book Blog- Guest Post
1/8/2017- OMG Books And More Books- Review
1/9/2017- YA Books Central- Interview
1/10/2017- Emily Reads Everything- Review
WINTERSONG: A Novel
By S. Jae-Jones
Published by St. Martin's Griffin
**On Sale February 7, 2017**
Hardcover | $18.99
ISBN: 9781250079213 | Ebook ISBN: 9781466892040
Comments
1
I think anything inspired in part by Labyrinth has to be good! I can't wait to read this! I'm a die-hard fan of your book and haven't even read it yet: I know I will love it!!
0
I think anything inspired in part by Labyrinth has to be good! I can't wait to read this! I'm a die-hard fan of your book and haven't even read it yet: I know I will love it!!