Penguin Teen Blog Tour & Guest Post: Seafire (Natalie C Parker)
Today we're excited to be a part of the blog tour for Seafire by Natalie C Parker!
Read on for more about Natalie plus a guest post!
Meet Natalie C Parker!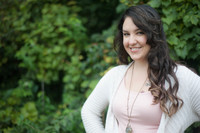 Natalie C. Parker is the author of the Beware the Wild duology, the Seafire trilogy, and the editor of Three Sides of a Heart. She earned her BA in English literature from the University of Southern Mississippi and her MA in gender studies from the University of Cincinnati. She grew up in a Navy family finding home in coastal cities from Virginia to Japan. Now, she lives surprisingly far from any ocean on the Kansas prairie where she runs Madcap Retreats with her wife. She tweets @nataliecparker.
Website * Facebook * Twitter * Instagram
Meet Seafire!
After her family is killed by corrupt warlord Aric Athair and his bloodthirsty army of Bullets, Caledonia Styx is left to chart her own course on the dangerous and deadly seas. She captains her ship, the Mors Navis, with a crew of girls and women just like her, whose lives have been turned upside down by Aric and his men. The crew has one misson: stay alive, and take down Aric's armed and armored fleet.
But when Caledonia's best friend and second-in-command just barely survives an attack thanks to help from a Bullet looking to defect, Caledonia finds herself questioning whether or not to let him join their crew. Is this boy the key to taking down Aric Athair once and for all...or will he threaten everything the women of the Mors Navis have worked for?
Amazon * B & N * Indiebound
YABC: What was your inspiration for Seafire?
I rarely have so clear an understanding of my own inspiration as I do for Seafire. The year was 2015 and I followed a group of friends to see a movie I thought would have a little to no impact on my life: Mad Max: Fury Road. I expected to enjoy it a reasonable amount. I expected to enjoy the discussion that followed. And I expected that discussion to have something to do with the trouble with patriarchy. I did not expect the movie to plant a crucial seed of inspiration that would change my life in a very real way.
That sounds dramatic, and I suppose it is, but it is also true. The Mad Max films are violent, grim visions of a post-apocalyptic wasteland in which survival is a brutal process, and before Fury Road I had never seen one of them from start to finish. But MMFR gave me something I wasn't expecting, it gave me a group of bold, compassionate women at the center of the story fighting for each other under the most extreme of circumstances. For those not familiar with the film, first, let me implore you to seek it out and plant it in your brain (though please be warned that it is violent). And second, here's a quick primer: led by Furiosa, that group of bold, compassionate women seeks to escape the grip of a powerful tyrant. And—not to spoil things too much—but there's a point at which they collectively decide that what they actually want is not to escape his power, but to turn and take that power away from him.
While it would be another year before I had the specific flash of inspiration that became the first words of Seafire, seeing Fury Road what the thing that made me decide that what I wanted from myself and my own writing in the future was to take something I had never been offered as a young reader. For me, that was epic sisterhood. I wanted a story that centered a group of girls making decisions in support of one another and not in opposition to each other, I wanted to disrupt the narrative that tells us time and time again that girls will ultimately become jealous of one another and actively work against one another.
Seafire came from all of that – an unexpected moment of personal change and a desire to continue the subversive counter narrative of collaborative sisterhood.
Seafire
By: Natalie C Parker
Publisher: Razorbill
Release Date: August 28th, 2018
Related Posts
Comments
No comments made yet. Be the first to submit a comment