Giveaway: The Safest Lies by Megan Miranda and The Hunt by Megan Shepherd (US Only)
About the Book:
THE SAFEST LIES by Megan Miranda
Kelsey has lived most of her life in a shadow of fear, raised to see danger everywhere. Her mother hasn't set foot outside their front door in seventeen years, since she escaped from her kidnappers with nothing but her attacker's baby growing inside her—Kelsey.

Kelsey knows she's supposed to keep a low profile and stay off the grid for their protection, but that plan is shattered when her dramatic car accident and rescue by volunteer firefighter and classmate Ryan Baker sparks media coverage.

A few days later, she arrives home to find her mother missing. Now, to have a chance at a future, Kelsey will have to face her darkest fears. Because someone is coming for her. And the truth about the past may end up being the most dangerous thing of all.
About the Author:
Megan Miranda is the acclaimed author of Fracture, Vengeance, Hysteria, and Soulprint. She was inspired to write The Safest Lies after reading a study about the way emotions, like fear, are passed down through genes—and wondering whether our own fears are a result of nature or nurture. Her debut adult suspense novel, All the Missing Girls, will be published by Simon & Schuster in June, 2016. Megan has a degree in Biology from MIT and currently lives in North Carolina with her husband and two children.
Website | Twitter | Pre-order | Goodreads | Instagram
About the Book:
THE HUNT (THE CAGE #2) by Megan Shepherd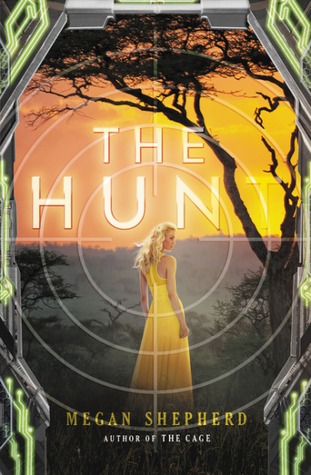 After their failed escape attempt, Cora, Lucky, and Mali have been demoted to the lowest level of human captives and placed in a safari-themed environment called the Hunt, along with wild animals and other human outcasts. They must serve new Kindred masters—Cora as a lounge singer, Lucky as an animal wrangler, and Mali as a safari guide—and follow new rules or face dangerous consequences. Meanwhile, Nok and Rolf have been moved into an enormous dollhouse, observed around the clock by Kindred scientists interested in Nok's pregnancy. And Leon, the only one who successfully escaped, has teamed up with villainous Mosca black-market traders.
The former inhabitants of the Cage are threatened on all fronts. When Cassian secretly offers to train Cora to develop her psychic abilities—to prove the worthiness of humanity in a series of tests called the Gauntlet—she'll have to decide fast if she dares to trust the Kindred who betrayed her, or if she can forge her own way to freedom.
About the Author:
Megan Shepherd grew up in her family's independent bookstore in the Southern Appalachian Mountains. She is the author of the acclaimed young adult series The Madman's Daughter and the forthcoming middle grade novel The Secret Horses of Briar Hill. Shepherd now lives and writes on a historic farm outside of Asheville, North Carolina, with her husband, two cats, and a dog.
Website | Twitter | Pre-order | Goodreads | Instagram
* Giveaway Details *
One Winner will receive a SIGNED ARC of The Safest Lies, a SIGNED ARC of The Hunt and The Cage, and bookmarks & sticker swag

*Click the Rafflecopter link to enter the giveaway*