Author Of The Week: Chat with Victoria Schwab (This Savage Song)
Welcome to our weekly special feature post, Author Of The Week!!
Each week we will be interviewing a different YA author and highlighting their upcoming release!
We will also be hosting a giveaway of the book we are highlighting!!
Introducing Victoria Schwab, YABC's Author of the Week!!
I am the product of a British mother, a Beverly Hills father, and a southern upbringing. Because of this, I have been known to say "tom-ah-toes", "like", and "y'all". I also suffer from a wicked case of wanderlust, made worse by the fact that wandering is a good way to stir up stories. When I'm not haunting Paris streets or trudging up English hillsides, I'm usually tucked in the corner of a coffee shop, dreaming up monsters.
My first YA novel, THE NEAR WITCH, a dark original fairy tale, debuted with Disney*Hyperion in August 2011, and is now out in paperback.
My next YA novel, THE ARCHIVED, is the first book in a new supernatural series about a world where the dead are shelved like books, and it hits stores January 2013, also with Disney*Hyperion.
My first adult novel, VICIOUS, about two brilliant and highly disturbed pre-med students who set out to generate their own superpowers and end up mortal enemies, came out in hardcover from Tor September 2013.
My middle grade series, EVERYDAY ANGEL, about a peculiar guardian angel and the three girls she must help to earn her wings, comes out with Scholastic book fairs in Spring 2014, Fall 2014, and Spring 2016.
My next adult series, A DARKER SHADE OF MAGIC, about a magician who can move through multiple versions of London and the pick pocket who steals a talisman that could end them all, comes out February 24th, 2015.
I have more books coming out in 2015-2016, but I'll get to those later.
These days, when someone asks me what I do when I'm NOT writing, I just kind of laugh nervously. But in truth, on the odd occasion I'm not typing away, I'm probably baking cookies, or watching BBC shows, or wandering. (See how we came full circle, there?)
Facebook * Twitter * Pinterest
Meet, This Savage Song!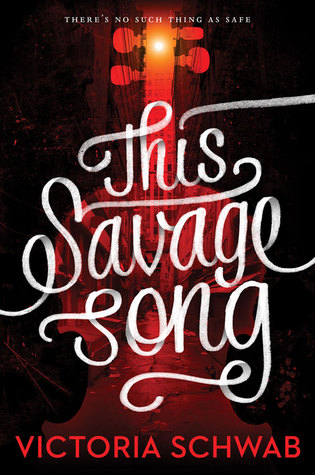 There's no such thing as safe in a city at war, a city overrun with monsters. In this dark urban fantasy from author Victoria Schwab, a young woman and a young man must choose whether to become heroes or villains—and friends or enemies—with the future of their home at stake. The first of two books.
Kate Harker and August Flynn are the heirs to a divided city—a city where the violence has begun to breed actual monsters. All Kate wants is to be as ruthless as her father, who lets the monsters roam free and makes the humans pay for his protection. All August wants is to be human, as good-hearted as his own father, to play a bigger role in protecting the innocent—but he's one of the monsters. One who can steal a soul with a simple strain of music. When the chance arises to keep an eye on Kate, who's just been kicked out of her sixth boarding school and returned home, August jumps at it. But Kate discovers August's secret, and after a failed assassination attempt the pair must flee for their lives.
Amazon * B & N * Indiebound
Check out YABC's awesone interview with Victoria Schwab,
Author of This Savage Song
YABC: What gave you the inspiration to write this book?
This was a book born from a question: what if violence bred actual monsters? The longer answer is that this book was born from my looking at the violence in my country, and thinking there must be some kind of aftermath, a psychic repercussion for spilling so much bad into the world.
YABC: Who is your favorite character in the book?
Allego, the cat.
YABC: Which came first, the title or the novel?
Absolutely the novel. For a year this was simply called MONSTER.
YABC: What scene in the book are you most proud of, and why?
Oh, hard question, but I'd have to say the scene in which August's hunger forces him to truly start slipping into madness. For him, hunger follows many of the same patterns of grief, and while that transformation stretches over several scenes, I love the progression. A close second is the scene where Kate goes to the rally beneath Harker Hall, and gets her hands dirty.
YABC: Thinking way back to the beginning, what's the most important thing you've learned as a writer from then to now?
You can't fix a blank page.
YABC: What new release book are you looking most forward to in 2016?
Probably Crooked Kingdom by Leigh Bardugo. Oh, and Thorn of Emberlain by Scott Lynch!
YABC: What's up next for you?
The third book in my Shades of Magic series hits shelves next February, and I'm hard at work on the sequel (and finale) to This Savage Song!
YABC: Which part of the writing process do you enjoy more: Drafting or Revising?
It depends on which I'm doing when you ask. If I'm writing, I will say revising. If I'm revising, I'll say editing. Grass is always greener.
Related Posts
Comments
2
That cover really pulls me in! I cannot wait to read such an interesting book! The story seems like I will pull for the heroes.
0
That cover really pulls me in! I cannot wait to read such an interesting book! The story seems like I will pull for the heroes.
Jen
on Tuesday, 12 July 2016 13:04
The cover of This Savage Song is beyond gorgeous! I can't wait to pick up this book!
0
The cover of This Savage Song is beyond gorgeous! I can't wait to pick up this book!