Author Of The Week: Chat with Natasha Ngan (Girls Of Paper and Fire), Plus Giveaway!
Welcome to our weekly special feature post, Author Of The Week!!
Each week we will be interviewing a different YA author and highlighting their upcoming release!
We will also be hosting a giveaway of the book we are highlighting!!
Introducing Natasha Ngan , YABC's Author of the Week!!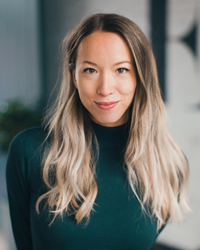 Natasha Ngan is a writer and yoga teacher. She grew up between Malaysia, where the Chinese side of her family is from, and the UK. This multicultural upbringing continues to influence her writing, and she is passionate about bringing diverse stories to teens. Natasha studied Geography at the University of Cambridge before working as a social media consultant and fashion blogger.

She recently moved to Paris, where she likes to imagine she drifts stylishly from brasserie to brasserie, notepad in one hand, wineglass in the other. In reality, she spends most of her time getting lost on the metro and confusing locals with her French.

She is represented by Taylor Haggerty at Root Literary. Her YA novels THE ELITES and THE MEMORY KEEPERS are out now from Hot Key Books, and GIRLS OF PAPER AND FIRE will be published in November 2018 by Little Brown.
Website * Facebook * Twitter * Instagram
Meet Girls Of Paper and Fire!
Each year, eight beautiful girls are chosen as Paper Girls to serve the king. It's the highest honor they could hope for...and the most cruel.
But this year, there's a ninth girl. And instead of paper, she's made of fire.

In this lush fantasy, Lei is a member of the Paper caste, the lowest and most oppressed class in Ikhara. She lives in a remote village with her father, where the decade-old trauma of watching her mother snatched by royal guards still haunts her. Now, the guards are back, and this time it's Lei they're after--the girl whose golden eyes have piqued the king's interest.

Over weeks of training in the opulent but stifling palace, Lei and eight other girls learn the skills and charm that befit being a king's consort. But Lei isn't content to watch her fate consume her. Instead, she does the unthinkable--she falls in love. Her forbidden romance becomes enmeshed with an explosive plot that threatens the very foundation of Ikhara, and Lei, still the wide-eyed country girl at heart, must decide just how far she's willing to go for justice and revenge.
Amazon * B & N * Indiebound
~ Author Chat ~
YABC: What gave you the inspiration to write this book?
I've always loved fantasy, but I had never really seen myself represented within its pages. I would read manga and Chinese comics and not feel quite Chinese enough, and yet the medieval European settings of so many western fantasies didn't feel that familiar either. With GIRLS, I got to create a world completely reflective of my own identity and experience.
YABC: Who is your favorite character in the book?
Lei will always be my number one. I just understand her so well, and feel so much empathy for her situation - and pride for how she handles it. She's an incredibly strong girl, but not always in the obvious, ass-kicking way, and she's flawed, too. But I'll always be rooting for her, and I hope readers will too!
YABC: Which came first, the title or the novel?
The idea came first - the concept of human girls serving as concubines to a demon king. The title came to me shortly after I started the first draft, and it felt so right. I'm happy my publishers kept it!
YABC: What scene in the book are you most proud of, and why?
I absolutely love the final scene, where Lei learns something about herself and her future. I just think it's such a beautiful, intimate moment, and after so much struggle it was amazing to be able to leave her in a moment of hope.
YABC: Thinking way back to the beginning, what's the most important thing you've learned as a writer from then to now?
It never gets easier. There are no special tips of tricks - at least none that I've found anyway - that somehow unlock the process, that show you all the hidden writing secrets you've been dying to know. In the end, it just comes down to work. Put in the graft, don't give up, push through the hard parts (which often feels like every part) and you *will* get there!
YABC: What do you like most about the cover of the book?
Ohhhh I love it so much! I'm such a lucky author! The colours are especially beautiful, and so evocative of the emotions and intimate nature of the story.
YABC: What new release book are you looking most forward to in 2019?
There are SO MANY awesome books coming out next year, I can't just pick one! I'm super excited for all the ownvoices SFF books such as Swati Teerdhala's THE TIGER AT MIDNIGHT, Joan He's DESCENDANT OF THE CRANE and Victoria Lee's THE FEVER KING. I'm also eagerly anticipating Hanna Alkaf's THE WEIGHT OF OUR SKY which is about a subject very personal to me - racial politics in Malaysia.
YABC: What was your favorite book in 2018?
I loved so many, but the one book that stands out to me is Courtney Summer's SADIE. What a blistering, powerful, important read.
YABC: What's up next for you?
I've just finished writing the sequel to GIRLS, so I'll be busy with revisions soon. I'm excited for readers to see where Lei's journey takes her! It's an action-packed story and her emotional limits will be pushed even further, though in different ways to book one.
YABC: Is there anything that you would like to add?
There's a trigger warning at the beginning of GIRLS, but in case anyone misses it please know the book does contain scenes of sexual assault and violence.
YABC: Which was the most difficult or emotional scene to narrate?
Every scene with Lei and the King. As a sexual abuse survivor, those were ... tough. But they're important, too. GIRLS explores sexual trauma and how we can heal from it and ultimately find strength we may not have even known had.
YABC: Which character gave you the most trouble when writing your latest book?
Blue was a tricky character to get right. She's got an extremely prickly and cold exterior, but it ultimately comes from a place of hurt, and so trying to balance that from Lei's POV was tough.
YABC: Which part of the writing process do you enjoy more: Drafting or Revising?
They are both equally terrible and amazing. Drafting is great because as a planner I have moments of genuine surprise with the story and my characters. But I love how with revising, you have that pressure of the blank page taken away and you're able to really work and work and work over your manuscript, pushing yourself to face all its issues and slowly - slowly - see it improving.
YABC: What would you say is your superpower?
Being a woman. We're all superheroes!
YABC: Is there an organization or cause that is close to your heart?
All the themes and issues explored in GIRLS are important to me - female empowerment, sexual politics, race and oppression.
Girls Of Paper and Fire
By: Natasha Ngan
Publisher: Jimmy Patterson Books
Release Date: November 6th, 2018
*GIVEAWAY DETAILS*
One winner will receive a copy of Girls Of Paper and Fire (Natasha Ngan) ~ (US Only)

*Click the Rafflecopter link below to enter the giveaway*
Related Posts