Author Of The Week: Chat with Jessica Cluess (A Sorrow Fierce and Falling), Plus Giveaway!
Welcome to our weekly special feature post, Author Of The Week!!
Each week we will be interviewing a different YA author and highlighting their upcoming release!
We will also be hosting a giveaway of the book we are highlighting!!
Introducing Jessica Cluess , YABC's Author of the Week!!
JESSICA CLUESS is a writer, a graduate of Northwestern University, and an unapologetic nerd. After college, she moved to Los Angeles, where she served coffee to the rich and famous while working on her first novel, A Shadow Bright and Burning. When she's not writing books, she's an instructor at Writopia Lab, helping kids and teens tell their own stories. Visit her at jessicacluess.com and follow her on Twitter at @JessCluess.
Meet A Sorrow Fierce and Falling!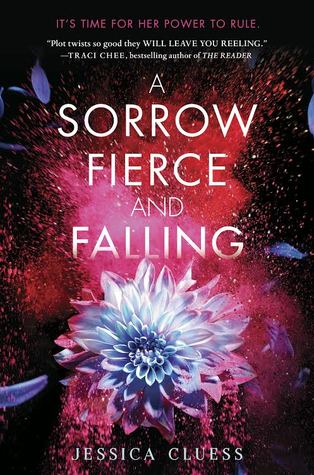 It's time for war.
After suffering terrible losses, Henrietta and Lord Blackwood have led their warriors to Sorrow-Fell, a vast estate where only those invited by a Blackwood may enter–and the ideal place to plan a final assault against the Ancients.
It's time for a wedding.
Henrietta nervously awaits her marriage to Blackwood, but when the ritual to become his bride reveals a dark secret, she realizes that Sorrow-Fell is not a safe haven; it's a trap. Convincing the sorcerers of this, however, is not easy. So with Maria, the true chosen one, and Magnus, the young man who once stole her heart, at her side, Henrietta plots a dangerous journey straight into the enemy's lair. Some will live. Some will die. All will be tested.
In this stunning conclusion to the Kingdom on Fire series, Henrietta must choose between the love from her past, the love from her present, and a love that could define her future. While battles rage, the fate of the kingdom rests on her decision: Will she fall or rise up to become the woman who saves the realm?
It's time for Henrietta to make her stand.
YABC: Who is your favorite character in the book?
Honestly, I think Henrietta. She finally makes real strides in dealing with her flaws in this one—her lying, her trust issues, etc. She also goes through quite the emotional wringer, so it's hard not to feel a bit sorry…
YABC: Which came first, the title or the novel?
The title. We knew what our titles were back in 2014. It's been a long road.
YABC: Thinking way back to the beginning, what's the most important thing you've learned as a writer from then to now?
You need to build up your friendships with others in the community, both because they're a great resource when things are rocky, and because writers are a delightful group of people. The second one's more important, really.
YABC: What do you like most about the cover of the book?
The explosions, honestly. There's a lot of excitement, mayhem, and intensity in the third book, so seeing that hinted at visually was really excellent. Also, the flower is a blue snow-sorrow, which is present in ASFAF, so that was a nice touch.
YABC: What's up next for you?
I can't really say too much, unfortunately. I can say that it's fantasy, and it has dragons. Also, I'm excited about it.


YABC: Which was the most difficult or emotional scene to narrate?
I can't spoil it, but there's a scene that takes place in the woods, on a fallen tree. That's it. That's all I can say. I cried, and my editor cried.
YABC: Which part of the writing process do you enjoy more: Drafting or Revising?
Revising. For me, that's when the book becomes a book. Drafting is throwing words onto a page so I can have something to play with later on. I'm not one of those people who's inspired by the blank page. I honestly find it kind of exhausting.
YABC: What would you say is your superpower?
I can get word counts done every day. I almost never slack in them. Also, I brew a good cup of tea.
A Sorrow Fierce and Falling
By: Jessica Cluess
Publisher: Random House BYR
Release Date: October 16th, 2018
*GIVEAWAY DETAILS*
One winner will recieve a copy of

A Sorrow Fierce and Falling (Jessica Cluess)

~ US Only
Related Posts