Author Of The Week: Chat with Breeana Shields (Poison's Cage), Plus Giveaway!!
Welcome to our weekly special feature post, Author Of The Week!!
Each week we will be interviewing a different YA author and highlighting their upcoming release!
We will also be hosting a giveaway of the book we are highlighting!!
Introducing Breeana Shields, YABC's Author of the Week!!
Breeana Shields is the author of the recently released young adult fantasy, Poison's Kiss (Random House, BFYR) and its forthcoming sequel, Poison's Cage (Random House BFYR, Spring 2018). She graduated from Brigham Young University with a BA in English. When she's not reading or writing, she loves traveling, eating good food–especially if it's pasta or chocolate–and spending time with her husband, her three children and an extremely spoiled miniature poodle.
Website * Twitter * Facebook * Instagram *Goodreads
Meet Poison's Cage!
Iyla and Marinda have killed many men together: Iyla as the seductress, Marinda as the final, poisonous kiss. Now they understand who the real enemy is--the Snake King--and together they can take him down. Both girls have felt as though they were living a lie in the past, so moving into the king's palace and pretending to serve him isn't as difficult as it sounds. But when you're a spy, even secrets between friends are dangerous. And each girl has something--or someone--to lose. Does every secret, every lie, bring them closer to the truth . . . or to a trap?

In Poison's Kiss, Marinda pulled a dangerous thread. In this sequel, it unravels to a heart-pounding conclusion.
Amazon * Barnes and Noble * IndieBound * Goodreads

YABC: What gave you the inspiration to write this book?
Poison's Cage is a sequel, so the process of getting inspiration was SO much different from the first. In some ways, it was harder because I was limited by the decisions and rules I'd set up in book one. Plus, I needed to give readers more of what they loved about Poison's Kiss, while still providing a fresh reading experience, which was a challenge! But on the other hand, writing about characters I already knew well was very freeing and led me down some unexpected paths. In the end, it was really fulfilling to find the end to Marinda and Iyla's story.
YABC: Who is your favorite character in the book?
Oh, that question is so unfair! I love them all for different reasons. I will say that Kadru was the most fun to write, simply because she's so psychologically complex, which gave me so much latitude to explore. Scenes with her always came more easily and were more satisfying to write than the ones where she was absent.
YABC: Which came first, the title or the novel?
The novel! I'm usually terrible at titles, so my first drafts of Poison's Cage were simply titled "Book Two". Once we got around to picking a title, though, this one came fairly easily. We wanted it to complement Poison's Kiss, and I think Poison's Cage does that while also capturing the themes of the novel well.


YABC: Thinking way back to the beginning, what's the most important thing you've learned as a writer from then to now?
I'm sure I've said this before, but the biggest thing I've learned is that there's no end point where you feel like you've finally arrived. (At least not one that I've reached yet. Maybe J.K. Rowling would have a different perspective!). Every step of the journey is filled with the same worry, and insecurity, and need to reach higher and do more. Which isn't necessarily a bad thing, as long as you use it as motivation and not a stick to beat yourself with.
YABC: What do you like most about the cover of the book?
Poison's Cage is told from two perspectives—both Marinda and Iyla get a POV in this book—so I love that the cover incorporates that. The two snakes on opposite sides of the cover are both facing off, and complementing each other, which perfectly encapsulates Marinda and Iyla's relationship.



YABC: What new release book are you looking most forward to in 2018?
Oh, so many! Like the rest of the world, I can't wait for Laini Taylor's Muse of Nightmares. (I thought Strange the Dreamer was delicious!) I also just finished Shoot the Moon by Kate Watson, and loved it. And I'm looking forward to Daughter of the Siren Queen by Tricia Levenseller. And probably a dozen more that I'm forgetting. (In case you haven't noticed, I have a hard time picking favorites.)
YABC: What was your favorite book in 2017?
Argh! I can't pick favorites! I'll say the most recent 2017 release that I fell in love with was Lisa Maxwell's The Last Magician. It was a fantastic read and such a page-turner!
YABC: What's up next for you?
I can't say too much yet, but I'm working on more YA fantasy in a world that I adore! I hope to have more news soon!
Poison's Cage
By: Breeana Shields
Publisher: Random House BYR
Release Date: January 16th, 2018
*GIVEAWAY DETAILS*
Two winners will receive signed hardcovers of Poison's Kiss & Poison's Cage ~ (US Only)

*Click the Rafflecopter link below to enter the giveaway*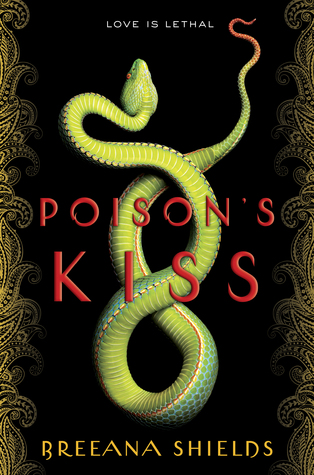 Related Posts