Welcome to our weekly special feature post, Author Of The Week!!
Each week we will be interviewing a different YA author and highlighting their upcoming release!
We will also be hosting a giveaway of the book we are highlighting!!
Introducing Kendare Blake, YABC's Author of the Week!!
So, I write books. Anna Dressed in Blood and Girl of Nightmares are horror, The Goddess War books are mythology, and Sleepwalk Society is contemporary. Different genres, because the world don't move to the beat of just one drum. Love to read, too. Fiction, philosophy, good books, bad books, because you take the good you take the bad you take them both and there you have a stack of books and stuff. I mean, you've got to be adventurous. There's more to life that what you're living, so take a chance and face the wind.
There's more coming soon like Scary Out There and THREE DARK CROWNS so don't waste another minute on your cryin. We're nowhere near the end.
My likes include animals, food, and nostalgia. I mean, whatever happened to predictability? The milkman, the paperboy, the evening TV? Used to be everywhere you look, there's a heart, a hand to hold on to.
Anyway, I love to hear from readers so drop me a line here or at my website and we'll talk about friends to know, and ways to grow, and great authors to be in charge of our days, and our nights.
We can also talk about all the sitcom theme songs in this bio. Sha la la la.
YABC: What gave you the inspiration to write this book?
THREE DARK CROWNS came about when I was doing a book event in Oregon, the summer before Antigoddess came out. There was a bee ball (swarm of bees) in a tree and people were worried about getting stung, but a beekeeper who happened to be there said not to worry, because in the center of the ball was the queen, and that was who the bees were interested in. They only wanted to protect her, and would pretty much ignore everyone else. I was fascinated, and grilled the beekeeper for more info, and she told me that the queen must have laid her queen eggs for a new queen to take over the old hive. Her daughters would hatch, and kill each other, and the one who survived would be the new queen. On the drive home I couldn't stop thinking about that, how brutal it was, and how I really wanted to do the same thing to people.
YABC: Who is your favorite character in the book?
Are you trying to make me pick a favorite queen? Nice try! But I'm going to wriggle out and say my favorite character is Hank the rooster, one of the animal familiars. I'm always a sucker for the animal characters.
YABC: Which came first, the title or the novel?
The original title came before the novel. It was THREE BLACK WITCHES. But then I wrote the book and they weren't exactly witches, just magical queens, so we changed it.
YABC: What scene in the book are you most proud of, and why?
Oy. I think I'm most proud of the entire Quickening Ceremony near the end of the book. So much going on, and so many characters involved, and it was just plain fast and fun. My typing fingers were aching afterward!
YABC: Thinking way back to the beginning, what's the most important thing you've learned as a writer from then to now?
You learn so much, and it's hard to single out what feels like the most important. For me, maybe that there is no finish line? That there will always be new things to strive for, new things to try, new ways to push yourself as a writer. I think at first it felt so momentous just to have a book in the world, that I figured, well, that's it, I can die now, it can't get better than this. But I didn't die!
YABC: What do you like most about the cover of the book?
I love the entire, overall look of it. Very dramatic. And so pretty and detailed. Plus, those little poisonous snakes are totally on the move. Like, if it were a stop-motion image, in the very next frame they'd be all over the place.
YABC: What new release book are you looking most forward to in 2016?
Oh goodness. I guess I should say something that I haven't already read, right? I mean, I've already read METALTOWN, which is so fab, and I have HEARTLESS to read now, and PYROMANTIC doesn't come out until 2017…so…THIS SAVAGE SONG, by Victoria Schwab.
YABC: What was your favorite book in 2015?
WINK POPPY MIDNIGHT.
YABC: What's up next for you?
THREE DARK CROWNS 2!
YABC: Is there anything that you would like to add?
Nope. Just that you guys are rad, and thank you for the lovely interview.
Meet, Three Dark Crowns!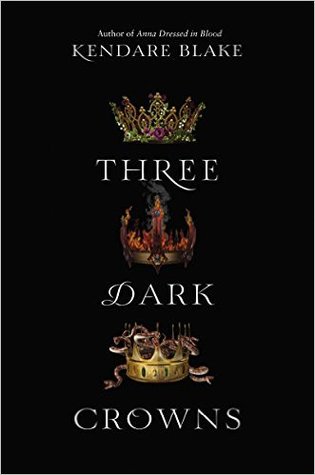 Every generation on the island of Fennbirn, a set of triplets is born: three queens, all equal heirs to the crown and each possessor of a coveted magic. Mirabella is a fierce elemental, able to spark hungry flames or vicious storms at the snap of her fingers. Katharine is a poisoner, one who can ingest the deadliest poisons without so much as a stomachache. Arsinoe, a naturalist, is said to have the ability to bloom the reddest rose and control the fiercest of lions.
But becoming the Queen Crowned isn't solely a matter of royal birth. Each sister has to fight for it. And it's not just a game of win or lose…it's life or death. The night the sisters turn sixteen, the battle begins. The last queen standing gets the crown.
If only it was that simple. Katharine is unable to tolerate the weakest poison, and Arsinoe, no matter how hard she tries, can't make even a weed grow. The two queens have been shamefully faking their powers, taking care to keep each other, the island, and their powerful sister Mirabella none the wiser. But with alliances being formed, betrayals taking shape, and ruthless revenge haunting the queens' every move, one thing is certain: the last queen standing might not be the strongest…but she may be the darkest.
Amazon * B & N * Indiebound
*GIVEAWAY DETAILS*
1 winner who will receive a copy of Three Dark Crowns and SWAG!!!
*Click the Rafflecopter link below to enter the giveaway*