Today on the YABC blog we are happy to sit down
with author Leopoldo Goutand talk with him
about his about new release, Genius: The Game, which released May 3rd, 2016!
YABC: What gave you the inspiration to write this book?
Two things. First I left a multiplex after one of those huge young adult or superhero films and my 10 year old son asked me: "Papa, why do they always destroy New York?" My little boy is delightful and a very sweet, soulful human. He saw New York and specifically Lower Manhattan where we live being destroyed over and over again in all of these action films.
Then while watching and reading many of the huge young adult and superhero driven films and novels, I realized most of them relied on magic, aliens, fantasy and super heroes to save the world. But we all have wonderful super power already – our minds and our imagination. With our own super powers, we have taken people to the moon or to the bottom of the ocean. This super power is called: our brain and the imagination… It's a wonderful power that we all possess and it doesn't get enough credit. I suddenly wanted to create for myself and for my son something about this energy.
The second idea came from a kid from Sierra Leone who I saw on YouTube. He built a wind-mill to power his house because his mom was going blind. He created this wind-mill out of trash. This is a kid that now has his own radio show, which uses a radio transmitter he built again out of trash. I completed a lot of research on many people of all ages and genders who are changing the world through their imagination no matter how little they have.
YABC: Who is your favorite character in the book?
It swings back and forth. Each one has captured my heart when I was writing the book. Right now, CAI is one of my favorites because she was the most difficult for me to write. Research and authenticity of voice is paramount to my process and I spent countless hours working and re-working Cai. I also thank Holly West my editor @ Feiwel and Friends who keep pushing me. And Keith Thomas a writer who helps me with research and who also helped me along the way.
I have a young daughter who was 7 at the time but she is super smart and really an original. I did not want to create a female character that would not inspire my daughter, which was a challenge but I truly think I deliver on that.
YABC: Which came first, the title or the novel?
Both.. I woke up and had the "feeling" of the worlds I could create. My process is very personal as someone who marches to his own drum. I usually start with doodles and images with a few sentences. The drawings are a kind of transistor between the written page and paintings, drawings, photos even sculptures I have created as part of my process. I had the first characters and a little of their world in my mind. Genius was a word that just popped clearly from day one. Sometimes when I am working, I change the title 30 times. In this book, I just stayed with the original title because it rang true.
YABC: What scene in the book are you most proud of, and why?
Oddly, it is one that we had to cut out from the book. It was a powerful scene with Rex and his brother figuring things out. As a scene, it was beautiful and truly revealing about their friendship as well as their unique characteristics. However, it did not fit in the book. I spoke with my editor and I felt she was right so we cut it out. In the book, I really love when Tunde figured things out the first time. It just gives me a rush.
YABC: Thinking way back to the beginning, what's the most important thing you've learned as a writer from then to now?
I'm dyslexic and English is my second language so it's been a difficult road. I have learned SO much during the years I've been writing. I can't put it all into words. It might just be a whole book itself. I think getting in your zone when you have moments of glory is amazing but also the discipline of not losing the big picture while you work on the details. In discussing my few big picture tools, like the trip between the pixels and atoms. Pixels are ideas, Atoms are to flesh them out and give them structure.
The idea is to become objective and curious in your observations throughout life. It is truly important to push your own sense of objectivity to be able to clear the noise to truly look and listen to the world. Shaolin monks work on this for decades and the best example are artists like Mu Xi ( Muxi Fachang ) who spent years observing apples and landscapes. From the tiny to the grand with suddenly with minimal brushstrokes, he painted some of the most daring and powerful image since the 11th Century.
YABC: What do you like most about the cover of the book?
It has secret codes embedded into the folds of the brains. It pops and captures the exact principles of the book: You don't need super powers to be a super hero. And no matter who you are and what your place is in this world, we can all change our stars and do something great for this planet. It is a very powerful message.
YABC: What new release book are you looking most forward to in 2016?
I got The Gene by Siddhartha Mukherjee, and Seven Brief Lessons on Physics by Carlo Rovelli
YABC: What was your favorite book in 2015?
A Brief History of Seven Killings by my friend Marlon James who I think is an incredible writer.
YABC: What's up next for you?
Book 2 and 3 of the Genius series! I'm half way through Book 2.
I'm also writing SPYMASTERS, a television show, I created and partnered with Simon Kinberg (THE MARTIAN) and Jake Miccie (Merlin) Plus, I have a film coming out this October that I produced based on the series, "Middle School, The Worst Years Of My Life" by James Patterson.
YABC: Is there anything that you would like to add?
We live in an extraordinary world and the Genius series was created to get people inspired and excited about the possibilities of how to change and move your own stars. Check out my new work in progress web site: http://www.leopoldogout.net
YABC: Which part of the writing process do you enjoy more: Drafting or Revising?
Creating the ideas, writing them and then the revising.
Meet, Genius: The Game!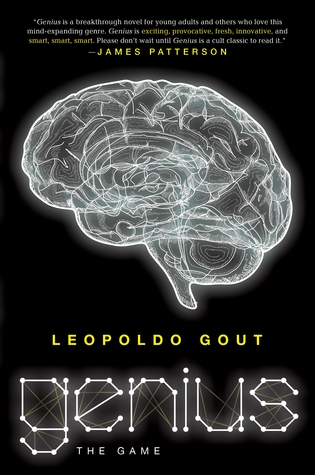 Trust no one. Every camera is an eye. Every microphone an ear. Find me and we can stop him together.
The Game:
Get ready for Zero Hour as 200 geniuses from around the world go head to head in a competition hand-devised by India's youngest CEO and visionary.
The Players:
Rex- One of the best programmers/hackers in the world, this 16-year-old Mexican-American is determined to find his missing brother.
Tunde- This 14-year-old self-taught engineering genius has drawn the attention of a ruthless military warlord by single-handedly bringing electricity and internet to his small Nigerian village.
Painted Wolf- One of China's most respected activist bloggers, this mysterious 16-year-old is being pulled into the spotlight by her father's new deal with a corrupt Chinese official.
The Stakes: Are higher than you can imagine. Like life and death. Welcome to the revolution. And get ready to run.
Amazon * Barnes & Noble * Indiebound
Meet, Leopoldo Gout!
Leopoldo Gout, the producer behind Days of Grace, which A.O. Scott of the New York Times called "a potent and vigorous film," is also a writer, artist, and filmmaker. He hails from Mexico, studied Contemporary Art at Central Saint Martins in London, and now resides in New York City with his wife and two children.
Website * Facebook * Twitter * Instagram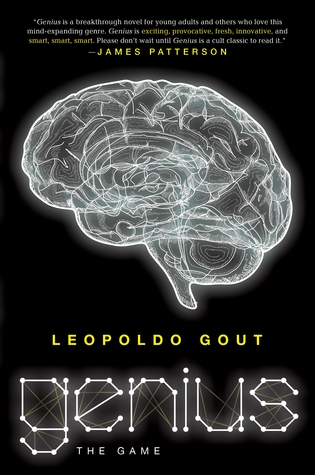 Book: GENIUS: The Game

By: Leopoldo Gout

Publisher: Feiwel & Friends
Release Date: May 3, 2016
*GIVEAWAY DETAILS*
Three winners will receive copies of GENIUS: THE GAME
(US only).
*Click the Rafflecopter link below to enter the giveaway*
a Rafflecopter giveaway