Welcome to our weekly special feature post, Author Of The Week!!
Each week we will be interviewing a different YA author and highlighting their upcoming release!
We will also be hosting a giveaway of the book we are highlighting!!
Introducing Susan Dennard, YABC's Author of the Week!!
Susan Dennard has come a long way from small-town Georgia. Working in marine biology, she got to travel the world—six out of seven continents, to be exact (she'll get to you yet, Asia!)—before she settled down as a full-time novelist and writing instructor. She is the author of the Something Strange and Deadly series as well as the New York Times bestselling Truthwitch, and when not writing, she's usually slaying darkspawn (on her Xbox) or earning bruises at the dojo. She lives in the Midwestern US with her French husband, two spoiled dogs, and two grouchy cats. Learn more about her crazy thoughts and crippling cookie-addiction on her blog, newsletter, twitter, or instagram.
Website * Twitter * Facebook * Pinterest * Instagram
Meet Windwitch!!
Sometimes our enemies are also our only allies… After an explosion destroys his ship, the world believes Prince Merik, Windwitch, is dead. Scarred yet alive, Merik is determined to prove his sister's treachery. Upon reaching the royal capital, crowded with refugees, he haunts the streets, fighting for the weak—which leads to whispers of a disfigured demigod, the Fury, who brings justice to the oppressed. When the Bloodwitch Aeduan discovers a bounty on Iseult, he makes sure to be the first to find her—yet in a surprise twist, Iseult offers him a deal. She will return money stolen from him, if he locates Safi. Now they must work together to cross the Witchlands, while constantly wondering, who will betray whom first? After a surprise attack and shipwreck, Safi and the Empress of Marstok barely escape with their lives. Alone in a land of pirates, every moment balances on a knife's edge—especially when the pirates' next move could unleash war upon the Witchlands.
Amazon * B & N * Indiebound
YABC: Who is your favorite character in the book?
I don't know that I have a favorite character--you kind of have to love ALL of them, right? To portray them best. But I will say there's a new POV character in Windwitch, and I'm incredibly excited for the world to meet her!
YABC: Which came first, the title or the novel?
The title! Ha! The titles for the whole series were established from day 1, and since the titles are essentially the names of the different characters, each book follows that character's arc more. So Windwitch, the second book, follows the Windwitch character a bit more than the other POVs, and we see him grow.
YABC: What scene in the book are you most proud of, and why?
Honestly, I'm most proud of this entire book. It was so hard for me to write (anyone who reads my newsletter or follows me online knows the full extent of my agony), so when I finally hit The End, I was SO PROUD. And tired. So tired. ;)
YABC: Thinking way back to the beginning, what's the most important thing you've learned as a writer from then to now?
I've learned to trust my own voice. I made an "Anne Elliot" kind of mistake and allowed myself to be persuaded by other voices. I listened to what those people thought should be in my books, rather than trusting my own gut and following the story I'd wanted to tell all along. It was until I finally let those people go, let their voices go, and started over entirely with my own writing, that I was able to rediscover my own voice as well as rediscover my love of writing.
YABC: What do you like most about the cover of the book?
I love that the Witchlands covers are SO representative of the story inside. You can literally look at the cover and know not only the kind of book you'll get (high fantasy, magic, epic stakes!) but also story specifics! The Truthwitch cover shows a ship and old ruins in the background--which is a scene right out of the book--and the Windwitch cover shows a city with a hooded figure overlooking it. Again, totally happens in the book!
YABC: What was your favorite book in 2016?
Oh, I finally read Attachments by Rainbow Rowell and it was FABULOUS! Devoured it in one sitting! That said, my fave read of the year was not fiction but actually a non-fiction called Sapiens by Yuval Noah Harari. It's about the evolution of humans biologically, socially, economically, and politically--and the scientist in me couldn't get enough!!
YABC: Which character gave you the most trouble when writing your latest book?
Merik, my main character! But he was also the hardest for me in Truthwitch, so I shouldn't have been surprised. Ha! He's just in many ways a LOT like me, and those
YABC: Which part of the writing process do you enjoy more: Drafting or Revising?
I LOVE revising! Revising is hands-down where all the magic happens for me. I love weaving in layer after layer until the prose and world and characters feel as rich as they did in my head.
YABC: Is there an organization or cause that is close to your heart?
I'm an ecologist at heart (I worked in marine/aquatic ecology before becoming a full-time write), so I'm really big on endangered species protection and environmental issues. I give to a different charity every month, but I've definitely noticed lately that the bulk of my charities tend to be ecology-focused OR animal-rights-focused. Last month was my local humane society, and the month before was the Alliance for the Great Lakes.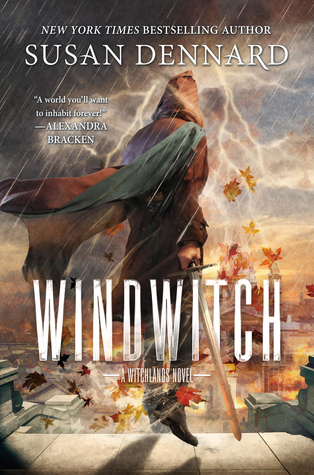 Windwitch
By: Susan Dennard
Publisher: Tor Teen
Release Date: January 10th, 2017
*GIVEAWAY DETAILS*
One winner will receive a SIGNED copy of Windwitch (Susan Dennard) ~ (US Only)

*Click the Rafflecopter link below to enter the giveaway*